Saturday, February 6, 2010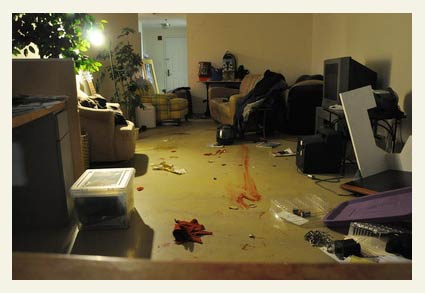 Crime scene: One Independence Court luxury apartment.
Apartment "Ransacked"
Hoboken, NJ - In a scene described as resembling the movie "Jaws," a pet pit bull
1
exploded into a "savage biting rampage" late Thursday night sending three victims, including the dogs' owner, to the hospital. Witness Paul Michael said, "It didn't look like she was going to make it. She was bad. Her entire leg was torn up." Police eventually shot and killed the attacking dog. The incident left the luxury apartment ransacked and bloody; furniture was torn apart as well.
The next time a humane official says that it is "unusual" for a pit bull to attack its owner, please point them to this blog post.
The only aspect that is unusual about this attack is that there was not a fatality nor does there appear to be a limb amputation, at least not yet. Other owners of pet pit bulls whose dogs flew into an explosive attack were not so lucky including:
Carter Delany
, who was killed by his two pet pit bulls last year,
Annette Williams
, who suffered the loss of both arms due to her pet pit bull and
John Venezia
, whose pet pit bull bit off his whole hand (See:
Lion Tamer Complex
).

A subsequent report
reveals that the Hoboken incident began when a man called police to report that his roommate's pit bull, named "Giant," had severely bitten his right ankle. When police arrived they found the dog unleashed in the apartment. Giant's 26-year-old owner appeared and was repeatedly warned by police not to enter the lobby or her apartment, but she went into the apartment anyway and was attacked by her dog, causing "massive trauma and blood loss."
The only way first responders could save the victim was by carrying her out a street-level window and into an awaiting ambulance.
Hoboken police had managed to barricade "Giant" with furniture when the third victim -- a 41-year-old female Hoboken resident -- tried to enter the apartment, also despite police warnings (Again, please see:
Lion Tamer Complex
). The pit bull broke loose and mauled her as well, causing serious injuries to her legs. The woman was rushed to Jersey City Medical Center. Finally, Sgt. Edmund Drishti then drew his weapon and shot and killed the triple mauling "pet" pit bull.

Related ZUPF presentation
1
Early reports said that two pit bulls were involved. It is later determined that only Giant was the culprit.
Related articles:
12/09/09:
Zupf: Pit Bull-Mix Hospitalizes Owner, Had Previously Bitten Son
09/10/09:
The Pit Bull Bite: Pet Pit Bull Bites Off Owner's Hand
08/12/09:
2009 Fatality: Leesburg Man, 20, Killed by His Two Pit Bulls Trying to Break...
05/11/09:
Animal Agency, PSPCA, Distorts History of 25-Year Old Pit Bull Problem
07/01/08:
Pit Bull in Greensburg, Indiana Chews Off Owners Arm
Labels: Berserking Incident, Explosive Aggression, Pit Bull Attacks Owner

Please donate to support our work
DogsBite.org is a 501(c)(3) tax-exempt public charity organization. Learn more »
posted by
|
permalink
|
11 comments
|

email
|

blog rss
|

comment rss

11 comments:

Dude I Bagged Ur Pit | 2/06/2010 2:37 PM | Flag
I'm trying not to laugh. Seriously. But her it is again; a pit bull behaving like a pit bull, and the idiots that would own one behaving like the idiots they are.

Bwaaaaaa-hahahahaha!!!

Anonymous | 2/06/2010 4:32 PM | Flag
Details in the Zupf video indicate that both loose pits were owned by the male victim, but initial reports claimed one pit belonged to the younger female victim, and the owner of the other pit was MIA. I wonder, is this a case of the male owner lying and trying to throw his roommates under the bus? If so, I hope he has criminal charges pressed against him for filing a false police report and obstruction, in addition to any animal code violations.

Anonymous | 2/06/2010 5:43 PM | Flag
Are we sure these were Pit Bulls without a DNA test?!?...That apartment scene looks like a Chimpanzee could have done that!

Trigger | 2/06/2010 8:05 PM | Flag
I can't believe that the apartment complex allowed pit bulls -- typically, such properties have breed-specific laws.

The Independence is Hoboken's most luxurious new waterfront residence at The Shipyard, the Gold Coast's most coveted community.
---
http://www.appliedco.com/properties/rentals/independence.shtml

What's interesting in this case is who is going to get sued? New Jersey is a strict liability state.

The owner of any dog which shall bite a person while such person is on or in a public place, or lawfully on or in a private place, including the property of the owner of the dog, shall be liable for such damages as may be suffered by the person bitten, regardless of the former viciousness of such dog or the owner's knowledge of such viciousness.
---
http://www.dogbitelaw.com/PAGES/New_Jersey.html

I foresee a nasty, nasty battle and all amongst pit bull advocates.

Anonymous | 2/07/2010 5:07 AM | Flag
I too cannot believe that a landlord would be CRAZY enough to allow pit bulls on his/her property.

Landlords are afflicted with enough lawsuits without begging for them, which is what allowing pit bulls is.

If they had the pit bulls there against the rules, the neighbors needed to report them and fast, or their own children will be the victims.

Anonymous | 2/07/2010 9:55 AM | Flag
Another Joisey Darwin attack here:

http://www.nj.com/news/local/index.ssf/2010/02/somerville_cops_shoot_dog.html



Glad no law enforcement personnel were hurt!

Anonymous | 2/07/2010 10:57 AM | Flag
At least one report showed a woman talking about the dogs (or other pit bulls in the complex) and that there had been some "situations" in the elevator. So management likely knew about the dogs.

Gee, it seems poor people and poor communities aren't to blame for the pit bull problem as many pit nutters would like for us to believe. The maulers attack in luxury apartments as well!

(Same deal in the case of Whipple! You gotta wonder what happened to those property owners. The criminal side of the case was SO HUGE, one never heard about the civil side.)

Anonymous | 2/07/2010 11:29 AM | Flag
It appears that the apartment was a "dog friendly" apartment building; however, its possible the landlord was lied to about the breed, (perhaps they were called "terriers" or "boxer mixes".) The landlord may have dodged a bullet this time, because it appears that the owners/harborers of the dogs were the ones injured, not a neighbor.

This just emphasizes the importance of reporting other tenants who own pit bulls, via registered letter, to a landlord. If the landlord can claim they had no knowledge of the dogs living there, they can avoid legal liability. But once they are notified of the other tenants concerns, and are made aware of the exsistence of dangerous dogs, they can often be held liable for any damages to other tenants of guests. Most likely the landlords insurer will not allow it.

P. | 2/07/2010 3:57 PM | Flag
The Whipple civil case set a precedent in CA. The landlord lost and previously landlords had the upper hand in these types of suits. It put landlords in CA in a hurry to change their policies. Most stopped taking dogs period or at the least certain weight limits. It's difficult at best to find a rental in CA that allows bigger dogs and almost none that allow pits or pit types.

Anonymous | 2/08/2010 6:10 AM | Flag
An assembly line of idiots!
After being told not to enter the apartment, they kept marching in, one after the other!

Anonymous | 2/08/2010 6:25 PM | Flag
She must have be watching too much of the Tia Torres show...

Nice to see these maulers out of circulation.