Friday, October 2, 2015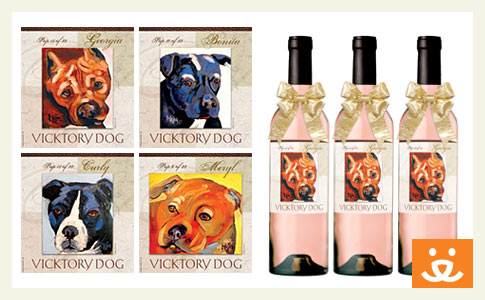 Best Friends shamelessly "merchandised" the Vick dogs after receiving them.
DogsBite.org - We've gathered a collection of posts that relate to our coverage of Utah-based fighting dog advocates, Best Friends Animal Society. The collection includes distinct posts pertaining to Best Friends, as well as posts about "rehabilitating" fighting dogs, Michael Vick's pit bulls, the National Football League and professional athletes with "pit bull problems." We've also included several posts about pit bull dog aggression to remind readers of its
deadly implications
.
Best Friends Animal Society
:
05/16/16:
2016 Legislative Highlights: Six States Reject Preemption Bills Barring Pit Bull Laws
09/08/15:
DogsBite.org Releases New FAQ about Breed-Specific Legislation (BSL)
08/06/15:
2015 Dog Bite Fatality: Recently Adopted Out Pit Bull Kills 6-Year Old Boy in...
04/20/15:
2015 First Quarter Report: Municipalities, Grassroots Beat Back State Preemption...
04/20/15:
2015 First Quarter Legislative Highlights: Local Control Dominates, We Salute...
05/27/14:
Missouri - Proposed Statewide Bill Prohibiting Breed-Specific Ordinances Fails...
01/03/14:
2013 Fatal Dog Attack Breed Identification Photographs
09/13/13:
Maul Talk Manual 2.0: A Guide to Understanding the Language of Pit Bull Owners...
07/26/13:
Beyond the Interview: Essay of a Fatal Pit Bull Mauling - DogsBite.org
01/02/13:
Announcement: Wishes for the New Year from DogsBite.org
05/22/12:
National Dog Bite Prevention Week (May 20-26, 2012)
07/20/11:
Blogger Targets New Fact Cooker, Mark Robison of the Reno Gazette-Journal
11/30/10:
Progress Report: Only 3 Vick Dogs from Best Friends Adopted in 35 Months
10/15/10:
The DNA Paradox: Hired Gun Ledy VanKavage Flip-Flops Position on Pit Bull DNA
10/13/10:
"Yard Accident" at Best Friends Involving Two Vick Dogs Leaves Third Dog Dead
12/20/09:
Son of Rosie Humphreys Starts Campaign to Ban Pit Bulls in Flora
08/27/09:
Another Vick Dog Dies, Former Sports Illustrated Cover Model
03/12/09:
Best Friends Almost "Mistakenly" Kills Another Vick Dog
03/09/09:
Best Friends and Activists Hold Vigil Sporting "Wildside Kennels" Caps
02/06/09:
Katrina Rescue Fraud: Dogs Hijacked by "Trainers" and Pit Bull Advocates
02/18/09:
Dogfighting 'Godfather' Ed Faron Pleads Guilty to Felony Dogfighting
02/16/09:
"Bonita" Merchandise by Best Friends is Swiftly on the Way
02/01/09:
Nick Foley Approaches High School; Mother Denounces "Rehabilitating"...
01/23/09:
Best Friends Steps into the Ed Faron Dogfighting Bust to "Save" Unstable Dogs
01/15/09:
Explanation: The Policy of Not Adopting Out Fighting Dogs
12/12/08:
Edward Faron of Wildside Kennels Has Been Charged by Authorities
11/10/09:
Comment: Fighting Dogs Being Adopted Out as "Bait Dogs"
11/07/08:
Bad Rap Releases "2009 Bust Dog Survivor Calendar"
11/10/08:
Best Friends Announces the Vicktory Dog Wine Collection
11/03/08:
Flashback: Best Friends Animal Sanctuary Refuses Care of Pit Bulls
09/29/08:
Break Sticks: A Tool Used to Pry Open a Pit Bull's Jaws
08/31/08:
Comment: Rehabilitation is Too Risky
The NFL's Pit Bull Problem
:
09/08/11:
Ode to Michael Vick and a Savage Breed of Dog; Columnist Unleashes
08/03/09:
The NFL Must Sever Ties with "Pit Bulls" Once and For All
07/21/09:
ESPN's "Outside the Lines" Looks at Vick's Impact on Dogfighting
06/20/09:
James Harrison's Pit Bull "Patron" is Up for Adoption Under New Breed Name
05/30/09:
Sports Columnist Michael Felger Blasts Pit Bull Owners and "Nutty Dog Crowd"
05/30/09:
Steelers Linebacker James Harrison's Pit Bull Attacks His Son
05/25/09:
Professional Athletes and Pit Bulls: Dogfighting, Abuse and Violent Attacks
Labels: Best Friends Animal Society, Breed-Specific Legislation, DNA Breed Test, Dogfighting, Michael Vick, Pit Bull Propaganda, Rehabilitating Fighting Dogs, Senior Citizen Fatality

Please donate to support our work
DogsBite.org is a 501(c)(3) tax-exempt public charity organization. Learn more »
posted by
|
permalink
|
2 comments
|

email
|

blog rss
|

comment rss

2 comments:

Anonymous | 8/28/2009 9:39 AM | Flag
Thank you for compiling this.

Anonymous | 8/28/2009 2:03 PM | Flag
Here's some "average" pit bull dog aggression. Take a guess at the level of dog aggression in pit bulls bred for fighting?

August 26, 2009 - "A pit bull attacked and killed a small dog in a Cape Coral neighborhood while his 10-year-old owner was walking him. We spoke to the boy, his mother and the owner of the pit bull..."

"The dog just killed my dog and almost attacked my son," Cindy said. She says she's thankful it wasn't her son who was attacked, but wishes something could have prevented the incident in the first place..."

http://www.abc-7.com/Global/story.asp?S=10998862