Thursday, December 11, 2008
Guide Dog Victims Speak Out
San Francisco, CA - Attacks on guide dogs, particularly by pit bulls, is a serious issue. A 2003 survey revealed that 42% of guide dog teams in the U.S. have experienced an attack. Guide dogs are trained not to fight back. After an attack, many of these valuable dogs are too mentally scarred to return to their duties. Theresa Duncan (left) and Jim Power discuss the harmful trend. Marikay Batina (right) tells how a pit bull crushed her in-training guide dog's jaw.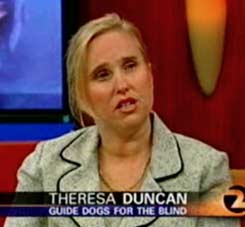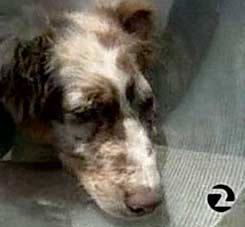 From left: Theresa Duncan and Redford.
On January 1st 2005, San Francisco instituted Pavley Law, which makes attacks on guide dogs punishable by up to one year in the county jail and a maximum fine of $10,000. It is unknown if the owner of the pit bull that attacked Batina's dog, named Rampart, was finally punished under Pavley Law. At the time this series aired, San Francisco had not yet adopted its mandatory
pit bull sterilization
law. Perhaps since passing it, attacks on guide dogs have fallen.
Related articles:
09/14/08:
Flashback: S.F. Pit Bull Sterilization Law Has Successful Results
08/28/08:
Quadriplegic Woman Protects Service Dog from Attacking Pit Bulls
08/22/08:
Pit Bulls Attack Blind Man and Service, Therapy Dog
05/13/08:
Pit Bull Attacks Seeing Guide Dog in Surrey
Labels: Service Animal

Please donate to support our work
DogsBite.org is a 501(c)(3) tax-exempt public charity organization. Learn more »
posted by
|
permalink
|
5 comments
|

email
|

blog rss
|

comment rss

5 comments:

Anonymous | 12/11/2008 3:39 AM | Flag
As usual, worthless dogs of worthless people hurting those that make a difference.

Anonymous | 12/11/2008 6:32 AM | Flag
Just another reason why breeding for dog aggression sucks.

Anonymous | 12/11/2008 10:41 AM | Flag
I believe it is a felony in some states for a person to injure or kill a service animal who is performing its duty...so why is it A-OK for a human to allow their pit bull to do it? The pit bull is just the instrument, the weapon.

Shouldn't owners of dogs that maul service animals be charged with a crime?

Anonymous | 12/11/2008 6:12 PM | Flag
I am sick and tired of pit bulls attacking these gentle creatures who are just minding their business.
BAN THEM!

shlomo hakohen | 10/18/2009 7:11 PM | Flag
maybe it's time for a new guide dog "accessory" - a cattle prod or a can of mace, carried in the back of the guide dog's harness, and labelled "for emergency use only".

it's understandably difficult for a person who needs a guide dog to fend off a pitbull in the first place, but it isn't easy for a passerby, who wants to help, to do it barehanded, either.