Saturday, December 20, 2008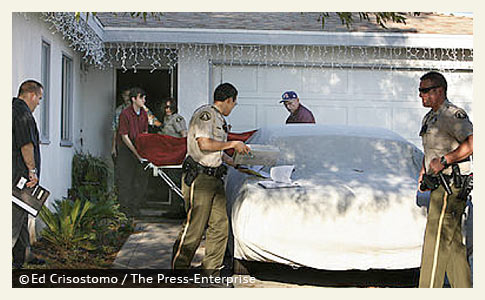 Deputies investigating the pit bull mauling death of Gerald Adelmund.
Victim Killed by Own Dogs
UPDATE 12/19/08:
The Press-Enterprise reports the victim was the owner of the pit bulls. As expected, the larger male dog is now being described as a pit bull mastiff-mix and the smaller female dog as a pit bull. The dogs attacked him when he stepped outside of his home to smoke. Adelmund's family also authorized authorities to euthanize the female's nine puppies. Adelmund lived at the home with his son, daughter-in-law and their children, who are 2, 7 and 12 years old.
Two dogs mauled their 60-year-old owner to death Friday afternoon when he stepped into the backyard of his Rubidoux home to smoke, officials said.
Gerald Adelmund was declared dead at the cream-colored house in the 5700 block of Kenwood Place after deputies pulled him inside, said Riverside County sheriff's Sgt. Dennis Gutierrez...
The dogs were described as a 4-year-old, 107-pound male, part pit bull and part mastiff, and a 52-pound female pit bull, about 6.
The dogs were euthanized Friday by the Riverside County Department of Animal Services, with the permission of Adelmund's relatives, and are being tested for rabies, said Animal Services spokesman John Welsh.
The family also authorized euthanizing the female's nine puppies, but it wasn't clear Friday if the puppies had been killed, Welsh said.

- Jessica Logan, Laura Lucas, Press-Enterprise, December 19, 2008
12/19/08:
Victim Identified
The victim has been identified as Gerald Adelmund of Riverside. Adelmund died at 12:20 pm near his home in the 5700 block of Kenwood Place, according to information from the Riverside County Coroner's Department. Officials believe Adelmund is related to the owner of the dogs. John Welsh, spokesman for the Riverside County Department of Animal Services, said that Animal services did not have past reports of problems from that home. Welsh added that both dogs were unaltered.
The majority of dog attacks on humans involve animals who have not been spayed or neutered, he said.
"We always encourage responsible pet ownership. Unaltered dogs are always more aggressive."
Pit bulls were originally bred for fighting. But the breed's aggression is usually reserved for other animals, Welsh explained.

- Inside SoCal, December 19, 2008
12/19/08:
Nine Puppies in Back Yard
Additional information has been reported. There were no witnesses to the fatal attack. The adult, Hispanic male victim did live at the residence with the animals, though his relationship to the dogs' owner is still unclear. The male dog was 4-years old and weighed approximately 107 pounds (which indicates a pit bull-mix). The female was 6-years old and weighed about 52 pounds. Nine puppies were also found in the back yard. Both adult dogs have already been euthanized.
12/19/08:
Riverside County Man Killed
Rubidoux, CA - In a developing story, a 60-year old man was brutally attacked and killed by two pit bulls in Rubidoux. The dogs are being described as family pets. Authorities do not yet know if the victim was the owner of the dogs. Sheriff's Sgt. Dennis Gutierrez says the man was taking a smoking break in the backyard of the Rubidoux home where he lived when a male and a female pit bull attacked him shortly after noon Friday. The victim was dead when first responders arrived.
This marks the third fatal pit bull attack in this region (Ventura, San Bernardino and Riverside counties) in the last 12 months. There have been troubling reports of two animal control agencies in the region as well.
Ventura Co. Animal Services
(and or the
Simi Valley Police
) failed to properly report the pit bull mauling of Katya Todesco, and the mayor of Lancaster recently ordered Los Angeles County Animal Services to implement a
Pit Bull Sweep Operation
to make the city safer.
View DogsBite.org Google Map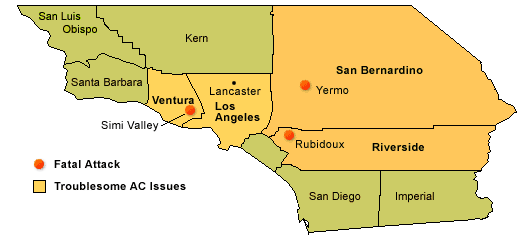 Related articles:
11/07/08:
Kathy Jenks, Director of Animal Services, Stands Before City Council
10/15/08:
Lancaster Mayor Demands Accountability from Animal Control
10/10/08:
2008 Fatality: 5-Year Old Girl Killed by Pet Pit Bull in Simi Valley
09/18/08:
2007 Fatality: Kelly Caldwell Killed by Loose Pit Bulls in California
Labels: 2008 Dog Bite Fatality, California Pit Bull Fatality, Fatal Pit Bull Attack, Pit Bull Kills Owner, Riverside County

Please donate to support our work
DogsBite.org is a 501(c)(3) tax-exempt public charity organization. Learn more »
posted by
|
permalink
|
21 comments
|

email
|

blog rss
|

comment rss

21 comments:

dude i bagged ur pit | 12/19/2008 10:13 PM | Flag
Put THAT on the side of a pack of cigarettes. "Smoking is hazardous to your health and may cause death... from pit bulls."

Anonymous | 12/20/2008 2:07 AM | Flag
Remember what Merritt Clifton says about pit bulls being different from other aggressive breeds because they kill adults frequently. Other breeds involved in fatal attacks have victims who are small children, not adults.

Ban the deed, restrict the breed.

Anonymous | 12/20/2008 2:38 AM | Flag
"Pit Ownership is like drunk driving..."

"Take a Cab, Buy a Lab!



Every twenty days.....but soon we will be reading about the Pom that killed a newborn back in 1998.

Anonymous | 12/20/2008 2:53 AM | Flag
Add taking "Smoke Break" to atack trigger list.

Anonymous | 12/20/2008 3:11 AM | Flag
California has had five DBRFs in the past Two years...

All by Pit Bull wigglebutts!

Much like Texas and Florida the pre-emptive Anti BSL provisions weaseled into Law by the Breeder Lobbies has failed.

PREVENT THE DEED, REGULATE THE BREED.

bitbypit | 12/20/2008 3:52 AM | Flag
Of the 23 recorded fatalities thus far in 2008, only two people over the age of 1-year old have been killed by a dog breed other than a pit bull. One instance involves 74-year old Lorraine May who was killed by her two dogs (an Australian Shepherd-mix and Golden Retriever-mix). The other instance involves 2-year old Abraham Tacket that was killed by a chained husky.

Ages 1 (and <) = (All breeds 8; pit bulls 2)
Ages 2-4 = (All breeds 4; pit bulls 3)
Ages 5-9 = (All breeds 4; pit bulls 4)
Ages 10-20 = 0
Ages 21-54 = (All breeds 2; pit bulls 2)
Ages 55 (and >) = (All breeds 5; pit bulls 4)

65% percent of all 2008 fatalities are attributed to pit bulls.

Anonymous | 12/20/2008 3:58 AM | Flag
Cool Google map!

Anonymous | 12/20/2008 4:17 AM | Flag
Hate to see anyone mauled to death...but in a manner reminescient of an IED manufacturing lab blowing up in Iraq, it is beneficial that this man killing Pit-Proliferation sleeper cell terminated before innocent civilians were hurt.

Can't wait to read the "White Wash Jimmy" report on this one!

Anonymous | 12/20/2008 5:09 AM | Flag
Whitewash Jimmy story:

This was an unfortunate and inexcusable incident. The adult Dogs; "Murder" and "Mayhem", were concerned about the health effects of second hand smoke on their litter caused by the victims smoking. Once Murder started mauling the man to defend his pups,Mayhem became excited and joined into the defensive action. The victim's screams and struggling exacerbated the situation, resulting in this fatality.

Clearly, this incident had nothing to do with breeding Pit Bulls to bite and shake things to death for two centuries. In 1998 a Pomeranian killed a newborn baby.

Anonymous | 12/20/2008 5:29 AM | Flag
I heard through the grapevine that Crosby investigated the Muncie fatal pit bull attack. He will likely report that the victim's DEMENTIA caused the attack. Dementia, it's an automatic CULL type thing. The dog's were just doing their duty. If he hadn't had dementia, he wouldn't have been killed...It's similar to the seizure attack victim excuse.

http://www.dogsbite.org/blog/2008/11/2008-fatality-62-year-old-muncie-man.html

Anonymous | 12/20/2008 6:05 AM | Flag
The 52nd American killed by a Pit Bull in the past three years...Wonder if the dogmen in charge of breeding standards will have a safety summit and discuss breeding standards?

Anonymous | 12/20/2008 7:14 AM | Flag
I wonder if he takes vacation from Bay County Animal Control or the Bay County taxpayers are being suckered into footing the bill for this?

Anonymous | 12/20/2008 9:36 AM | Flag
As far as the Pomeranian story goes...I read on a message board when it first happened that the dog involved was a Pomeranian mix, who weighed just under 20 lbs. Its really hard to find any corroberation regarding the dog's actual breed. It is very unlikely that the dog was a pure-bred Pom, who weigh about 5 lbs, if he weighed just under 20.

The story was picked up and has been repeated so many times, its become more of an urban legend. The poster on this particular board claimed to have spoken to AC in the town where it happened. The owner reported the breed of the dog, it wasn't determined by AC.

It makes much more sense that the dog was a mixed breed, larger dog; it always strained credibility that a 5 pound dog could do that much damage.

Anonymous | 12/20/2008 11:24 AM | Flag
Breeding fighting dogs

When are we going to crack down on people breeding at will in their backyards.

Aren't there health code restrictions? Zoning laws? Are we the Third World?

These kinds of things need to be regulated

Anonymous | 12/20/2008 11:25 AM | Flag
It was my understanding that the Governor shot down the California anti-bsl law? It doesn't exist anymore?

annod | 12/20/2008 2:04 PM | Flag
The backyardbreeder was probably in the process of creating the Ultimate Manstoppers. Let's hope they cull the puppies too.

Felony | 12/20/2008 2:34 PM | Flag
Although, I am far from happy about this fatal mauling, I can't get too worked up about it. At some level people need to take responsibility for the risk they assume. You know, it is kind of like mountain climbing. It is a risky activity.
The real issue for me is the risk that pit nutters force people like Kelly Caldwell, Cheryl Harper and Wendy Blevins to assume.

FoolMeOnce | 12/20/2008 4:28 PM | Flag
Whitewash Jimmy Quote: "The adult Dogs; "Murder" and "Mayhem", were concerned about the health effects of second hand smoke on their litter caused by the victims smoking."

WTF???? Am I reading this correctly? Is this pit nutter actually claiming that THE DOGS were concerned about the second hand smoke??? OMG -- this has got to be the craziest statement I've ever seen from a nutter. Rationalization at it's finest! Talk about being in la-la land.

Anonymous | 12/21/2008 2:40 AM | Flag
The White Wash Jimmy quote was a preemptive spoof by a DBO member....When the real one comes out...it will be a Fable crafted to distract away from the breed of these two "wigglebutts".

annod | 12/21/2008 9:02 PM | Flag
http://www.pe.com/localnews/inland/stories/PE_News_Local_S_dog20.4635818.html

This article is naming the man as the owner of a pit/bull mastiff mix and pit bull.

Anonymous | 12/23/2008 4:33 AM | Flag
Two more people bitten while their dog was being killed by an off property Pit Bull in Ventura County(Mother Jenk's Area of irresponsibility):

http://www.venturacountystar.com/news/2008/dec/18/no-headline---nxxfcbites18/