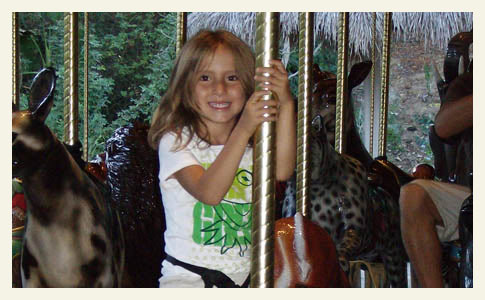 Katya Todesco, 5-years old, was killed by a pit bull-mix while visiting a friend's home.
Police Contradict Initial Statements
UPDATE 10/10/08: The Simi Valley police did not release information about Katya Todesco until six days after she was attacked and three days after she was pronounced dead. It appears the department failed to follow standard protocol in this matter. When police finally did release the information, they told the Ventura County Star newspaper:
"Police Capt. Roy Jones said animal control was the agency investigating the fatal attack, and that police did not report it partly because they did not find any criminal conduct in the matter and wanted to be sensitive to the grieving parents."
Last week, DogsBite.org sent a letter to the Mayor, City Council and Police Chief of Simi Valley requesting an investigation. It appears that police and animal control departments failed to follow customary practices in the investigation of a wrongful death. This includes, but is not limited to, the failure to follow standard protocol in releasing press announcements about the wrongful death and the early indications of a fatal pit bull mauling.
On October 9th, the Ventura County Star reported that the police reversed its earlier statements. The police now say that "during the early stages" of the investigation -- prior to making statements to the media -- they immediately expanded their investigation to determine if criminal culpability was involved. This statement is in direct contrast to the department's earlier "reasoning" of not issuing a press announcement in the first place.
"Information obtained during the early stages of the inquiry into this incident resulted in an immediate expansion of this investigation to determine any criminal culpability by the person(s) involved," police said in a news release.
Various Simi Valley residents have contacted DogsBite.org since the death of Katya Todesco. They have many questions and concerns just as we do. We recommend that these residents contact city council members and ask why the fatal mauling of a child was reported so late, why the police issued conflicting statements and most importantly -- given that animal control is in charge of this investigation -- why this agency appears to have no role in the confusion.
09/30/08: Visiting Friend's Home
The pit bull that killed Katya reportedly bit her in the face and neck. Initial reports indicate that Katya lived at the home were the attack occurred, but her mother, Katia Todesco, said the attack occurred at a friend's house. Todesco said her daughter entered the backyard with the friend's 13-year-old daughter, and the dog attacked when Katya "bumped into it."
Todesco was inside when she heard screams and ran out to find her friend wrestling with the dog, which had latched onto Katya, she said. "It was a horrible attack," Todesco said. "With my own hands I was pulling the dog's jaw." According to county Animal Regulation Director Kathy Jenks, after the attack, an official went to the home and found the dog in a kennel.
Katya was a first-grader at Crestview School in Simi Valley. "She was an extraordinary girl fun, loving and just a beautiful girl," her mother said. "We are devastated." Strangely, she said she doesn't blame anyone for the attack. "It was a terrible accident that should never have happened." She said the dog belongs to someone other than her friend, who was taking care of it.
On the night Katya was attacked, a different pit bull killed another dog on Lysander Avenue in Simi Valley, and yet another pit bull bit a woman on her legs on Ballard Street, Jenks said. Both dogs were taken to the animal shelter, and the owner of one immediately agreed to have it destroyed. Simi Valley police did not report any of the attacks to the media.
During the 2007-08 fiscal year, 117 pit bull bites were reported to county animal control, the most of any breed. A total of 1,185 dog bites were reported in that period. Then the article quotes Jenks again. In her following statements, she attempts to excuse this breed's horrific conduct since the mid 1980's -- if only she could make a couple hundred deaths and countless maulings vanish.
Jenks, however, said pit bull attacks are reported much more frequently than those by other breeds of dogs.
Jenks and officials from the Humane Society of Ventura County said the lesson is that it's not safe to leave young children with any breed of dog.
"The greatest myth we have perpetuated in this county is that children and dogs belong together," Jenks said. "Dogs, no matter what breed, do not see children as humans."
If all dog breeds did not see children as humans, how many dead children would be reported every 24 hours? Jenks is clearly a pit bull apologist. Even in the wake of a 5-year old's face getting ripped off and killed because she "bumped into" the dog, the director of the Ventura County Department of Animal Regulation would have the public believe that dogs of all breeds are as deadly as pit bulls.
09/29/08: Mauling Victim Identified
The victim was identified as Katya Teresa Todesco, said Los Angeles County Coroner's spokesman Capt. Ed Winter. She was reportedly in her back yard when the dog attacked. Kathy Jenks, director of the Ventura County Department of Animal Regulation, said dog lived at the home but belonged to a man who did not live there. The dog is being held in quarantine by the animal regulation department during the investigation, Jenks said. It will likely be euthanized.
09/28/08: Child Dies Due to Injuries
Simi Valley, CA - A 5-year-old girl who was bitten by her family's pet pit bull last week has died. The attack happened on September 23, at the girl's home on Appleton Road in Simi Valley, said Lt. Paul Fitzpatrick of the Simi Valley Police Department. After she was bitten, the girl was transported to Simi Valley Hospital then transferred to Children's Hospital Los Angeles, Fitzpatrick said. The girl died at the hospital Friday. No action has been taken against the child's parents.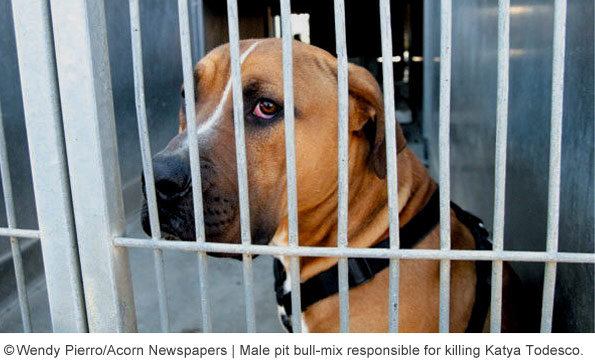 Related articles:
11/07/08: Kathy Jenks, Director of Animal Services, Stands Before City Council
10/22/08: Nominated: Pit Bull Apologist of the Year, Kathy Jenks