Friday, July 25, 2008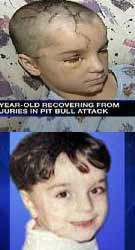 Charges Pending in Dog Attack
UPDATE 07/25/08:
What had been described as a very large pit bull that attacked Rocco is now being called an American bulldog. This hardly comes as a surprise. Both dogs share the same gene pool. Many pit bull ordinances include the American bulldog as a "pit bull type dog" including the whole state of Ohio.
Investigators plan to charge both man caring for the dog and the dog's original owner. The charges include harboring a dangerous animal and failure to control the dog. They also said the dog was not licensed and is not up to date on its rabies vaccination. The Doman family hired an attorney and will fight to put the dog down.
07/24/08
Rocco Returns from Hospital
Rocco Doman is out of the hospital and resting at home. Last week, while visiting a neighborhood friend, Rocco was mauled by a pit bull that escaped a fenced yard next door. His friend's grandmother pulled the dog off. By that time, the little boy had bites from his head to his toe.
The child will require plastic surgery but it's the emotional scarring his family is worried about. "I just know he's already having nightmares," said his father. The woman who was keeping the dog said she feels terrible about what happened but said she did nothing wrong since her "goddaughter owns the animal."
A dog usually belongs to
someone else
after it bites.
07/20/08:
8-Year Old Badly Injured
Wilkinsburg, PA - In a developing story, an 8-year-old boy was viciously attacked by a pit bull on Elm Street. His father, Timothy Doman, said his son had bites on his head, face, neck, legs and back. He said, "...he was laying on the neighbor's floor next door to where the dog lived in the living room, laying there with a towel on his head, bleeding profusely."
According to the video, the pit bull escaped from an open gate. There was no information regarding the dog owner or a possible criminal investigation. But councilman Carl Lewis voiced his concern over the incident. Doman said his son, Rocco, is in good spirits at Children's Hospital, but will probably need a lot of plastic surgery. He added that his son will definitely be "scarred for life."
A boy in
Hamblen County
, Tennessee is less fortunate. This is all the news article reported, which is a good indicator that it was a very serious mauling: "HAMBLEN COUNTY (WATE) -- A child was mauled Saturday by a family pit bull in Hamblen County. The attack happened at about 5:00 p.m. Officials say the three-year-old boy was flown to UT Medical Center.:
Related articles:
07/17/08:
Little Girl Bitten by Pit Bull in "Land Shark Attack"
07/06/08:
Pit Bull Attacks 7-Year Old Girl on Kapalua Beach
06/25/08:
Pit Bull in Omaha Attacks 2 Babies and a Mother

Please donate to support our work
DogsBite.org is a 501(c)(3) tax-exempt public charity organization. Learn more »
posted by
|
permalink
|
4 comments
|

email
|

blog rss
|

comment rss

4 comments:

Anonymous | 7/21/2008 6:31 PM | Flag
Wonder if the mauler that ripped into Rocco Doman was related to these beasts?:

http://kdka.com/local/Wilkinsburg.pit.bull.2.389772.html

Anonymous | 7/24/2008 6:23 PM | Flag
The good news is the boy's parents plan to sue the dog's owner. You can bet every party in the "chain of custody" for that dog will be named in the suit. The goddaughter, homeowner, whomever, had better all start listing assets on top of their insurance liability limits, assuming they have insurance, and prepare to hand it over. This ain't gonna be cheap!

Anonymous | 7/24/2008 6:28 PM | Flag
And here is another heartwarming tale of a pit bull attacking his master for no apparent reason....

http://www.readingeagle.com/article.aspx?id=100188

Anonymous | 7/25/2008 3:25 AM | Flag
"The woman who was keeping the dog said she feels terrible about what happened but insisted she did nothing wrong since her goddaughter owns the animal."

In a better world this deviant would have taken the mauling instead of a beautiful kid. Here's to hoping this woman ends up living out of a cardboard box!