Tuesday, May 6, 2008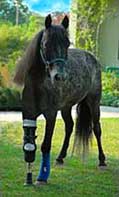 A Book About People, Ponies and Hope
New Orleans, LA - "Molly the Pony," is a children's book. It is a story about a speckled pony that was abandoned after Katrina. She spent weeks on her own before she was taken to a farm where abandoned animals were kept. While there, she was attacked by a pit bull, and almost died. Her gnawed right front leg became infected, and her future grim.
Surgeon Rustin Moore was taken by Molly. He saw how the pony was careful to lie down on different sides so she didn't get sores, and how she allowed people to handle her. Moore agreed to remove her leg below the knee and a temporary artificial limb was built. Molly walked out of the clinic and her story really begins there.

"Molly happened to be a one-in-a-million patient. She's tough as nails, but sweet, and she was willing to cope with pain," Moore said.
The other important factor, according to Moore, is having a truly committed and compliant owner who is dedicated to providing the daily care required over the lifetime of the horse. Molly's story turns into a parable for life in post-Katrina Louisiana: The little pony gained weight, her mane felt a comb, and a human prosthesis designer built her a leg.


Allison Barca DVM, Molly's vet, says that the prosthetic has given Molly a whole new life. "She asks for it! She will put her little limb out, and come to you and let you know that she wants you to put it on. Sometimes she wants you to take it off too." Molly can even get away from Barca. "It can be pretty bad when you can't catch a three-legged horse," she laughs.


Most important of all, Molly has a job now. Kay, the rescue farm owner, started taking Molly to shelters, hospitals, nursing homes, rehabilitation centers -- anywhere she thought that people needed hope. Wherever Molly went, she showed people her pluck. She inspired people. She survived the hurricane, she survived a horrible injury, and now she is gives hope.

"Molly the Pony," is a children's book written by Pam Kaster about the pony who has already inspired thousands of people around New Orleans. It's not a book about amputation or prosthetics, it's a book about people and ponies. Molly's MySpace page
Order the book:
Molly the Pony at Amazon
Related articles:
04/23/08:
Another Horse Attacked by Pit Bull Near Auburn
Labels: Amputation Injury, Horse Attack, Louisiana

Please donate to support our work
DogsBite.org is a 501(c)(3) tax-exempt public charity organization. Learn more »
posted by
|
permalink
|
6 comments
|

email
|

blog rss
|

comment rss

6 comments:

Anonymous | 5/06/2008 7:35 AM | Flag
Finally!...A positive contribution to civilization by the pit bull community.

"Without Pit Bulls, artificial limbs for horses would have never been developed."

Dee | 5/06/2008 11:42 AM | Flag
Pit bulls are absolutely deadly to these wonderful animals. Let's not forget that in some cases the ponies and horses have riders. Deaths in these instances would not be recorded as dog bite fatalites; they would be recorded as accidents.

Anonymous | 5/06/2008 11:49 AM | Flag
Molly's prosthetic has a smiley face on the bottom of the hoof. Wherever Molly steps, she leaves a smiley face imprint. http://i107.photobucket.com/albums/m282/delig8dor/forum/katrinaPONY3.jpg

Perhaps the next prosthetic needed, because of a pit bull attack, could have a circle-slash over the picture of a pit bull.

Anonymous | 5/07/2008 7:32 AM | Flag
No mention as to whether the Pit Bull owner paid restitution in this case.

Anonymous | 6/15/2008 3:56 PM | Flag
A very important point to note is that the pit bull who attacked Molly was itself a rescue from the hurricane. It had been on the farm for weeks and had never shown aggression toward the humans. I'm familiar with a similar situation, an acquaintance who owned a pit bull who was quite tame with humans--even rescued her young grandson from an apartment fire--but some years later attacked and killed a horse. Naturally the dog was put down after the attack, but pit bulls are a breed that should never be around horses.

Trigger | 8/15/2009 1:50 PM | Flag
Molly is touring Ohio:

"(August 14, 2009) CINCINNATI — Molly the three-legged pony leaves smiles wherever she goes. Her prosthetic right front hoof has a smiley face on the sole. Her sweet disposition and tales of survival brought smiles Thursday to the faces of 120 campers with disabilities ages 5-22 at Stepping Stones Center's Day Camp...

On Dec. 3, 2005, Harris left her farm to go to the post office. She let another Katrina survivor have the run of the yard. That survivor happened to a pit bull.

When Harris returned home, Molly was on the ground. "Her four legs," Harris said, "looked like they had been put through a meat grinder." The pony had been attacked by the pit bull. The piranha on four legs also tore a gash in Molly's neck. The pony survived the attack, but her right front hoof didn't. The damaged limb fell off in Harris' hands as she massaged the injured pony."

http://www.bucyrustelegraphforum.com/article/20090814/UPDATES01/90814003