Tuesday, April 15, 2008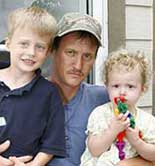 Officer Eugene McAvin Acted to Protect His Family
Santa Fe, TX - In a twisted tale of injustice, an animal control officer in Texas may be fired for shooting an aggressive pit bull that threatened himself and his family.
On April 2nd at 7:15 am, officer Eugene McAvin was off-duty and preparing to walk his son to the bus stop. The two had just stepped out of their house when a neighbor's pit bill blasted into their yard. McAvin said the dog was "all teeth and ready to kill something."
The dog came directly at McAvin. He put his son Matthew behind him and started kicking at the dog and shouting, "Keep away!" McAvin and his son retreated into the house and shut the Plexiglas door, which had a screened window slightly open. The dog punched in the window trying to get inside.
Shaking, McAvin grabbed his .40 caliber Glock and took a shot at the dog. He missed, but the sound of the shot sent the dog scurrying.
After he put away his gun and sent Matthew to school, he went looking for the dog before starting work. The dog saw him coming and ran and hid across the street. He knocked on the dog owner's door and told the woman she needed to "get her dog." The woman did nothing, which infuriated McAvin. He uttered a few choice words at this time.
He then called the Sante Fe police and told the dispatcher that he fired his weapon. Santa Fe Police Chief Barry Cook said the officer responding to the call didn't cite McAvin but did issue his neighbor a citation for allowing a dog to roam at large. Later, McAvin told his supervisor about the incident and completed a report.


Meanwhile, the pit bull owner filed a complaint against McAvin. A few days after, he received a termination letter "due to firing a gun at an animal and using abusive language toward a citizen." McAvin has several days in which to appeal the ruling. He very much wants to keep his job and admits his confrontation with the neighbor wasn't the wisest move.
A day before the pit bull incident, McAvin resuscitated a man at a barbeque restaurant who suffered a massive heart attack. McAvin was having lunch at the time that he responded. He continued giving CPR until medical personnel arrived. The man survived and is recovering in the hospital.
Currently, the fate of McAvin's job lies in the hands of the Galveston County United Board of Health. The appeals process is not yet complete.
The injustices of this story are wrenching. The significant danger a "berserking" pit bull presents to law enforcement officers nearly always forces the use of a gun. Courts have consistently upheld that pit bulls are a "lethal weapon," whereby giving officers the legal right to shoot them.
In this instance, McAvin didn't even hit the dog. The berserking pit bull presumably still lives across the street from him, along with its irresponsible owner.

Please donate to support our work
DogsBite.org is a 501(c)(3) tax-exempt public charity organization. Learn more »
posted by
|
permalink
|
6 comments
|

email
|

blog rss
|

comment rss

6 comments:

Anonymous | 4/15/2008 12:18 PM | Flag
This American's second amendment rights are being suppressed by the "rescue angels" who dominate the Animal Control profession because he shot at one of their precious Pit Bulls. He should sue the city for millions in a civil rights case.

Anonymous | 4/15/2008 12:30 PM | Flag
I can understand firing him for missing the bloodthirsty beserker.

Dee | 4/15/2008 1:12 PM | Flag
The man was sacred to death for himself and his son, I think a "few choice" words are understandable. The fact that this pit bull owner has any kind of leverage at all makes my heart tumble and fall.

Anonymous | 4/15/2008 2:38 PM | Flag
For performing life saving CPR a day earlier he gets nothing. For getting upset about having to protect his family from an attacking pit bull he gets fired?

Swell.

Sounds like one of those hidden blessing firings. Who needs a boss that rides the short bus to work?

Anonymous | 4/16/2008 4:30 AM | Flag
The Animal Control profession desperately needs an enema. There are way too many rescue angels who cannot make public safety decisions IRT dogs. It wouldn't surprise me to find out that this beserking Pit was adopted out.

Hopefully, the NRA has some lawyers on it's payroll that will make sure this man doesn't get screwed.

Anonymous | 4/16/2008 12:32 PM | Flag
This poor guy.....can we eventually get an update on him? My husband would have landed in jail in a situation like this.....if a pit bull ever came onto our property and threatened one of our kids, my husband would have killed it. As a matter of fact, I don't know many fathers who wouldn't have.