Friday, March 28, 2008
Aleksandra Kagan, 9, Suffers Severe Injury
Chicopee, MA - Aleksandra R. Kagan said she went to a neighbor's house to deliver treats when a pit bull ran out and attacked her in the lower abdomen. She was treated at Baystate Medical Center in Springfield. Her mother said she has 25 stitches and a drainage tube. The photo below depicts Aleksandra (right)
before the attack
.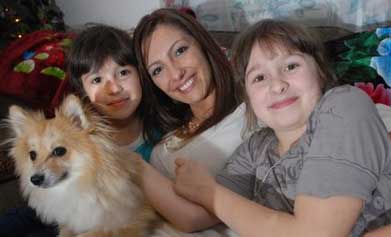 Since the incident, Aleksandra has had trouble being in school, and spends only a few hours in class each day. Since she cannot climb the stairs for lunch and there is no elevator, a teacher brings her lunch to eat. Aleksandra is looking forward to her many stitches being removed in about 7 days.
Officials at the Thomas J. O'Connor Animal Control & Adoption Center said that the owner does not want the dog back, and it will be euthanized after the 10-day quarantine period. The dog did not have a dog license, rabies or any other vaccinations and was not neutered.
Yeva Kagan, Aleksandra's mother, states an obvious truth, "If you cannot afford to keep animals, don't have animals."
The larger concern is Aleksandra's future and her family's future. DogsBite.org hopes that both receive adequate civil recourse for this crime.

Please donate to support our work
DogsBite.org is a 501(c)(3) tax-exempt public charity organization. Learn more »
posted by
|
permalink
|
4 comments
|

email
|

blog rss
|

comment rss

4 comments:

Anonymous | 3/28/2008 5:48 AM | Flag
Prevent the Deed, Regulate the Breed!

Anonymous | 3/28/2008 11:51 AM | Flag
Here is more detail on the story...

http://www.wwlp.com/Global/story.asp?S=8073627

Typically, the adult at the home claims it is her son's dog. The victims family is having trouble covering the medical bills, even though they have insurance. The child is still having nightmares. There is graphic video footage of the gaping hole the dog left in her abdomen....looks like the dog tried to disembowel her.

Anonymous | 3/28/2008 12:10 PM | Flag
The dog owners name is Elizabeth Sliwa....she is on camera crying crocodile tears for the victim. Most likely the tears are for herself. In typical pit bull owner fashion, she was quick to claim that the dog was "her son's dog", probably because he is either a minor, or he is other wise judgement proof.

Isn't it funny that every time a "pet" pit bull attacks a neighbors kid, suddenly the homeowner is not the dog owner? It's always some other relatives dog.

Anonymous | 2/23/2009 2:12 PM | Flag
why keep the dog if you can't pay for it? it makes me mad to see all these reports of little kids being beat up, and then the people who are keeping the dogs are suddenly "NOT THE OWNER"