Thursday, January 31, 2008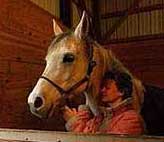 Prosecutor's Office Issues Charges in Horse Attack
UPDATE 1/31/07:
Livingston County prosecutor's office announced today it is charging David Clyde McGalliard, of Handy Township, with five misdemeanor charges in connection to the Monday pit bull attack on a Polish Arabian mare.
Prosecutor David Morse, who is also prosecuting
Diane Cockrell
in the fatal double mauling of
Edward Gierlach and Cheryl Harper
, said his office authorized a felony complaint against McGalliard, 44, for two counts of allowing animals to stray and three counts of having unlicensed dogs.
UPDATE 1/30/08:
Horse Owner Haunted by Animal's Awful Death
Inside the barn at Red Rock Arabians Farm, the blood-soaked evidence remains. The stall had been home to Helvezia, the matriarch of the 12-acre Arabian horse farm. But on Tuesday, the day after two pit bulls viciously ripped the 1,000-pound mare apart, the stall was a crime scene.
The owner, Kara Sepulveda doesn't like to speak of what she saw -- the bloody-mouthed pit bull ripping the flesh from her 26-year-old mare -- or of what happened next: a Livingston County sheriff's deputy shooting the two pit bulls dead. She knows that Helvezia's ear was bitten off and her face was mutilated, but she didn't ask the vet exactly what injuries made it necessary to put the creature down.
The attack is the second vicious dog mauling in recent months in the same stretch of rural Livingston County. Last November, Four American bulldogs -- generally known as a dangerous breed -- fatally mauled Edward Gierlack, 90, and 56-year-old Cheryl Harper. The owner of these dogs,
Diane Cockrell
is currently facing multiple felony counts.
1/29/08"
Horse Euthanized After Pit Bull Attack
Livingston, MI - In another pit bull horse-attack, Livingston County sheriff's deputies responded to a horse farm in Handy Township after it was reported there was a stray dog attacking a horse in a stall. When police arrived, they found two pit bulls attacking the Arabian mare. The farm owner told police that he did not recognize the animals. A veterinarian was called to the scene to care for the horse, but was forced to euthanize due to the extent of the injuries caused by the dogs.
Labels: Horse Attack

Please donate to support our work
DogsBite.org is a 501(c)(3) tax-exempt public charity organization. Learn more »
posted by
|
permalink
|
5 comments
|

email
|

blog rss
|

comment rss

5 comments:

Anonymous | 1/29/2008 12:04 PM | Flag
This is ridiculous, when will this breed of dogs be out-lawed? How many people or animals have to die before action is taken to eliminate such an aggressive breed?

Dee | 1/30/2008 4:13 AM | Flag
They scaled the stall door -- surprise, surprise. So the horse was trapped while they ripped it apart, unable to appropriately defend herself.

If only horses could read and understand the news today. "Some of today's dogs will tear you to shreds, not herd you..."

Mankind seems bent on destroying it's two most loyal allies: horses and dogs. This is a sad reflection of mankind -- particularly in the way he is going about doing it.

Anonymous | 1/30/2008 7:07 AM | Flag
Bullbaiting genes come to the surface after two centuries. What a nasty breed trait!

Anonymous | 1/30/2008 2:39 PM | Flag
Unfortunately not as rare as one might think:


http://www.dogsbite.org/blog/2007/11/pit-bulls-shred-1200-pound-horse.html

Anonymous | 1/30/2008 3:33 PM | Flag
My heart goes out to the horse owner....what a horrible way for the horse to die.

Again, this is an excellent example of a "game" dog....scaling a four foot stall door to get at, attack, and kill an animal 10 times it's body weight. I dn't want to hear that "any dog could do this"...you will never hear of a beagle doing this.