Monday, January 7, 2008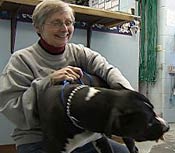 Possible Pit Bull Ban
In the best recent news from Tennessee regarding the pit bull plight, a brave animal shelter has come out in support of banning the breed. Animal control director Debbie Dobbs says:
"I hate to condemn a breed for some bad ones. But you have to remember their origin, their genetics, and what is already in-bred into them."
Like our daily experience at DogsBite.org, Dobbs reports "pit bull attack news alerts are filling her inbox." Referring to
Jennifer Lowe
, she adds:
"I think when a lady was killed by her boyfriend's pit bulls in Knoxville, it kind of brought it all to a head."
Johnson City mayor, Phil Roe, is taking a closer look at a ban. Like all sensible bans, existing pit bulls would be grandfathered-in with mandatory sterilization. The goal being 10 years down the road, the breed would be fully banned.
What pit bull advocates do not get -- and more and more animal organizations do get -- is that bans protect pit bulls from severe abuse, not to mention massive euthanization rates. Breed bans also offer instant authority to animal control departments, a level of enforcement that can't exist without such laws.

Please donate to support our work
DogsBite.org is a 501(c)(3) tax-exempt public charity organization. Learn more »
posted by
|
permalink
|
1 comments
|

email
|

blog rss
|

comment rss

1 comments:

Packhorse | 8/01/2011 6:45 PM | Flag
Shelters are on the front lines and see the terrible abuse and the skyrocketing euthanasia rates. It would make sense that they'd want to see a light at the end of the tunnel, and support a breeding ban.