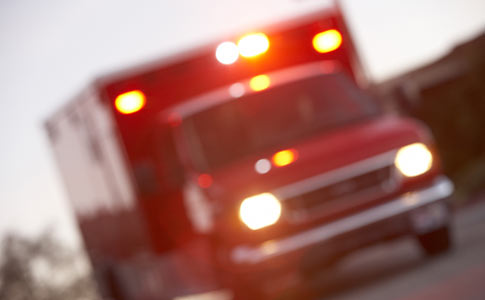 Robert Stevens, 62, died after being attacked by a family dog in Castaic, California.
Breed Information Released
UPDATE 08/09/22: On Monday, officials with Los Angeles Animal Care and Control released the dog breed information after the fatal attack. Despite information from dispatch audio files stating the dog is a pit bull, Don Belton, a spokesperson for Animal Care and Control, said the dog is a "rottweiler mastiff." It is unclear who made the 911 call, but this was a family dog attack inside the owner's home. Thus, someone in the home made the 911 call and incorrectly identified the breed?
Also, a rottweiler is already a mastiff-type -- it's one of the many molosser breeds that includes all mastiffs and bully breeds. So, labeling this dog a "rottweiler mastiff" is akin to labeling a Labrador retriever, a "Labrador retriever-retriever mix" or a bullmastiff, a "bullmastiff-mastiff mix." It's redundant for unknown reasons, unless the coat color deviates so significantly from a rottweiler's black with rich tan markings in certain areas, that this dog lacks any clear rottweiler appearance.
Finally, the canine is also being described as a "rescued" cane corso, which in southern California indicates a mastiff-mix of many possible varieties, not an Italian cane corso. "It was an unprovoked attack on one of the owners," said Detective Scott Matlock, an investigator with the Los Angeles County Sheriff's Homicide Bureau. "There was a married couple and they actually rescued the dog five years ago," he said. The investigation is being treated as an "accidental death," Matlock said.
---
08/07/22: Owner-Directed Fatal Attack
Castaic, CA - On Friday, a 62-year old man was attacked and killed by a family dog in Castaic, Sgt. Clark, of the Santa Clarita Valley Sheriff's Station, said. Castaic is an unincorporated community in northwest Los Angeles County. Around 4:10 pm, first responders received reports of a dog attack in progress in the 31000 block of Gelding Road. The man was identified as Robert Stevens, 62, of Castaic, according to officials with the Los Angeles County Coroner's Office.
"The family dog attacked a male in his house. He did not survive from his wounds." - Sgt. Clark, Santa Clarita Valley Sheriff's Station
Audio dispatch log files from the Los Angeles County Sheriff, Fire and Aircraft - Santa Clarita Valley channel on Broadcastify.com report the attacking dog was a pit bull. "Bit by a pit bull. Unknown status. Fire and animal control is en route," states the dispatcher at 9:00 minutes. "We're on scene … states that her husband is currently being attacked by the dog right now in the house. Can you let sheriff know? Possibly a pit bull," states a responder at about 14 minutes.
Around 16 minutes, the dispatcher repeats the call information. 31000 block of "Gelding Road, cross of Royal in Castaic. Male 60. Bit by pit bull. Unknown status. Fire, animal control en route for Fire. [Male] is currently being attacked by this pit bull … Additional responders over to Gelding and Royal," she states. At 25 minutes, a responder replies, "Dog is contained in the backyard right now." No breed information was released by the Santa Clarita Valley Sheriff's Station.
A report from The Signal states this was an owner-directed fatal attack. Lt. Dan Wolanski, watch commander for the Santa Clarita Valley Sheriff's Station, confirmed the dog killed its owner.
View the DogsBite.org Google Map:
California Fatal Pit Bull Maulings
.
1
Audio file has been truncated to remove empty space-time and unrelated cases.
Related articles:
12/30/21: 2021 Dog Bite Fatality: 26-Year Old Woman Killed by Dogs in Her East Valinda...
---
Baseline reporting requirements:
Law enforcement departments across the United States should release consistent "baseline" information to the media and the public after each fatal dog mauling,
including these items
.