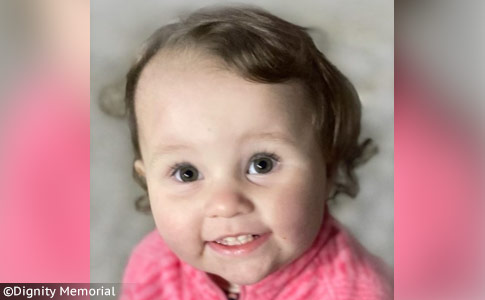 Lola Farr died after being attacked by her aunt's pit bull in Marion County, Mississippi.
Life After Lola Fund
UPDATE 06/23/23: In a heartbreaking update, the mother of Lola recently started a GoFundMe titled, "Life After Lola." Wendi Oxner is asking for the public's help to get back on her feet. "Life has been so hard this past year with grief and anxiety and posttraumatic stress," she writes. "We are trying our best to get back on our feet." She adds, "We just a need a little bit of help." In February of 2022, Lola was killed by a family member's pit bull while under the care of a relative.
Oxner also created a post on Reddit. Oxner tells the full story of what happened that day. There was only one media report about her daughter's death, which was published a month later. "Like many others, I did not know much about pit bulls," she writes. "I had never owned one and had never heard of attacks or the dangers and carnage they bring. Honestly, I thought they were just like any other dog. I found out on that cold February day that was not the case at all," she writes.
Lola was a Covid baby, and Oxner was a stay-at-home mom. In January, Oxner decided to return to work. She was about to start her fifth day of work, and she needed a babysitter. Her sister's mother-in-law offered to watch Lola at her sister's house. Her sister owned the dog involved, but was not present during the attack. Unbeknownst to Oxner, her sister's mother-in-law left Lola and two other children under the care of her 88-year old mother when the dog attacked unprovoked.
"It was my 5th day at work, I needed a baby sitter and my sister's mother-in-law offered to watch Lola at my sister's house. I never could have imagined what would happen that day. Without my permission and my knowledge my sister's MIL left my child plus two other children with her 88-year-old mother without my knowledge or my permission.

The dog was kept in a fenced in backyard - NOWHERE near my child. This dog was raised as part of my sister's family, treated very well, and was raised around 3 children. The old lady took the kids out to the front yard to play, the dog; from my understanding heard the kids playing and dug under the fence in the backyard and went straight to the front yard where my sweet Lola was playing and attacked her; completely unprovoked for no reason at all." - Wendi Oxner
Upon learning of the attack, Oxner rushed to the hospital unaware of the life-threatening injuries Lola had sustained. When she arrived, "they sat me down and a nurse grabbed my hand and said it's very critical" and that "they had just gotten her pulse back." The nurse then told her, "she had coded 3 times, and we are trying to get her stable enough to fly her to the Children's hospital." At that point, "I lost it," Oxner writes. "My whole world fell apart in that little conference room."
After Lola was flown to Batson Children's Hospital in Jackson, Mississippi, Oxner was finally allowed to see her. At that time, Lola was showing signs of severe brain damage and doctors said that her odds of survival were low. When Oxner did see her, she said her baby's face was ripped apart. "She had no ears, the main nerves in her face were gone, her tear ducts sliced, her brain was swelling," she writes. "Seeing what that pit bull did to my child made me sick," she writes.
"I dropped my healthy, happy baby off to go to work and the next time I saw her she was torn to pieces and barely hanging on. I didn't know the dangers, I wasn't educated. It wasn't until Lola was attacked that I dived into research and started joining the groups and pages against pit bulls and when I did, what I found was absolutely sickening and horrifying. How could I have not known any of this?" - Wendi Oxner
While Lola was at Children's, Oxner learned from her aunt about a baby undergoing complete liver failure with only a few weeks to live. "When my aunt told me this, she sent me pictures of the little girl who was 9 months younger than my Lola," she writes. "I fought for Lola's liver to go to baby Raelyn," she writes. "They told me their blood types didn't match and that it probably wouldn't work but it did and she is thriving and doing great today." Lola lives on today through baby Raelyn.
Oxner said that she is ashamed to ask the public for help. But she in no way should be! She and her daughter are both courageous heroes. She also states this sobering reality: "I will never forget the way my baby's wounds smelled when they let me hold her for the last time, how heavy she was because of all of the built-up fluid on her little body." She writes that her mind is traumatized, and her heart is broken. We encourage our readers to donate to help Oxner get back on her feet!
---
02/07/22: Baby Dies After Dog Attack
Columbia, MS - On February 1, the mother of Lola Jayde Farr began sharing on Facebook that her daughter "got attacked by my sister's pit bull." She coded twice while being transported to a local hospital, and again after being airlifted to a hospital in Jackson, according to her mother. "The dog got her on the back of the neck and head and on her face." She suffered irreversible brain damage in the attack. "The damage is done and it's beyond repair," her mother wrote.
Initially, doctors operated on Lola. They tried to reattach her right ear, repair the wounds on her face and stop the bleeding. By February 3, the brain damage became more clear. "Lola's heart just stopped she is completely brain dead we have to say our goodbyes. I can't do this," her mother wrote. One family friend, Ev Pender, reshared many updates posted by the mother. After several days of running more tests, they removed her from life support. Lola died on February 6.
The baby's mother is Wendi Oxner of Foxworth. The pit bull belonged to Oxner's sister, MaKayla Stringer of Columbia. The male pit bull, "Ace," was about three years old. In February 2020, MaKayla tried to rehome the dog. Apparently, that never worked out. Despite the many family members and friends publicly sharing about baby Lola on Facebook, we still have been unable to find any media reports about this attack. The circumstances of the attack also remain unknown.
View the DogsBite.org Google Map:
Mississippi Fatal Pit Bull Maulings
.
Related articles:
02/05/20: 2020 Dog Bite Fatality: Man Killed by Pack of Dogs in Attala County, Mississippi
01/11/19: 2019 Dog Bite Fatality: Woman Killed by Pack of Dogs in Grenada County, Mississippi
---
Baseline reporting requirements:
Law enforcement departments across the United States should release consistent "baseline" information to the media and the public after each fatal dog mauling,
including these items
.