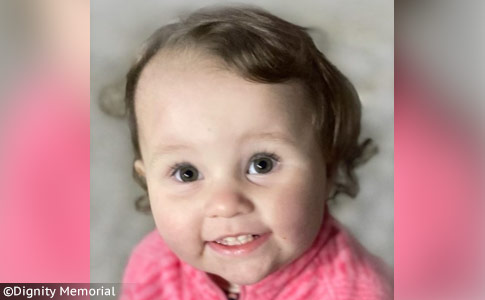 Baby Lola died after being mauled by her aunt's pit bull in Marion County, Mississippi.
Baby Died Sunday
Columbia, MS - On February 1, the mother of Lola Jayde Farr began sharing on Facebook that her daughter "got attacked by my sister's pit bull." She coded twice while being transported to a local hospital, and again after being airlifted to a hospital in Jackson, according to her mother. "The dog got her on the back of the neck and head and on her face." She suffered irreversible brain damage in the attack. "The damage is done and it's beyond repair," her mother wrote.
Initially, doctors operated on Lola. They tried to reattach her right ear, repair the wounds on her face and stop the bleeding. By February 3, the brain damage became more clear. "Lola's heart just stopped she is completely brain dead we have to say our goodbyes. I can't do this," her mother wrote. One family friend, Ev Pender, reshared many updates posted by the mother. After several days of running more tests, they removed her from life support. Lola died on February 6.
The baby's mother is Wendi Oxner of Foxworth. The pit bull belonged to Oxner's sister, MaKayla Stringer of Columbia. The male pit bull, "Ace," was about three years old. In February 2020, MaKayla tried to rehome the dog. Apparently, that never worked out. Despite the many family members and friends publicly sharing about baby Lola on Facebook, we still have been unable to find any media reports about this attack. The circumstances of the attack also remain unknown.
View the DogsBite.org Google Map:
Mississippi Fatal Pit Bull Maulings
.
Related articles:
02/05/20: 2020 Dog Bite Fatality: Man Killed by Pack of Dogs in Attala County, Mississippi
01/11/19: 2019 Dog Bite Fatality: Woman Killed by Pack of Dogs in Grenada County, Mississippi
---
Baseline reporting requirements:
Law enforcement departments across the United States should release consistent "baseline" information to the media and the public after each fatal dog mauling,
including these items
.