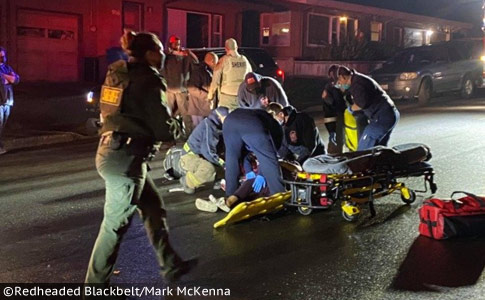 Multiple violent pit bull attacks dominate Humboldt County, Emerald Triangle Region.
Fourth Serious Attack
Humboldt County, CA - On Friday, another violent dog attack was reported by the Redheaded Blackbelt, a media outlet that serves the Emerald Triangle. This is the fourth violent attack in the region since January 9. Humboldt County has a population of 135,000 and contains cities like Arcata and Eureka and Humboldt Redwoods State Park. We first interacted with the Blackbelt in 2018 after a pit bull "rampage attack" in Arcata left one man dead and another adult injured.
Given the severe decline in media reports of violent dog attacks since Covid-19 set in last year, it is surprising that low population areas in northern California are reporting so many attacks. Or perhaps not? Humboldt County is one of the most dangerous counties in California, according to Ranker.com. The county led the state in murders, car crashes and accidental deaths, and is the epicenter of the cannabis industry. The county even inspired a NetFlix series, Murder Mountain.
In 2016, a commenter on City-Data talked about revisiting Arcata and Eureka after 40 years. NoMoreSnowForMe states, "I've never seen a town with so many people walking large dogs -- mainly pit bulls." The title of the thread is, "Whoa, What's with all the pit bulls in Arcata?" The breed of dog involved in the most recent violent attack, the February 5 facial attack in Eureka, has since been identified as a pit bull.1 The other three serious attacks also involved pit bulls.
Deputies arrived on scene and located a 59-year-old female victim with serious injuries related to a dog attack. The victim was given emergency medical treatment by first responders on scene and then was transported to a local hospital in unknown condition. The dog, identified as a pit bull, had already been contained upon deputy arrival.

While conducting their investigation, deputies learned that the dog's owner was outside with the dog when the victim reportedly walked by. For unknown reasons, the dog reportedly escaped its harness and attacked the victim. - Humboldt County Sheriff's Office, February 8, 2021
The first attack occurred on January 9, when two adults within the Covelo Fire District were airlifted due to dog bites. Though a correction was eventually made, the report originally stated the victims suffered from frostbite too. Commenters said the couple was attacked by their own pit bulls while trying to break up a dog fight. Two air ambulances were dispatched to pick up the couple; each ride can cost $30,000 or more. No other information was released about this attack.2
The second, and most violent attack, occurred on January 28 in the 200 block of Myers Avenue in Myers Flat.3 Commenters said the 35-year old female victim could lose both legs, so we added it to our Dog Bite Fatality Watch List. On January 29, the Humboldt County Sheriff's Office issued a press release about the attack. The victim was visiting the dog owner's property when his two pit bulls attacked her. We learned even more after a GoFundMe was created for Candis Danielson.
Shortly thereafter, two local media reports followed. Danielson had gone over to her neighbor's house to help him with his generator during a power outage when the neighbor's dogs got out of his trailer and attacked her, according to Aaron Merriman, an emergency medical services worker who responded to the scene. The two pit bulls then dragged Danielson under the owner's trailer and inflicted extensive damage to her legs and feet, Merriman told the Local Coast Outpost.4
Danielson's sister, Shiann Davis, created the GoFundMe page. Davis is a photographer and her boyfriend, Myles Cochrane, owns a pit bull. At this stage, the Outpost article destroyed our interest in the case, due to it including revolting propaganda from Cochrane, who had no involvement in the attack, but defends pit bulls (Cochrane formerly worked as program director at KSLG FM, owned by the Outpost's parent company, Lost Coast Communication, Inc., noted the Outpost.)
"Dogs are one of the greatest gifts to humanity. Regardless of breed or size, if they're raised right they will in all likelihood succeed. It's unfathomable some humans have the luxury of being called a "gentle giant" yet many qualifying pit bulls don't get the same privilege. That said, these particular dogs should never have had this opportunity at attempted murder." - Pit bull owner Myles Cochrane, January 29, 2021
Cochrane then deleted a photograph of his family pit bull on his Facebook page, possibly to protect his "media relations" reputation. That however, did not solve Cochrane's problem, given that his girlfriend is a photographer and has other pictures of Cochrane and his dog. Again, why did the Outpost publish Cochrane's anthropomorphic remark in the first place? Doing so served two purposes: to victimize pit bulls and to make advocates for victims of dog attacks gag.
No sooner had we tossed the Myers Flat story into the "Stories Not Worth Sharing" folder, when the Blackbelt released a devastating and detailed account of the attack by Danielson's fiance, Kenneth Swafford. Danielson is a mother of five children and was doing a favor for her neighbor (who commenters state is this man), when his pit bulls dragged her underneath a trailer and "feasted on her legs." Thus far, she has suffered a lower leg amputation below her right knee.
35-year-old Myers Flat woman, Candis Danielson, was attempting to help her neighbor on Thursday, January 28, 2021, when the neighbor's two pit bulls attacked her, dragged her under a travel trailer, and "feasted on her legs," resulting in the amputation of her right foot. Kenneth Swafford, Candis, and their children live together just four doors down from the dogs who attacked her. Swafford described the neighbor as disabled and unable to provide training and discipline to the dogs. According to Swafford, he and his fiancée had always been wary of the dogs and characterized them as "dangerous" knowing they had killed as many as 11 other dogs, including "eating their own puppies." - Redheaded Blackbelt, January 30, 2021
When Swafford arrived at the hospital, he asked Myers Flat Fire Department Chief Aaron Merriman, "How bad is it?" The chief responded, "I haven't seen anything like this since I was in the Marines." When doctors told Swafford that Candice would likely need amputations, Swafford said he collapsed and his brother caught him before he hit the concrete. Swafford also wanted to make clear that he is "not a pit bull hater." He currently owns a pit bull as does his family.
Swafford wanted to make clear that he is "not a pit bull hater." He said, "A blue-nosed pit has sat by me for 10 years and never been dangerous. Our family has another red-nosed pit that is safe." He emphasized that "the dogs that attacked Candis are vicious and need put down." - Redheaded Blackbelt, January 30, 2021
Vicious Dog Hearing
Samantha Kargas, the Public Information Office for the Humboldt County Sheriff's Department confirmed the dog's owner has a history of contacts with Humboldt County Animal Control. As of January 30, "One dog has been surrendered to our Animal Shelter and the owner has expressed interest in getting the other dog back," Kargas told the Blackbelt. Because the owner wants one of the dogs back, a hearing regarding whether that pit bull is dangerous or vicious will be held.
Reading the detailed account from the Blackbelt did not change our opinion of keeping the Myers Flat attack in the "Stories Not Worth Sharing" folder. The outcome is too painful. The owners of "good" pit bulls teaming up against the owner of "bad" pit bulls in a Zoom-based vicious dog hearing. We stated on Twitter that "we will take no part in," and we meant it, because none of the involved characters are willing to address the painfully obvious issues that matter the most.
The Red Herring Debate
This red herring debate, spurred by pit bull owners Cochrane and Swafford, is a deliberate distraction. It does not matter that one pit bull is "good" and another pit bull is "bad." What matters is the severity of injury when any pit bull inflicts a violent attack -- plenty of "good" family pit bulls are also culprits in these attacks. Permanent injuries, disfigurements and maimings are often the result. The "good" or "bad" pit bull red herring debate fails to prevent these devastating injuries.
Additionally, how many readers think the owner of the pit bulls that attacked Candis had an insurance policy on his dogs? (No one raise your hand.) How many readers think that Swafford or his family have coverage on their pit bulls? (No one raise your hand.) What about Cochrane? It is unlikely that Candis will receive compensation for her injuries from the dogs' owner. If Swafford's "good" pit bull attacks a child in the face, that child would likely face a similar bleak outcome.
Neither the owners of a "good" or "bad" pit bull can cover the exorbitant cost if their dog chooses to attack. Candis didn't just lose one foot, her other leg was severely injured too. Recall the dogs "feasted on her legs," as she lay trapped underneath the travel trailer. This was also a multi-pit bull attack, which can inflict exponentially more damage than one pit bull attacking. That Swafford adamantly did not want to be called a "pit bull hater," is yet another distraction that is irrelevant.
When asked in court by the Denver Assistant City Attorney how the level of dangerousness and potential damage changes when multiple pit bulls attack a human, versus one pit bull, Dr. Borchelt testified, "by an order of magnitude," meaning extremely worse. Furthermore, when asked by the City, "Is it your opinion that an attack upon a human by multiple pit bulls, in fact, is exponentially more dangerous than an attack by multiple dogs of other breeds?" Dr. Borchelt answered, "Yes." - DogsBite.org, February 28, 2018
Candis was first taken to Garberville Hospital then transferred to St. Joseph Hospital in Eureka, likely by air ambulance. Next, "when she can breath well without assistance," states the GoFundMe, she will receive treatment in San Francisco (possibly by an acute care burn unit). We estimate that $1 million is the starting point for her medical expenses. This is the only relevant issue, along with 33 years of continuing documentation about the severity of pit bull injuries.
The Commenters
We eventually did decide to write about the Myers Flat attack, but only in the context of the surge of attacks in the Humboldt County area. There was a third attack in January too. The day after Candis was terribly mauled, a pit bull attacked a 5-year old boy in the face in Covelo, which is part of Mendocino county and the Emerald Triangle. That dog fled afterward. The unnamed owner surrendered three dogs to authorities, but it is unknown if the actual biter was among them.
The Blackbelt has always had interesting commenters. The articles of the recent violent dog attacks are no different. There are over 120 comments on the January 29 attack. Commenter Diana even voiced our own thoughts closely. "Talking about 'good' and 'bad' dogs is silly and hides the point. Yes, dogs that are well cared for by knowledgeable and responsible owners are less of a danger to the general public. The point is, how bad does it get when things go wrong?"
"That's not about good ownership -- labs have had plenty of terrible owners, but when things go wrong they are infinitely safer than pit bulls which, in the US make up no more than 7% of the total dog population, yet are responsible for over 60% of fatal attacks." - Commenter Diana
Finally, as we were writing this post, a GoFundMe was started for the February 5 victim. She was transported to St. Joseph Hospital in Eureka then airlifted "out of the area due to not having the proper medical care for her here," states the GoFundMe. She "has a long road of recovery ahead of her." She will need to "travel back to Sacramento for follow up visits," indicating that she was airlifted to the UC Davis trauma center, which reported these findings in a peer-reviewed study:
Results: "334 unique dog bites were identified, of which 101 involved the head and neck. The mean patient age was 15.1 ± 18.1 years. Of the more than 8 different breeds identified, one-third were caused by pit bull terriers and resulted in the highest rate of consultation (94%) and had 5 times the relative rate of surgical intervention. Unlike all other breeds, pit bull terriers were relatively more likely to attack an unknown individual (+31%), and without provocation (+48%)." - (O'Brien, 2015)
---
Myers Flat Addendum
On February 11, 2021, a Vicious and Dangerous Dog hearing was held. The pit bulls owned by Don Mertz, Hussy and Sissy, were declared vicious and ordered euthanized. Mertz is also prohibited from owning any dogs for up to three years. Sissy was surrendered at the scene. Mertz initially expressed interest in keeping Hussy, but he surrendered that dog the next day. Three people were injured during this brutal attack: Candis Danielson, Kirk Swafford, and Dave Rath.
Animal Control officer Taylor Pedersen said his agency has "an extensive history" with Mertz, which dates back to 2010 and involves other dogs, as well as Hussy and Sissy, reports the Blackbelt. Proving once again, that nuisance and dangerous dog laws are so poor they cannot even hinder a serial repeat offender until a catastrophe occurs. The most recent update on Candis' GoFundMe states that she lost more of her right leg; the amputation is now above the knee.
---
1
A commenter stated, regarding the adult facial bite in Eureka, "It's believed the dog is a resident of an RV that's been illegally camped/parked on the county side of the street for months. There have been complaints about the RV's shady activity with no resolve. Very unfortunate an innocent person was attacked." Reporter Kim Kemp also stated in comments regarding the woman's injuries, "The description I was given was horrific."
2
Covelo, population 1,140, is part of the Round Valley Indian Reservation.
3
Myers Flat only has a population of 132 people, according to U.S. Census data.
4
This could be the travel trailer that Candis was dragged under, while two pit bulls "feasted on her legs."
Related articles:
07/02/18: 2018 Dog Bite Fatality: 'Rampaging Attack,' Dog Attacks Two, Killing One, in Arcata
See also: Review of Humboldt County Animal Control, the City of Eureka Animal Control, and the City of Fortuna Animal Control 2018