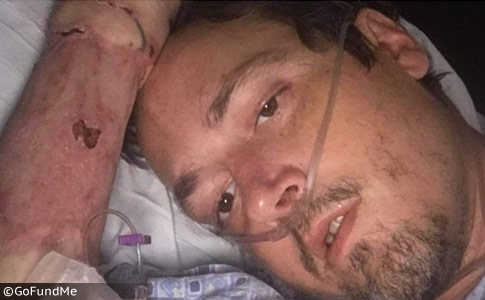 Kyle Cracolici suffered degloving injuries and worse after being attacked by two pit bulls.
Out of Hospital
UPDATE 02/13/21: A February 13 update indicates that Kyle is now out of the hospital and is still recovering from pneumonia. "He's on antibiotics and seizure medications. He has to use a breathing apparatus, up to 10x a day," states the GoFundMe. Apparently, someone tried to claim his unemployment while he was hospitalized too. Kyle was viciously attacked by his roommates two pit bulls last July. He was recently readmitted to the hospital after skin grafts became infected.
---
02/04/21: Readmitted to Hospital
Pasco County, FL - In early February, a devastating update was published to the GoFundMe for 32-year old Kyle Cracolici. He was viciously attacked by his roommate's two pit bulls last July. The dogs attacked his girlfriend, Kristen Calvagna, too, but Kyle suffered life-threatening injuries. Kyle had lived with the pit bulls for several months. But that day, when he opened the front door to let Kristen inside, things turned from routine into chaos. The dogs' owner was away at the time.
Kyle's mother, Debra Kugler, began a GoFundMe for him after the attack. Kyle was initially hospitalized for 9 weeks. The February 4 update states, "Kyle's back in the hospital, because sepsis set in, and now has double pneumonia, heart issues, suffered a seizure, and now, the team of doctors discovered a spot on the brain." The pit bulls inflicted destructive degloving injuries, and injuries affecting large surface areas; the types of injuries that carry a high risk for infection.
FEBRUARY 4, 2021 by Debra Kugler, Organizer

Unfortunately, Kyle's back in the hospital, because sepsis set in, and now has double pneumonia, heart issues, suffered a seizure, and now, the team of doctors discovered a spot on the brain.

At the moment, we don't know what that signifies. He's on IV antibiotics, but this infection seems to be spreading everywhere. No Covid. They're testing for TB, and other things, and he remains in isolation. He's scared and so am I.

It's possible one of the many wounds he suffered, got infected, and the infection spread. - Debra Kugler
Kugler described the events leading up to the attack. On July 17, Kyle was expecting Kristen to come over for a quiet night of watching movies. As soon as Kyle opened the door to let Kristen inside, who had spent time with the pit bulls previously, the dogs barged through the door and attacked her. "Kyle, raced after her, to get the dogs away, and to protect Kristen," Kugler said, "but the dogs then latched on to him, and wouldn't let go." Kyle's roommate was not home to help.
"As they were tearing him, and shredding him apart, they dragged him from the front yard, to the backyard," Kugler said. All that Kristen remembers is Kyle saying, "They're killing me, they're killing me." There was nothing she could do to help him. She had blood all over her, which was mostly Kyle's blood and she couldn't even dial 911 on her phone, so the neighbors did, Kugler said. Arriving officers shot and killed one of the pit bulls that was still actively attacking Kyle.
I was told by an extremely, kind and compassionate, Deputy, that Kyle's wounds were horrific, and he was fighting to stay alive. They didn't think he was going to make it. He was transferred by the ambulance, to Regional Medical Center Bayonet Point, and when they brought him in, the ER team, couldn't even believe he was still breathing. He was rushed in to surgery and at that point in time, his condition was listed at critical with life threatening injuries. He lost so much blood, so he was given blood transfusions. I have no idea how many. - Debra Kugler
A detective told Kugler there had been two previous incidents involving these same dogs. "Two other people had been hurt, as well," she said. "The owner of the dogs was told to remove them, but he never did … His life goes on, and my son's will never be the same." Kyle did not have insurance, so finding a physical therapy facility was proving difficult. Her attorney also told her, "The owner of the property does not have enough assets to cover hardly any medical bills."
Updates to the fund in August include Kyle being depressed 5-weeks into the hospitalization and tired of the wound cleanings, "because [they are] extremely painful." In late August, he underwent skin grafting surgeries. By September 20, Kyle was set up for home health care, out patient physical therapy and mental health therapy. The home health nurse taught Kristen how to clean and re-bandage the skin grafting areas, an extensive process, in order to prevent infection.
In October, some of the wounds got infected, which required at least one trip to the ER. By mid November, he suffered an "extremely bad infection, again" on his right leg. "The leg keeps draining, and the picture he showed me was horrible. If it's not cared for properly, sepsis could set in." Kugler said. By December, doctors warned her that Kyle's right leg might need to undergo skin grafting a second time, "because, it's not taking. Too many infections," according to Kugler.
By late January, things were slowly improving. Kyle had received a motorized wheelchair and was living in a hotel room until some type of permanent housing became available. Just under two weeks later, Kyle is admitted back into the hospital. This time for sepsis, double pneumonia and more. "I'm praying he makes it through this," Kugler said. "His body is so weak, and it hurts to breathe, and he's scared. Kyle said they are taking really good care of him," Kugler said.
Reoccurring Attacks & Injuries
Last week we reported on an attack involving two pit bulls, where the dogs dragged 34-year old Candis Danielson under a travel trailer and "feasted on her legs." Doctors had to amputate one of her legs above the knee and her other leg is severely damaged. Though Kyle's attack occurred last July, readers can now see what Danielson has to look forward to in the coming months. Wound cleaning, re-bandaging, skin grafting surgeries and the grave threat of infection.
The pit bulls belonging to Kyle's roommate had been involved in two previous attacks. Kyle had only recently become his roommate. The pit bulls that nearly killed Danielson had a history of attacks too. That owner had "an extensive history" with local animal control spanning back over a decade. In both cases, the dangerous dogs remained with their owner. In both cases, the lives of the victims were ransacked, possibly beyond repair, and the lives of the owners were untouched.
Pasco County Animal Control said the dogs, Coco and Puff, had a history of aggression. One incident occurred April 27, 2020. It involved an attack inside the owner's residence when the dogs bit two guests, one of whom had to be treated at the hospital.

Then in May, the two dogs were involved in an attack on Honeymoon Island. In the report, the owner claims one of the dog's collar fell off and it ran toward the victim's dog. As the dogs began fighting, the victim and his mother were bitten by the dog.

Both of these incidents, however, didn't result in the dogs being taken away. - Fox 13 News, September 1, 2020
The victims ages in both attacks were close too, 32 and 34-years old, respectively. This is an uncommon age for a male to undergo a life-threatening dog attack. These were not everyday dogs either -- each were a pair of pit bulls with a history of multiple attacks. Six months after Kyle was "shredded" by the dogs, his life still hangs in the balance. His GoFundMe has only raised just under $10,000. At some point Kyle qualified for Medicaid, but financial ruin continues to linger.
We hope that Kyle pulls through. We encourage you to read through the whole fundraiser and the many updates. No one should ever have to endure savage degloving injuries from "pet" dogs, injuries requiring massive skin grafting surgeries and the horrors that follow. These two pit bulls dragged this 32-year old man from the front yard to the backyard, and literally "shredded" him. This was all during Covid-19 too, where Kyle has been isolated from the people that he loves.
Related articles:
02/08/21: After Multiple Pit Bull Attacks in the Humboldt County, Emerald Triangle Region…
01/20/21: Victim Shares Account of Vicious Pit Bull Attack on Christmas Day at Seahurst Park