Luke Westerman, a Self-Appointed "Animal Welfare Expert"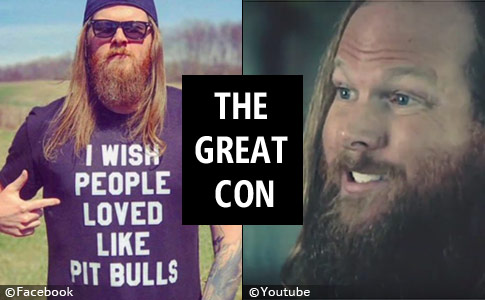 Luke Westerman, 37, is facing 19 felony counts of securities law violations and theft.
Westerman Pleads Guilty
UPDATE 10/04/21: On October 4, 2021, Jeffery Luke Westerman pleaded guilty to 19 securities-related fraud and theft charges during a hearing in the Franklin County Court of Common Pleas. Westerman is scheduled to be sentenced on November 18. The prosecution and defense jointly recommended to the Court a sentence of five years parole ("community control") and full restitution in the amount of $1,096,656.09. Their recommendation is non-binding upon the Court.
Westerman was originally indicted in December 2018 on 19 felony counts of securities law violations and theft, including one count of theft from a protected class, the elderly. The counts ranged from fourth-degree up to first-degree felonies. In October 2020, Westerman was indicted in a second case (20 CR 4696) for 17 additional felony counts of securities-related fraud and theft charges, including securities fraud, misrepresentations and theft from eight additional victims.
Westerman, a social media "pit bull activist," who parlayed that into an executive director position at the Humane Society of El Paso, just admitted guilt to 19 felony charges. He will now always be a convicted felon. The second indictment, filed last year, received no media attention. Combined, the two indictments and resulting guilty pleas could lead to over 40 years in the Ohio State prison system. It's unclear how Westerman will land his next job to pay full restitution to his victims.
Meanwhile, Westerman's sidekick Steffen Baldwin continues to face 39 felony charges related to animal abuse and fraud in Ohio. Baldwin's trial is expected to begin this December. Both Westerman and Baldwin -- close friends and cut from the same cloth -- conned their way into the pit bull advocacy and no-kill spheres by creating false online personas, often with the help of professional photographers, peddling sham resumes, sham companies and sham websites.
---
02/10/19: Lost His 'Dream Job'
DogsBite.org - On January 3, 2019, just three days after the closure of all 2018 fundraising campaigns for nonprofit organizations, KFOX14 broke the explosive story about the Executive Director of the Humane Society of El Paso (HSEP). On December 27, an Ohio grand jury indicted Luke Westerman on 19 felony counts of securities law violations and theft. For several years, Westerman had presented himself with the storied past of "leaving Wall Street to rescue animals."
According to Franklin County prosecutor Ron O'Brien, between 2010 and 2018, Westerman allegedly "solicited over $700,000 from 10 Ohio citizens for investment purposes, later misrepresented the status of the purported investments in false account statements and used some funds for personal purposes rather than the expressed investment purpose. The cash withdrawals and use for personal expenses from investment funds exceeded $300,000."
"Three humane society board members resigned in November 2018 after discovering that Westerman was not who he claimed to be." - KFOX14
By January 7, the exposé had spread to Ohio and was picked up by Fox 28. Reporter Geoffrey Redick interviewed Greg Leach, who formerly worked at a subsidiary of Solomon Global Holdings (SGH), Westerman's Ohio-based venture capital firm. It was Leach who blew the whistle on Westerman. Redick nails what happened after SGH vanished, "Luke Westerman popped up as a local animal rights activist, primarily for pit bulls. He parlayed that into a job down in Texas."
On January 7, Westerman turned himself in to Ohio authorities. The following day, the Humane Society of El Paso formally terminated him. A slew of questions then erupted. How long had HSEP board members known about Westerman's checkered background and how did he get hired to begin with? Board members had been alerted to his dodgy past in early November, but refused to take any action. They also failed to conduct a full background check before hiring Westerman.
Our Examination
In the 11 years of our nonprofit, we have seen a number of pit bull advocates and rescuers rise and sink. The "emotionally charged" pit bull advocacy and rescue spheres are easily exploitable. Thus, fraud and facades are commonplace. We decided to examine Westerman's background to find out just how easy it is for a con artist to maneuver from zero shelter management experience to an Executive Director role by creating sham companies, sham websites and a sham resume.
Our examination is a timeline starting in Westerman's brokerage years, which left him stripped of his brokerage license in 2010. We review the birth of his "pit bull" and "no-kill" advocacy in 2012, when he also invented the Westerman Family Foundation. We review how he built his social media pit bull fan base between 2015 and 2017, and how he targeted the upper echelon of the pit bull and no-kill spheres to help land him an Executive Director role at a no-kill humane society.
After Luke passed the Pit Bull Litmus Test -- a prerequisite for this role -- it appears he was aided by the upper echelon to land this top job.
It was just that much easier for Westerman when no person or entity on the humane side, especially the Humane Society of El Paso, bothered with due diligence by doing a full background check and verifying his many claims of a storied Wall Street broker, the companies he founded or cofounded -- which often turned out to be abandoned website "templates" or Facebook pages -- or his claim of founding multiple "foundations" that all proved to lack state and federal registration.
In August 2017, one month before Westerman showed up in El Paso, he launched another fraudulent "template" resume website. It would be the pinnacle of his many false claims, including calling himself an "animal welfare expert" without any field or shelter operations experience or having a bachelor's degree (in any discipline). Luke did not even bother to customize the About Us page. It's just the default language from a Wix template, seen on over 500 other websites.
"I felt conned and I felt brainwashed," stated whistleblower Greg Leach. It is clear Westerman is not who he appeared to be... - KFOX14
---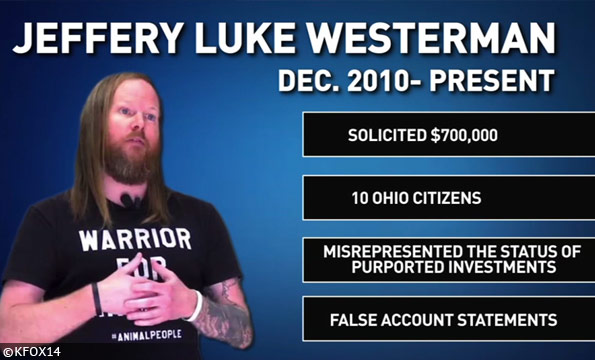 ---
Brokerage Years (2004 to 2009)
According to FINRA, a broker-dealers regulatory body, Westerman had eight different employers during the 5-year period of 2004 to 2009. Five of these jobs lasted 6-months or less. Between 2007 and 2009, three customers filed disputes against him; two involved non-genuine signatures on account documentation. A conflict after his 6-month stint at AmeriPrise Financial Services, from June 2008 to January 2009, ultimately resulted in his broker's license being suspended by FINRA.
"Pursuant to article vi, section 3 of FINRA by-laws and FINRA rule 9554, Westerman's FINRA registration is suspended June 9, 2010 for failure to comply with an arbitration award or settlement agreement or to satisfactorily respond to a FINRA request to provide information concerning the status of compliance."
Westerman even failed to appear at the FINRA arbitration hearing in April 2010. AmeriPrise was awarded over $200,000 in damages for his breach of a financial advisor promissory note, also called an up-front forgivable loan, which are often used as a recruiting tool by major brokerage firms in the securities industry. AmeriPrise then pursued multiple civil lawsuits against Jeffery Luke Westerman in Franklin County, Ohio court, including cases 11 JG 033227 and 15 JG 001720.1
---
To show the relevant historical websites, some links connect to the Internet Archive, which may have slow servers. This depends upon the amount of traffic the archive is experiencing. We also link to multiple JPGs instead of Westerman's Facebook Timeline to avoid additional lag times.
---
Early VC "Consulting" Years (2011 to 2012)
In November 2010, Westerman started Solomon Global Holdings, Inc (SGH), a venture capital company. By June 2011, the now defunct website lists its current holdings. Few of them have functional websites today, including, WIBeam, Palm Beach Broadband, NewWorld Networks, US Equity,2 Virtus Intelligence, Webb Heights and more.3 SGH also claimed to have a charitable fund. "The Solomon Charitable Foundation was established in 2010," states the archived website.
There are no federal or Ohio state filings that support this statement. As readers will learn by following along, Westerman claimed to have multiple foundations over the years, often referred to as his "philanthropic charity arm," which lacked any business filings. The alleged SGH Foundation was "targeted to selected initiatives and activities that promote job creation, innovation and economic growth," states the website. One recipient is listed, iLearn, which is now defunct.
iLearn belonged to Luke's sister Kate Westerman Bigley, who now runs "Exceptionally Me LLC." Narcissism rages in the Westerman family.4
"The Solomon Charitable Foundation's 2011 recipient is the Toledo, Ohio nonprofit organization, iLearn," states the website. There are no federal or Ohio state filings that indicate iLearn was a nonprofit. Westerman also fails to include that his sister is the recipient of the monetary gift. If the Solomon Charitable Foundation had been legitimate, this would be an illegal act. The IRS tax code forbids "self-dealing." Private foundations cannot award financial gifts or grants to family members.
Birth of Cliché Pit Bull Advocacy (2012)
In late 2012, Westerman launched the Westerman Family Foundation website, which was "heavily focused on funding the creation of a 'no-kill nation' where all healthy and treatable shelter dogs and cats are guaranteed a loving home," states the website. The website never had more than three blog posts. There are no federal or Ohio state filings for this foundation either. In short, it merely served as Luke's launching pad into the exploitable no-kill and pit bull advocacy worlds.
These two worlds are inextricably linked. Achieving 90% "save rate" is dependent on rehoming scads of unwanted pit bulls lingering in shelters.
"We have a deep love and appreciation for 'Pit Bull' breeds. They are often misunderstood and abused but are one of the most loyal and loving breeds," states the shuttered website. The site's first blog post, penned by his wife, "Pit bulls, let's return them to their place as America's dog," urges people to "fight for this precious, innocent breed" by repealing breed-specific laws. One can quickly tell how "newbie" the couple is to pit bull advocacy, given the many boilerplate clichés.
What is important to remember is that a "family foundation" does not imply wealth; it is the definition of wealth. Thus, it is interpreted as such by the public and organizations. According to Foundation Source, at the very minimum, it takes $250,000 of initial funding to establish one. A con artist will create many facades to lure in prey and heighten their confidence. Perhaps Luke's goal was to present himself as a "funding source" for humane groups and struggling rescues?
Baroque Online "Business Bio" (2013)
In 2013, Westerman began calling himself a "modern renaissance man" and "committed philanthropist" on his personal website, which vanished by the end of 2016. The archived website also shows Westerman's bio of financial businesses, including his background at JPMorgan Chase and Fifth Third Securities. He leaves out his brief time at AmeriPrise Financial Services, which ended his brokerage career and began a lengthy legal battle that continues today.
"Mr. Westerman's Wall Street experience includes tenure as Vice President of Investments for JPMorgan Chase as well as Fifth Third Securities," states the website, positions that lasted two years combined. The site also states that Westerman is a "graduate of Mount Vernon Nazarene University where he earned a B.S. in Finance and Marketing." According to a former board member of the Humane Society of El Paso, Westerman never received a bachelor's degree.
There are many manipulations on his archived Business page, including the first six words. One cannot be a "veteran entrepreneur" in a 3-year period (2010 to 2013). Prior to this, Luke had worked for eight different employers. One cannot be "heavily involved in philanthropic endeavors" and the "director" of a non-existent foundation either. The verbiage, however, does look good on a resume, which is the primary function of these manipulations, that and to win people's trust.
---
"The term con artist is short for confidence artist -- they gain your confidence just long enough to get their hands on your money," states a How Stuff Works article. Con artists are also expert at looking how they need to look. If the con involves investments, the "con artist will wear a snappy suit." All con artists share characteristics too. "Even the best con can only go on for so long before people start getting suspicious. For that reason, con artists tend to move frequently," it states.
---
Cracks in the Dam Appear (2014)
In early 2014, while Solomon Global Holdings was still solvent, Westerman began making Facebook posts with an emphasis on pit bull advocacy. In July, the SGH promotional video was released followed by the similarly staged Endeavor Forward video, its related incubation company. Westerman had also become a social climber on the Columbus entrepreneur scene, soaking up media attention whenever possible and never missing a chance for a celebrity photo-op.
Westerman's personal archived website states he was a "regular keynote speaker and lecturer at universities" and leadership conferences nationwide. Some of his topics included, "business ethics" and "effective non-profit strategic management." Due to his "extremely busy schedule," Luke was forced to delay his "national speaking tour" until Fall 2014, states the website. Public speaking with high confidence is something Westerman could do well and so can all con artists.
But by late 2014, things were starting to unravel at SGH, according to Greg Leach, who began working for one of its subsidiaries in 2014. "I'm the one that blew the whistle on him in El Paso," Leach said. "Red flags started to wave when employees weren't getting paid and the way he was acting. Nobody was getting paid and the various excuses that were given ... False promises and stories that were too good to be true." SGH and Endeavor Forward both vanished in 2015.5
Leach said that he warned the Humane Society of El Paso about Westerman's shady background so that, "He couldn't take a great organization to the ground like he has done with everything he has touched." Leach was even more blunt with Fox 28, characterizing Westerman as a narcissist and unethical. "Whoever he touched was affected by some sort of unethical behavior," Leach said. Westerman was "spending money like it's water," Leach said, while no one else was being paid.
One sees Luke's typical high level of confidence arrested when confronted by the journalist who broke the felony indictment exposé in January. Compare Luke the performer to Luke the squirmer (at 2:00 he hastily removes his microphone).
As noted in the indictment below, while Westerman was creating the seeds of his pit bull activism, calling himself a "modern renaissance man" and "committed philanthropist" and manipulating his achievements on his personal website, he is later accused of 9 felonies of Unlawful Security Practices and 1 felony count of Grand Theft during this period. By the time Leach, and possibly others, fully realized the red flags and false promises, the money owed to them was beyond reach.
---
The 19 count felony indictment filed by the Franklin County Prosecutor's Office shows that 9 counts of Unlawful Securities Practices and 1 count of Grand Theft, the unlawful taking of property or services, allegedly occurred during the period of January 2013 to December 2014.
---
Building His Pit Bull Fan Base (2015)
In May 2015, Westerman launched another resume builder for "pit bull rights," Ohioans Against Breed Discrimination (OABD). The goal was to raise $5 million dollars to promote a "ballot initiative for a constitutional amendment that would bar any city or county in Ohio from enacting or enforcing breed-specific legislation," reported the Huffington Post, an obsessive pit bull fanclub website. However, they only raised $635 and pissed off Ohio grassroots pit bull groups.
Ms. Keating said she has "mixed feelings" about the new political action committee. "I think every time we create another group and another group, we continue to dilute the supporters into smaller factions." - Toldeo Blade
The political action committee was filed with the Ohio Secretary of State in May 2015. Search results on the Secretary's site position the OABD right next to Ohio gamecock breeder PACs. No contributions or expenditures were ever filed, just the designation of a treasurer. OABD apparently never had a website, just a Facebook page, which was abandoned in late 2016. Eventually, OABD took over the now defunct Dontdiscriminate.com website, but left it a hollowed out template.
Abandoned "template" websites and Facebook pages that Westerman claimed were companies he founded or cofounded, dominate his history as an alleged "entrepreneur," "philanthropist," "pit bull activist," and "animal activist." These are the markings of a con artist, not a dedicated business owner, philanthropist or activist. Recall the phrase that struck people who interacted with Westerman after being conned, "He is not who he appears to be." Then, recall the "templates."
The Ohio Pibble Marches
The first Ohio Pibble March was held in May 2015. There are few photos of Westerman being in attendance and none of him speaking on their Facebook page. What attendees did not expect was that pit bull attack victims would show up at the Ohio Statehouse too. "Pit bull owners were met by the sight of a long row of crosses, each representing the human victim of a fatal pit bull mauling since January 1, 2014." Michigan artist Joanie Kowal designed the victim memorial exhibit.
Westerman's self-promotion kicked into high gear during the 2016 Pibble March held in July. Perhaps Luke became a featured speaker by dangling his "Family Foundation" nugget? There were no marches in ensuing years. The OABD's paper filing and 2016 speech had served out Westerman's resume purposes. The Pibble March Facebook page has since become an "adoption and fundraising" vehicle for the Cincinnati Pit Crew, Adopt a Pit Bull and other pit bull rescues.
In November 2015, Westerman posted a photo of himself addressing students at Ohio State's Fisher College of Business. The backdrop of his presentation depicts another photo of himself as the founder of SGH. For a narcissist, that's a triple bang for the buck; a photo of yourself inside a photo of yourself while you are talking about yourself. All of this staged "leadership" imagery, along with the SGH promotional videos, bolstered Westerman's transition into a rising pit bull activist.
Meanwhile, as noted in the indictment below, while Westerman was creating a far-fetched PAC to disband breed-specific legislation in Ohio -- which he quickly abandoned -- and building points as an "evangelical" pit bull activist, he is later accused of 3 felonies of Unlawful Security Practices, including using IRA funds for personal expenses, during this period. Furthermore, by the end of 2015, Solomon Global Holdings and most of its subsidiaries had evaporated into thin air.
---
The 19 count felony indictment filed by the Franklin County Prosecutor's Office shows that 3 counts of Unlawful Securities Practices (including using IRA investment funds for personal expenses) allegedly occurred during the period of June 2015 to December 2018.
---
Targeting the Upper Echelon (2016)
In April 2016, the Alpha Kappa Psi business fraternity at Ohio State University named Westerman, "Ohio Business Man of the Year." But Solomon Global Holdings and Endeavor Forward -- both the incubator and its seed fund -- along with most of SGH's subsidiaries went dark in 2015. A voice states in the exposé interview that SGH "died from the inside out" during the period. It is unclear how anyone could gain a business "recognition" award with that type of a dismal recent record.
Luke's next big adventure was to behave like a rabid pit bull activist by harassing the Darke County Dog Warden with a "Stop Murdering Pit Bulls" petition. The Darke County commissioners, however, balked. All three supported the no adopt out pit bull policy implemented by Shelter Director Duane Sanning. "Other breeds bite and let go. Pit bulls don't. They are bred to fight bears, other animals. I see all these cases and the damage they cause," Sanning said at that time.
After Westerman's petition failed, he lit up his fan base by using "killing ALL dogs" language in a Facebook post and tagging Jacqueline Bedsaul Johnson of Best Friends Animal Society (an upper echelon pit bull patron), who also wrote about his petition on BarkPost, a website teaming with pit bull zealots. Ironically, just over a year later, Johnson is horribly mauled by a pit bull named "Bosco" that was smuggled into Arizona after being declared dangerous in Fulton County, Ohio.
"I currently do not have use of either hand. However, they were able to re-attach the finger on my left hand which was severed. I will go in a week from today for major surgery on my right arm as most of the bones are totally shattered." - Jacqueline Bedsaul Johnson, Facebook December 5, 2017
Having fully transitioned from a venture capitalist to a pit bull rights "disrupter," Luke spends the rest of 2016 creating public spectacles to boost his fame higher. Like escapades to stop the Franklin County Animal Shelter from using a basic food guarding test in their assessments, a protest at the Franklin County government building ("Dog Lives Matter") of which 99% of the protesters were female, and even a stint of "sleeping outside" to draw more media attention.
At the end of 2016, Westerman began setting his sights higher. After abandoning OABD and Pibble events, he targeted animal cruelty and "puppy mill" legislation to gain the attention of top brass at the HSUS. In January 2017, he cofounded the Humane Coalition of Ohio, which lacked business filings and petered out by May 2017. This was enough time for Luke to receive a "2017 Advocates We Love" award from the HSUS for his lobbying work on behalf of HSUS backed bills.
As noted in the indictment below, while Westerman is creating these media spectacles to gain the attention of the upper echelon in the pit bull and no-kill activism spheres, and preaching "Justice for the Voiceless", he is accused of robbing a victim of upwards of $37,000. While Westerman is staging a photo-op with his sidekick on social media, "If you discriminate against or mistreat pit bulls (or any dog), be prepared to deal with us," he is accused of felony Grand Theft.
---
The 19 count felony indictment filed by the Franklin County Prosecutor's Office shows that 3 counts of Unlawful Securities Practices (including using IRA funds for personal expenses) and 1 count of Grand Theft allegedly occurred during the period of 2016 to August 2017.
---
(2017) Lands Executive Director Job
By December 2016, Westerman and his sidekick Steffen Baldwin -- who also fled Ohio due to fraud -- hatched a plan to start Columbus Pets Alive!, a no-kill franchise that began in Austin, Texas. The abandoned website remains online. The nonprofit was filed in Ohio on January 20, 2017. The website domain was created four days earlier. No IRS paperwork was ever filed. Columbus Pets Alive! was just another phony humane entity that Westerman claimed to cofound.6
By now, Luke had passed the Pit Bull Litmus Test, qualifying as a savvy pit bull pusher -- a prerequisite for a director role at a no-kill shelter.
According to his Facebook Timeline, Westerman spent the rest of 2017 targeting the emotional sphere of pit bull and doggie activism -- don't miss him serenading his own pit bull. The Dodo, which produces Pittie Nation and peddles pit bull and baby videos, highlighted his video in June, which included yet another phony humane entity Westerman claimed to cofound. Animal People, the virtue signaling tee-shirts Luke is often seen wearing, however, existed only on social media.
The Animal People Facebook page began in January 2017, but it was just a reconstitution of PreneurLife (sounds like "manure life"), another virtue signaling tee-shirt company by Westerman that existed only on social media. The PreneurLife Facebook page began in April 2016, months after Solomon Global Holdings hit the mute button.7 Essentially, "People First Profits Second #PreneurLife" became, "Animal People are my People #AnimalPeople" in less than a year.
Between May and July, Westerman tests three different pit bull "leadership" profile images and sticks with the one with the most Likes. Meanwhile, he fires up his fan base with, "If you agree that pit bull discrimination should be illegal, smash that like button!" His chief business-related post was in July, "Saying you aren't a dog person while you're pitching me for an investment is unwise." But Luke's venture capital business had gone the way of the Dodo two years earlier -- extinct.
By September 2017, Westerman showed up in El Paso, Texas, staging a promotional adoption photo outside of the Humane Society of El Paso (HSEP). He was hired as the Executive Director two months later. By April 2018, the society had achieved two consecutive months of topping a 90% live release rate. By June 2018, the local business publication had named the society "Best Nonprofit" in the city. By September 2018, Westerman boasted a live release rate of 98%.
The "save rate" quota for no-kill has long been 90%, but the contest has escalated. "Resume fame" now demands 98% save rate and beyond.
Missing Announcement Post
When we began looking into Westerman's complicated background -- with so many companies having disappeared, leaving only fragments in Internet Archives -- the first place we started was his Facebook Timeline announcement of the El Paso hire. Westerman is a raging narcissist, so there had to be one, but there was not. Actually, there was one posted on November 2, but Luke removed it. At what time, we do not know. But we do know that he had help landing that job.
"Dino and I are ecstatic to announce that I have accepted the role of Executive Director with the Humane Society of El Paso. It's an honor and a calling for me to lead a progressive no-kill animal shelter that goes to the ends of the earth to save lives.

Why this shelter? Because they have an amazing, dedicated staff, brilliant board and generous donors -- and the commitment to make the entire city no-kill. We have very ambitious and exciting plans that I look forward to sharing with you all soon.

This opportunity was brought to me by my friend and mentor, Kristen Auerbach. And I'll be working with her and Dr. Ellen Jefferson (both national experts) to help make the entire multi-state region no-kill." - Luke Westerman, Nov. 2, 2017
In 2017, Auerbach became the director of Pima Animal Care Center. She is currently named in two lawsuits filed by victims who were seriously injured by dogs adopted out under her watch -- one in Arizona and the other in Virginia, where she served as assistant director at the Fairfax County Animal Shelter. Ellen Jefferson has long been the Executive Director of Austin Pets Alive! Jefferson was also investigated by an NBC affiliate for adopting out dangerous dogs in 2016.
Both Auerbach and Jefferson are in the upper echelon of the no-kill sphere. Again, the needle has shifted to 98% save rate, which Austin has claimed for some time. Though a con artist, Luke still needed recommendations from types like an Auerbach or Jefferson. He had no previous shelter management experience or financial management experience at a nonprofit. A recommendation letter from Auerbach would not have been a "foot in the door." It would have sealed the deal.
As stated in news reports after the 19 count felony indictment exposé in early January, attorneys for the Humane Society of El Paso did not release Westerman's resume nor are they obligated to as a private organization. HSEP certainly would not release any of his letters of recommendation either. But Westerman is clear as a bell in his now missing post from November 2, 2017. "This opportunity was brought to me by my friend and mentor, Kristen Auerbach," Westerman wrote.
As noted in the charges below, while Westerman is serenading his pit bull, snuggling with puppies on local TV and telling his Facebook fans that the "purpose in life is to help others -- people and animals," he is accused of Theft From a Person in a Protected Class, such as an elderly or disabled person. While Westerman is using children in a narcissistic photo-op, to "Teach children to be kind to animals," he is accused of using investment funds for his own "personal expenses."
---
The 19 count felony indictment filed by the Franklin County Prosecuting Attorney shows that 1 count of Unlawful Securities Practices and 1 count of Theft From a Person in a Protected Class (elderly person and others) allegedly occurred during the period of 2016 to December 2018.
---
The Grand Finale - TEDx El Paso
By September 2018, Luke Westerman had misrepresented himself to the Humane Society of El Paso, El Paso city officials and local businesses, including, El Paso Inc. The grand finale, however, was his bogus "bio" for TEDx El Paso, held in October. Westerman is not an award winning "social entrepreneur" or venture capitalist by any relevant measure, and a fraternity -- not the Ohio State University -- awarded him the 2016 Ohio Business Person of the Year award.
Westerman did not cofound two organizations that "successfully lobbied the state legislature in Ohio to repeal breed discriminatory legislation" either. Westerman had nothing to do with the actual repeal of the state's longstanding pit bull law in 2012 (recall Westerman was a newbie pit bull defender in 2012). The OABD political action committee, cofounded in 2015 with his sidekick Steffen Baldwin, was a complete flop with a stated goal of raising $5 million, but only raised $635.
His TEDx bio also claimed, "He has also long advised animal rescues and shelters on how to effectively save lives while maximizing resources through his family's philanthropic arm, The Westerman Family Foundation." Luke had only a brief background in no-kill programs and zero experience in animal sheltering operations. The family foundation was a ruse, used only for the purposes of fabricating "wealth and philanthropy" and "nonprofit experience" for Westerman.
The TEDx tagline is "Ideas Worth Spreading." TEDx also specifically tells curators to vet your speakers. "Every potential TEDx speaker should be vetted. After all, sometimes it's difficult to know whether an idea is worth spreading or not – and specifically, whether it's legitimate," states their website. Just like the Humane Society of El Paso, TEDx El Paso Curator David Jerome failed to vet. Now that you know Westerman is a con artist, do you think his idea is worth spreading?
---
Epilogue and Wrap Up
After Westerman was indicted on 19 felony counts on December 27 and fired from the Humane Society of El Paso on January 8, former board member Cori Harbour-Valdez admitted the board failed to conduct a full background check prior to hiring him. Harbour-Valdez, a civil and criminal attorney, even stated in her November 6, 2018 resignation letter that Westerman had "strong objections" in 2017 when she was asked by the board to handle his criminal background check.
A full background check would have shown that Luke Westerman did not meet the minimum qualifications for the position, including that he lacked a bachelor's degree, Harbour-Valdez stated in the letter. She added, "I do not believe the board can confirm that he meets the requirement of a minimum of five years experience in a leadership role in an organization with an annual budget of $2.5 million or more nor the minimum of five years of financial management experience."
Back in 2009, Westerman billed himself as having, "5 years as a Vice President - Private Wealth Advisor where he personally managed over $130 million for some of the largest financial institutions in the world including J.P.Morgan and Fifth Third Securities." Luke had worked for eight different employers during that period (2004 to 2009), but only for about 47-months combined, about four years. By 2010, FINRA had suspended his brokerage license and lawsuits ensued.
Obviously, the Humane Society of El Paso failed miserably in their due diligence before hiring Westerman. Apparently there were no red flags after viewing his "template" resume website either, where Westerman made the brazen claims of being an "animal welfare expert" and an "expert in building scalable ventures" (nonsense jargon) by his mid 30s.8 HSEP board members also failed to take action after Harbour-Valdez issued them a warning about Westerman in early November.
The initial response by HSEP to the KFOX14 exposé was to give Luke "some time." This is after Westerman had been indicted on 19 felony charges. "The Board has given Mr. Westerman time to deal with his personal legal matters," they stated on January 4. Time is not going to dissolve 19 felony charges. KFOX14 might have even delayed airing the exposé until after critical year-end fundraising. Statistically, 12% of all annual giving occurs on the last 3 days of the year.9
The Last Refuge for a Con Artist
It's one thing for Westerman to pull off a phony marketing routine on social media in the no-kill and pit bull spheres, which already operate and solicit donations through their own similarly spurious adoption campaigns on social media. In this way, Westerman's facade of "leaving Wall Street to rescue animals" was a perfect fit for all parties. The snuggly "save them all" industry is also perhaps the last refuge for a con artist. The industry has few to no consequences either.
The lack of oversight and consequences in the furry no-kill and pit bull spheres, draws not only con artists, but also self-appointed "experts."
As Luke has now learned, it is quite another matter to manipulate rules and investors in the financial business world, where there are real consequences. There are also real consequences when you fail to pay debts, such as the $200,000 owed to AmeriPrise Financial Services. Searches on the Franklin County Clerk of Courts website show there are numerous pending judgments against Westerman, including tax liens from the state and garnishment orders.
Jeffery Luke Westerman's first pre-trial hearing date in Columbus, Ohio is set for March 19.
---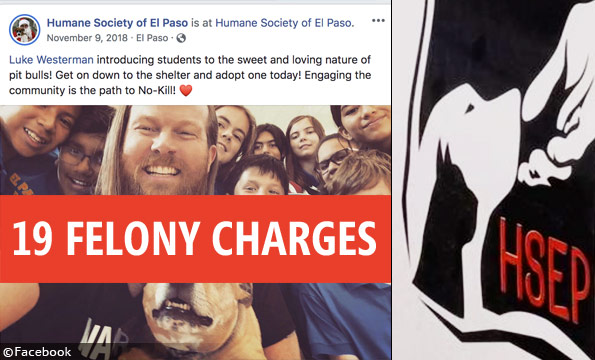 ---
1There are multiple aliases for Luke Westerman, including: Jeffery Luke Westerman, Jeffrey Luke Westerman and Luke Westerman. His father is also named Jeffery, Jeffrey or Jeff Luke Westerman. There is no Sr., or Jr., specified. Ohio county court records show that due to Luke and his father having the same name, it has been trickier for complainants to pursue their cases in court. This has been going on in the court filings since 2009 -- a decade.
2In 2009, Westerman started US Equity (us-equity.com), a pre-cursor to Solomon Global Holdings. The archived website shows captures from 2009 and 2010 and a relationship with Hamburg Equity. Both companies appear on the FINRA filing as "Other Business Activities." US Equity later meshed into Solomon US Equity, a subsidiary of SGH. Prior to his broker's license being suspended, Westerman described himself as: "manages an accredited network of private investors representing over $2 billion. Additionally, Luke Westerman's experiences include 5 years as a Vice President - Private Wealth Advisor where he personally managed over $130 million for some of the largest financial institutions in the world including J.P.Morgan and Fifth Third Securities." Luke also claims to be the "chairman of Westerman Interests" on the US Equity archived website (See related Linked in page). There are no Ohio state filings to support this. However, there is a "real" Westerman Interests, Inc. (20 years old) and a "real" Westerman Foundation (20 years old), belonging to a wholly different Westerman family (J-W Energy Company).
3There were other unfortunate companies, including QXC Communications Inc., (qxccommunications.com), which exists now as a broken website, Mercury Consulting LLC (mercconsult.com), whose website is gone and Executive Protection Management Services LLC (epmsohio.com), also gone. There were multiple co-branded subsidiaries under SGH as well, including Solomon Real Estate Adventures, which enjoyed "above market returns with mitigated risk," Solomon International Fund, a private equity fund, Solomon Global Solutions, another consulting firm that promised to take "businesses to the next level of growth and beyond," and Solomon Global Holdings Futures Trading Group. The last available version of the SGH "Holdings" page (2014), shows that two companies did survive after "touching Westerman," Avitae (goavitae.com) and Small Business Owners of America (sbooa.com).
4Cronyism flourishes in the Westerman family as well. In addition to awarding his sister a financial gift from the "Solomon Foundation," he also planted family members in director roles. Jeff Westerman, Luke's father (a retired police lieutenant), served as a Director of SGH and Virtus Intelligence, LLC, according to Bloomberg. Luke's mother, Sabrina Westerman, served as the Operations Manager at SGH. Sabrina "works closely" with the Chief Executive Officer (her son) and the Director of Virtus Intelligence (her husband), according to her Linked In page.
5The active period of Endeavor Forward and its related seed fund website was so brief, it was never archived (endeavorforward.com). A related site (endeavorcooperative.com), remained "under construction" then vanished.
6There was a third cofounder of the paper-based Columbus Pets Alive! Diana Davidson, whose husband, John Davidson, is the president of hockey operations with the Columbus Blue Jackets. John Tortorella is the team's coach and a "dedicated pit bull parent," according to Westerman. Columbus Pets Alive! was supposed to begin in the Spring of 2017, but it never panned out. Notably, the language of the Tortorella Family Foundation sounds familiar: "Their nonprofit organization, the John and Christine Tortorella Family Foundation, is dedicated to protecting children, animals and the environment, cementing their philanthropic roots to the causes..."
7PreneurLife is not a registered business in the State of Ohio. The Internet Archive never archived a page from its website (preneur.life). The domain name was registered in July 2015, according to Whois.com. However, there is a Linked in page claiming 2-10 employees. Mark this empty tee-shirt venture as one of the "over 25 companies" that Westerman claimed to have "founded, co-founded, invested in or acquired" on his balloon resume.
8There is only one page on the World Wide Web (prior to our publication of this post) that uses this jargon, "expert in building scalable ventures" -- out of billions of web pages. Westerman, quite literally, invents nonsense jargon to confuse people and to self-appoint himself an "expert" in this buzzword-heavy consulting industry.
9HSEP did not even seem to "get" this significance, that perhaps the exposé was delayed to not impact this critical fundraising period (which would have unfairly impacted innocent animals, employees, volunteers, and more). Then again, maybe HSEP did "get it," and that is why the majority of the HSEP board refused to take action against Westerman in early November, when all of their year-end fundraising campaigns were set to be in motion.
KFOX14 investigation:
01/09/19: Some Say Westerman Should Have Never Been Hired at Humane Society
01/08/19: Humane Society of El Paso Fires Luke Westerman
01/07/19: Jail Records: Executive Director of Humane Society of El Paso in Ohio
01/04/19: HSEP Executive Director Accused of Swindling $700K from Ohio Citizens
01/03/19: Executive Director of the Humane Society of El Paso Facing 19 Felony Charges
Related articles:
06/10/18: Shelters and Humane Groups Often 'Encode' and 'Conceal' Aggression in Adoption...
09/20/16: What's Behind the Clickbait Web Advertisements of Aggressive Shelter Dogs...