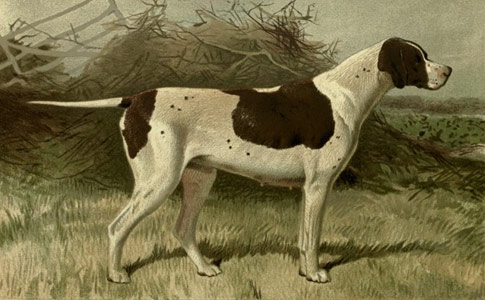 A vintage pointer dog illustration from Cassell's Illustrated Book of the Dog (1881).
---
By Boni
A guest writer for the DogsBite.org Blog.
Once upon a time in a land far, far away Dear Reader, there were Sensible Dog People. These SDPs owned dogs for various reasons.

Sometimes the dogs herded cattle and generations of good herding dogs were bred for their ability to be brave and clever and learn quickly from their herding elders and human handlers. Some barked warnings at the heels of sheep, big ones chest-banged cattle. Farmers respected their herding dogs. No dog that attacked livestock or the family was tolerated because of course, the whole family depended on that livestock and each other to survive. Many farmers, when the good old herding dog retired, would let it lay by the fire and feed it, even though it couldn't contribute anymore until it finally passed away. Then the neighborhood farmers would wax poetically about that dog's greatness and how half the county's best dogs were its descendants. Thus, the dog was a blessing to the whole community.

Sometimes there were sled dogs that slugged supplies and people from one place to the next through the deepest snow. Brave, resilient dogs, their lot in life was full of hardship. Without them, life would have been impossible in the arctic areas where their owners were forced to reside and learned to adapt. These dogs were admired for their life-preserving skills and if they shed more than their own weight weekly, well, everyone deserved a good winter coat.

Sometimes the dogs were bred for generations to retrieve game, to bring back dinner without a single tooth-mark upon it. Other dogs were bred to chase game or large, dangerous animals and some to bugle deafeningly to hunters or point to their next meal.

Sometimes there were cruel men who bred powerful pit dogs for sport. They pitted these game dogs against bulls and bears then as civilization moved away from blood sports -- fought the dogs against each other because it was cheap to breed and pen these hefty dogs, far harder to keep a bear or bull loose in the back garden. These gambling men of low countenance kept a tight reign on these unpredictable dogs because they didn't want their illicit activities to come to light. Never did these practical men consider these dogs as "pets".

Sometimes, Evil Men used their dogs to hunt other humans.

Sometimes there were even companion dogs. These were dogs that people kept around just because well...dogs are companionable. Many were free mongrels, procured from a neighbor whose friendly boy dog jumped the fence and paired with another neighbor's friendly girl dog and well...if you're over the age of 12 you probably have a good idea of how the puppies were made. Sometimes, dog fanciers bred elite dogs they called "purebred" to have specific physical and temperamental traits as guarding companions, lap dogs or helpers and charged top dollar for the ones that looked flashy at dog shows. Dangerous dogs that failed at being sociable companions were culled out for the public good with no second chances, which strictly speaking, wasn't always a fair system, as some people noticed.

And with that, Dear Reader, the whole world of dogdom went Barking Mad.

Because you see -- there was Big Money to be made off marketing to the sentimentality of companion dog owners. "AHA!" thought the profiteers. "Why should we only make a reasonable profit off dog kibble, retriever dumbbells, leashes, simple leather collars and check chains? We could make BILLIONS if we could just milk all these sentimental saps!"

Next there were walls of expensive dog toys, thousands of brands of designer treats to appeal to an animal that would be just as happy to mow down on a plop of cat poop, shelves of fancified duck-with-peas-and-sweet-potato dog foods that cost more than the family groceries, racks of dog pajamas, glorious handcrafted dog leashes with matching rhinestone collars and wardrobes that would put the Kardashians to shame.

Pee pads became the new Persian carpets as celebrities flashed their puppies' photos on the internet without the understanding that puppies have bladders the size of peanuts and need to potty 127 times a day rather than sit still for cameras.

Suddenly, dog trainers didn't just teach obedience classes for a few extra dollars to feed their obedience trial habit -- televised dog gurus, including some that didn't even own a dog -- materialised overnight. Buckets of cash could be teased from gullible owners who bought dogs based on looks, or without breed knowledge, or who'd never laid eyes on a working dog or even knew how to leash train a dog or command it to "sit" with any regularity. Of course, doing a brisk business depended on gushing all over said dog and promising that training would be a "wholly positive interactive relationship experience" for both dog and owner which, you would think -- if any of them ever raised children -- should have caused them all to laugh, outright.

I suspect, Dear Reader, that telling people that training a dog was repetition, repetition and more repetition regardless of methodology wasn't a strong selling point.

In an effort to avoid that inevitable truth, hobble harnesses and head halters were devised to fleece clueless dog owners who couldn't fathom why a dog wearing a halter originally designed for an animal with eyes on the side of its head was "having behavioral problems" or why feeling its front legs restricted against its will, caused a predator to lash out.

With that, along came the "behaviorists" and "dog whisperers" who promised to fix ill-bred dogs that had no business being in the average household but whose softhearted owners had overpaid the local rescue after being swindled about the dog's unproven "horrifying history of abuse" alleged by "dog adoption agents" whose conning skills would be the envy of any religious cult leader.

Then some enterprising carpetbaggers announced the idea that a dog living for 10 miserable years alone in a cage was preferable to humane euthanasia for an animal that was purpose-bred to live with humans, even those dogs that were too vicious to manage it. Between taxpayers and donors -- there were now massive dog gulags to be funded. All of this included well-paid executive management teams, of course.

Woe betide the poor sod who publicly proclaimed that the sensible answer to vicious dogs was to euthanize them for public safety and to save the donation funds for the betterment of gentle dogs. Let the public stoning, begin!

More and more dogs were also re-sold -- excuse me Dear Reader -- "re-homed" numerous times only to attack the unwitting because someone took home a temperamentally unsound or unsuitable dog.

The direct result of paying for all these unwanted, temperamentally unsound canines, was that mongrels and unwanted dogs that used to cost $50-80 at the local pound ten years ago now cost $200-500 from a "rescue". Purebreds became a rarity at local pounds -- breed rescues snatched them up. Dogs were gobbled up by owners with one ill-behaved dog who decided that bringing in another untrained dog would hopefully, mitigate their training failures from the first one and the holy trinity of the third one could be the charm. Rescues, to fill the demand, began importing dogs and purchased from puppy mills. As a result of all these practices prices skyrocketed, purebred dogs from a registered breeder cost more than a second-hand car.

So where, Dear Reader, have all the Sensible Dog People with their Sensible Dogs, gone?

Relegated to the dustbin of history by those whose agenda is neither dogs nor people, but profit, perhaps?

Attribution-NonCommercial-NoDerivs
CC BY-NC-ND September 29, 2020
Further information:
$87 billion per year spent on pets in the USA
$139.80 per month is spent per dog in the USA
Dog rescues importing dogs
---
Related articles:
03/18/16: Guest Post: Dog Trainer Shares Dog Attack Story & Professional Opinion
01/09/12: Guest Post: Saving Man's Best Friend by Branwyne Finch