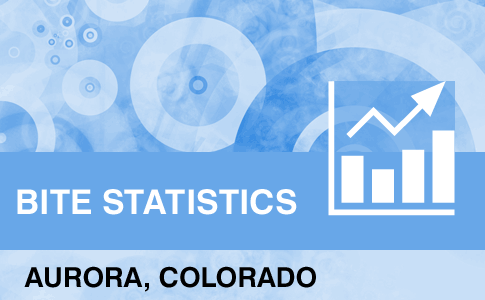 Aurora, Colorado dog bite statistics over a three year period: 2017, 2018 and 2019.
Virtual Town Hall
Aurora, CO - Aurora city officials recently announced that a public hearing would be held regarding the Restricted Breed Ordinance, Aurora's longstanding pit bull ban. "Do our residents wish to retain the ordinance or repeal the ordinance?" The announcement asks. The virtual town hall is June 18 from 5:00 to 6:30 pm Mountain time. Any person can watch the archive here. In 2014, during a first ever general election vote, Aurora citizens upheld the ban by a 64% to 36% margin.
In February, when the adjacent city of Denver was also debating a ban repeal, we analyzed Denver dog bite statistics by breed and injury severity. Despite banning pit bulls, the breed appeared among the top three biting breeds in Level 4 and 5 bites, the most severe bites. We stated then, "Pit bulls have a small population in Denver because of the longstanding ban, but this did not stop them from achieving the title of a top-biting breed." The same is also true in Aurora.
Aurora Dog Bite Statistics
The Aurora ban is specific to dogs that meet the definition of an American pit bull terrier, American Staffordshire terrier and Staffordshire bull terrier. As a caveat, there is also a "Pit bull" category in the raw data we obtained from Aurora. Thus, we show two views of our data. The "Pit bull (restricted)" category contains the three breeds in the ordinance and the "Pit bull (all)" category includes the "Pit bull" group -- dogs, apparently, that failed meet the definition of the ordinance.
Among the top-biting breeds, the "Pit bull (restricted)" group nearly tied for second place, inflicting 104 bites. This breed group followed Labrador retrievers (121 bites) and German shepherds (105 bites). When combined into the "Pit bull (all)" group, pit bulls catapulted to the lead with 151 bites. Although Aurora has a reduced pit bull population due to the decade plus ban, the "Pit bull (restricted)" group is already biting as frequently as German shepherds, which are not regulated.
Of the total dog bites reported during the 3-year period, over 100 different dog breeds inflicted 1180 bites. In the "Pit bull (all)" group, the 10 top-biting breeds inflicted 60% of all bites. The "All others combined" group contained 90 different dog breeds, which inflicted 40% of all bites. The top-biting breeds are in part a reflection of the population of the breed in the community and the breed-purpose. Notably, Cane corso made the list, a mastiff-type with paltry population numbers.
If the Ban is Repealed?
Data from our report, Biting Incidents Across U.S. Cities and Counties, shows that without regulation, the "Pit bull (all)" category, which currently inflicts 13% of all bites, will quickly rise to 25% and over twice as many as any other breed. Depending upon how fast the pit bull population grows in Aurora, pit bulls could rise to 40% to 50% of all bites and four times more than any other breed. The latter is true in Kansas City, despite having a mandatory pit bull sterilization law.
If Aurora's pit bull ban is repealed, there will no longer be a "restricted breed" category. There will only be the "Pit bull (all)" group, which includes a sizable number of unqualified pit bulls. As one can see, this already significantly impacts how Aurora top-biting breed statistics are viewed. This even further impacts pit bull intake and euthanasia. All three areas are relevant to the ban. A pit bull ban reduces the pit bull population, whereby lowering pit bull intake and pit bull euthanasia.
Aurora Intake & Euthanasia Data
On a national level, pit bulls and their mixes average about 33% of all shelter intake, but in large cities, the numbers are as high as 40% to 65%.1 In Maricopa County, Arizona, pit bulls comprise 75% of kennel space. In a hard to refute estimate by Pet Smart Charities, pit bulls comprise 40% to 45% of kennel space at shelters nationally. As you will soon see, this is over four times higher than pit bull intake in Aurora. Intake of the "Pit bull (all)" group in Aurora is 10% of the total intake.
If one pairs this down to only the "Pit bull (restricted)" group, intake falls to 6%. This is similar to Denver, whose pit bull intake over the same period was 4%. These adjacent cities have had uninterrupted pit bull bans for 15 years. Despite modest enforcement of their bans, both city shelters benefit enormously from the reduced intake of unwanted pit bulls. Remember, "Laws can have a beneficial effect, even when there is little enforcement and some people flout the law."2
Pit bull euthanasia percentages are twice as high in Aurora (133/629, 21%) as in Denver (195/1959, 10%). It is unclear why. Denver may have a more robust rescue network that can place more pit bulls outside of the county.3 During the 3-year period, Denver's total dog intake was twice the number of dogs as Aurora (14716 vs. 7116). In Aurora, the "Pit bull (all)" group euthanasia percentage is 37%, five times higher than the next closest dog breed, American bulldogs, 7%.
When reviewing all outcomes for dogs within the "Pit bull (all)" group over the 3-year period, which is a different measurement, 40% (306 of 766) of pit bulls were released, 30% (231) were euthanized, 16% (122) were adopted, 10% (77) were transferred and 4% fell into other categories, such as field release or died. Thus, of all dogs euthanized, the "Pit bull (all)" group accounted for 37%, and among pit bulls held by the shelter during this period, 30% resulted in euthanasia.
If the Ban is Repealed?
In 2017, Dr. Emily Weiss of the ASPCA analyzed data from the ASPCA Animal Stats Database and bluntly stated, "Looking at euthanasia rates, we see an incredibly sharp contrast, with 40% of all canine euthanasia being of pit-type. The sharp, and I mean sharp, drop for the next breed type of 9% for Labradors is compelling." That ASPCA Pro post has since been removed. The data used in Weiss' analysis is from 68 shelters across the country that submitted their data to the ASPCA.
Unlike Denver, Aurora's pit bull euthanasia data nearly reflects the estimated national average. Whether using Aurora's 21% or 37% euthanasia data, both appear to be an increase from 2014, when Cheryl Conway, a former spokeswoman for the animal care division, stated, "Euthanasia of pit bull dogs is down 93 percent" since the ban was enacted. "Of those few that are put down, they are primarily those that come in as strays and their owners don't come to claim them," she said.
If the ban is repealed, which will remove all pit bull breeding restrictions, pit bull intake will triple, just to get started. Using numbers from the "Pit bull (all)" group, the current intake percentage of 10% will rise to 30% to 65%. Kennel occupancy could rise to 80% in 15 months too, just like it did in Cincinnati after they repealed their longstanding ban. There will not be enough homes to adopt this surplus of pit bulls to and the Aurora Animal Shelter will be stuck with a glut of these dogs.
Summary
Although Aurora does not track injury severity, we can look to Denver for this information. Despite having an uninterrupted pit bull ban for 15 years, pit bulls are among the top three biting breeds in Denver for Level 4 and 5 bites, 5 being the most severe, and classified by a recent scientific medical study as a "mauling injury."4 In Aurora, lacking injury severity data, the "Pit bull (all)" group is the number one biting breed and the "Pit bull (restricted)" group, ties for second place.
If Aurora repeals their longstanding pit bull ban, severe injuries and maulings inflicted by pit bulls will rise. There are now 14 Level 1 trauma center studies across all major geographical regions in the country that confirm this. As the founder of DogsBite.org told the Sentinel in November 2019, when Aurora first began discussing a ban repeal, "I don't know why you would like to become like the rest of the U.S. where these injuries are staggering and growing," Colleen Lynn said.
If the ban is repealed, the most conservative outlook is that bites inflicted by pit bulls will double to 25% of all bites and over twice as many compared to other breeds, according to our review of jurisdictions in 20 states. According to estimated national shelter statistics, pit bull intake in Aurora will increase from 10% to 30% and, shelter occupancy of pit bulls will grow to 40% to 45%. A responsible city council would not invite these well-identified maladies upon the public.
---
Aurora can prepare for the following:
"There were 6683 dog bites reported to Harris County Veterinary Public Health between the years of 2013 and 2016 ... Pit bulls had the greatest frequency of bites (25%) ... Pit bulls tended to bite multiple body parts more often than other breeds." In bites recorded as "severe" or "mauling" ... "pit bulls had the greatest frequency of severe injuries (49.57%)," nearly four times higher than the next closest breed. - A look at the incidence and risk factors for dog bites in unincorporated Harris County, Texas, USA, by Hasoon B, Shipp A, and Hasoon J, Vet World, 2020 Mar; 13(3): 419–425.
---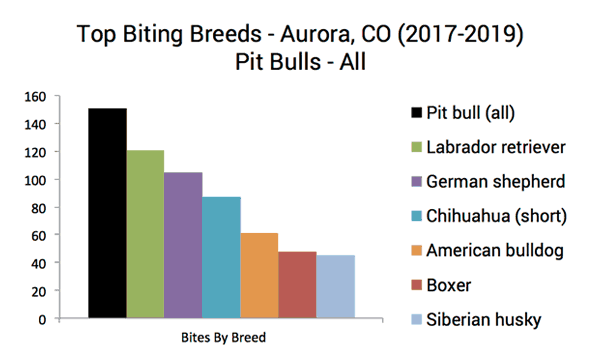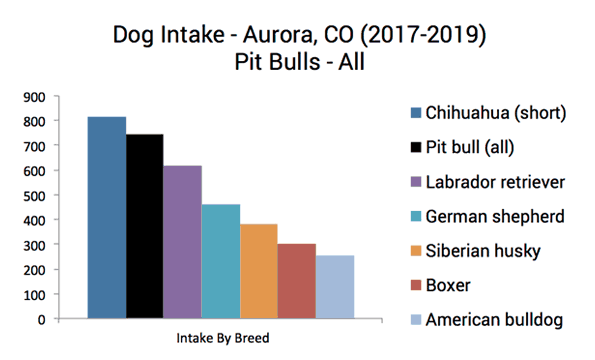 1
This statistic is unsourced, but can be found in abundance on the Internet. It seems few people would argue it. Also, the 2015 shelter survey from Animals24-7.org shows pit bulls account for 32% of all intake nationally.
2
David Hemenway, While We Were Sleeping, Success Stories in Injury and Violence Prevention, University of California Press, 2009 (Pg. 10).
3
Data from 2015 to 2018 shows a sudden doubling of pit bull euthanasia in Aurora, indicating that more residents may be flouting the ban. Quincy Snowdon, "TOTAL BULL? Aurora looks at ending breed ban, allowing forbidden 'pit bulls' back in," Sentinel, November 10, 2019 (sentinelcolorado.com)
4
"Mauling injuries were recorded when 3 or more bites occurred over 2 or more distinct regional anatomic areas, typically the craniofacial region, back, torso, and extremities." | Khan K, Horswell B and Samanta D, Dog-Bite Injuries to the Craniofacial Region: An Epidemiologic and Pattern-of-Injury Review at a Level 1 Trauma Center, J Oral Maxillofac Surg, [2019 Nov 14, Epub].
Related articles:
02/23/20: Denver Dog Bite Statistics by Breed and Injury Severity (2017-2019)
02/17/20: Mayor of Denver Vetoes Pit Bull Ban Repeal Legislation, Slowing the Hasty Repeal
02/17/20: Pit Bulls Lead 'Bite' Counts Across U.S. Cities and Counties - DogsBite.org
11/25/14: Aurora Voters Favor Keeping Pit Bull Ban by Wide Margin in First General Election Vote