By J. Thomas Beasley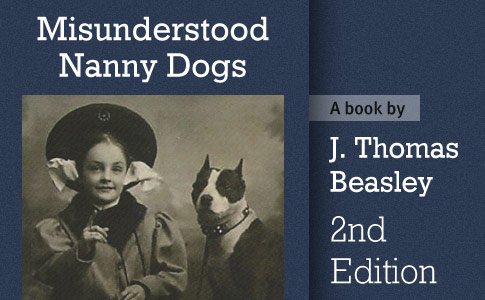 Author releases 2nd edition of book with new chapters: Misunderstood Nanny Dogs?

Purchase on Amazon
DogsBite.org - In April 2015, we wrote a review of Beasley's book, Misunderstood Nanny Dogs? The book examines the pit bull problem and offers an objective analysis of the facts and myths about pit bulls. The 2nd edition was released in December 2018 and contains new chapters about the abundance of unwanted pit bulls in shelters and the proliferation of fake service and support dogs, which has led to high profile vicious attacks by several "emotional support" pit bulls.
Beasley also updated statistics throughout the 2nd edition, as fatal maulings inflicted by pit bulls now exceeds over 100 new victims since the 1st edition was published. Purchase a copy for under $10 dollars or download the free Kindle version. As we stated four years ago, this short, easy to read version of the pit bull problem and the history of the pit bull breed is a must for supporters. It is a must for pit bull owners too; many of which have no knowledge of the breed's true heritage.
---
"I gladly and somberly dedicate this book to all of the victims of violent dog attacks, and their loved ones, that have had to endure the agony and trauma of such a horrible and tragic event, and to all those who stand up for them, despite a never-ending sea of hate and derision." - J. Thomas Beasley
---
Shelters and Rescues
The new chapter on shelters and rescues begins with a law passed in California mandating that all pets sold in pet stores be solely provided by shelters and rescues. Beasley discusses the "no-kill" movement and how it is worsening an animal rescue system already "buckling under its own weight." Beasley also discusses how some shelters are misleading the public by concealing aggression and dropping breed labels in order to adopt out pit bulls to unsuspecting families.
"We are reminded of the dangers associated with shelter misinformation and shady tactics all too often" ... All to "bolster their live release rate."
Beasley states the problem of unwanted and unadoptable pit bulls in shelters, which occupy up to 70% of shelter space in some open admission facilities, must be addressed by preventing new births. "This problem has to be addressed at the supply side, not the distribution side," Beasley states. If legislators and animal welfare groups truly want to help pit bulls, the relentless backyard breeding of these dogs must be controlled through mandatory spay and neuter legislation.
Fake Service Dogs, ESAs
In the service dog scam chapter, Beasley touches on the Delta attack in June 2017, where a fake service dog attacked a passenger in the face. This attack ushered in policy changes for airlines. In June 2018, Delta went even further by banning all pit bull-type dogs as service and support dogs after two employees were bitten by a passenger's "emotional support" pit bull.1 Beasley also touches on the viral New York City subway attack inflicted by a fake pit bull service dog.
"The problem, among others, is that there is no clear definition of what qualifies as an ESA, or what qualifies a person to have an ESA."
Due to the murky waters of emotional support animal (ESA) policies, compounded by for-profit entities that provide ESA letters via online assessment, Beasley writes, more people are trying to pass off untrained ESAs as a legitimate service animal. By definition, an ESA does not require any training; it's "sole function is to provide comfort" to a person with disabilities. Beasley also notes a study that examines the ethical and legal risks associated with psychologists certifying an ESA.2
Built Upon Many Sources
Beasley's book is built upon many sources that he nicely weaves together, covering all of the key elements for a person new to this issue, while only briefly touching on the quagmire issues. In just over an hour, one can read his book and be armed with extensive insights about the nuts and bolts of the pit bull mauling epidemic, the true history of the pit bull breed, the primary false myths about pit bulls and the "mentality" of the echo-chamber of voices who continue repeating these myths.
Finally, as a theme expressed repeatedly throughout the book, Beasley ends with the starting point of how to begin advancing society beyond the pit bull mauling epidemic. The starting point to greatly reducing the number of maulings inflicted by pit bulls does not require breed-specific legislation. It just requires one thing -- being honest about this dog breed. We either do this as a society, or remain blind, unalarmed or "ignorant of the mass violence caused by these dogs."
---
"But mostly, we need to just start being honest about these dogs. Stop feeding biased propaganda to the public. Stop ignoring the inordinate number of dead and seriously injured people caused by Pit Bulls every year. Stop perpetuating myths about this breed - myths that were created to promote the breed by disingenuous and unqualified advocates." - J. Thomas Beasley
---

Jesse Thomas Beasley was born in Savannah, Georgia. He graduated from Armstrong State University with a Bachelor of Arts in Political Science and Public Administration before moving to New Orleans, Louisiana to attend law school. Jesse's law practice focuses on public interest advocacy, including representing indigent clients in both civil and criminal proceedings, often on a pro bono basis. Read his full author bio »
---
1
Comments of Delta Air Lines, Inc., on the Department of Transportation (DOT) Proposed Rule: Traveling by Air with Service Animals Advance Notice of Proposed Rulemaking (ANPRM). Wednesday, May 23, 2018.
2
Younggren, J. N., Boisvert, J. A., & Boness, C. L. (2016). Examining emotional support animals and role conflicts in professional psychology. Professional Psychology: Research and Practice, 47(4), 255-260.
Related articles:
03/04/19: Million Dollar Lawsuit: Mother of Child Mauled by an 'Emotional Support' Pit Bull...
04/14/17: Delta Passenger is Severely Attacked by an Unrestrained 'Emotional Support Dog'
04/01/15: Misunderstood Nanny Dogs? A Critical and Objective Analysis of the Facts & Myths...