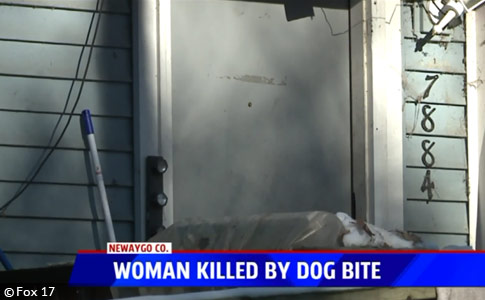 Sharon Lee Daniels, 77, was found dead after being mauled by a family pit bull.
Family Pit Bull Kills
Big Prairie Township, MI - A 77-year old woman is dead after being attacked by a family pit bull, according to Michigan State Police. State troopers discovered Sharon Lee Daniels unresponsive in her Big Prairie Township home about 7:00 pm Tuesday. She was pronounced dead at the scene. Investigators say Daniels, who is disabled and confined to a wheelchair, was alone with three family pit bulls when one of them "inflicted fatal bites to her body," state news reports.
Daniels was repeatedly bitten, which investigators say led to her death, reports WZZM. An autopsy has been ordered for further investigation. Newaygo County Animal Control officers took all three pit bulls into custody. The dogs remain in quarantine at the Newaygo County Animal Shelter. No criminal activity is suspected, according to state police. The Newaygo County Sheriff's Department, Big Prairie Fire Department and Life EMS assisted the Michigan State Police.
"Apparently, there is blood everywhere," the dispatcher tells Newaygo County Fire. "They estimated two quarts of blood on the floor."
Dispatch log files at Broadcastify.com paint a grim picture of the scene that state police and emergency medical responders arrived to Tuesday. The attack occurred in the 7000 block of East Mary Avenue. "76-year old female, unresponsive, currently has a pulse," the dispatcher states. "Apparently, there is blood everywhere," the dispatcher emphasized. "They estimated two quarts of blood on the floor." CPR was in progress as this rescue team was en route to the location.
So far, no details have been provided about other persons living at the victim's home. No information has been provided about why investigators believe that only one of the family pit bulls participated in the deadly attack either. Since January 2018, canines have mauled to death 33 individuals. Pit bulls have inflicted 73% (24) of these deaths. Of the total number of fatal pit bull maulings, 71% (17 of 24) have been carried out by family pit bulls killing a household member.
Evening Updates
In the news video footage, but not in print, a family friend told Fox 17 the pit bull that mauled and killed Daniels had recently become aggressive. James Little and Daniels' grandson and gone out to get food supplies. When they returned, they discovered the gruesome scene inside the home. "There was just a pool of blood and not much we could do," Little said. There had been talk of giving the increasingly aggressive pit bull to a shelter, Little explained, but that never happened.
"Those dogs have been in the house and they're part of the family," Lt. Kanitz said. "She knew those dogs and those dogs knew her."
Little is apparently the nephew of Adi Huedepohl, who spoke to Wood TV. Huedepohl said that Daniels, who she had known for four decades, was like a mother to her. Huedepohl said the pit bulls were owned by one of Daniels' family members. Despite the irony, Huedepohl claimed, "It's not the animal. It's the owner." Indicating that it was either Daniels or a family member who taught the pit bull to attack Daniels. Police have ordered an autopsy to confirm the cause of death.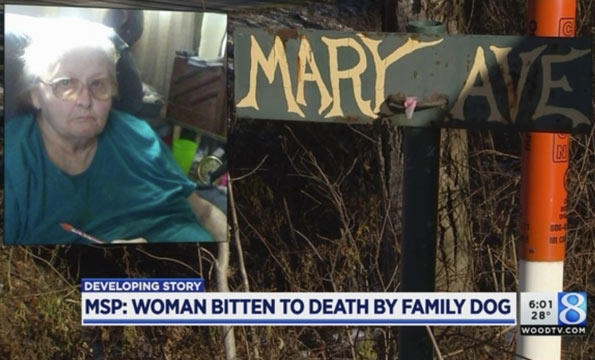 View the DogsBite.org Google State Map:
Michigan Fatal Pit Bull Attacks
.
Related articles:
07/03/17: 2017 Dog Bite Fatality: Rescue Pit Bull Kills 3-Week Old Baby Girl in Grand Rapids
11/02/16: 2016 Dog Bite Fatality: New Dog Kills 4-Year Old Child, Injures Mother in Michigan
---
Baseline reporting requirements:
Law enforcement departments across the United States should release consistent "baseline" information to the media and the public after each fatal dog mauling,
including these items
.