Agnes Courville Addressed City Council Members in Early May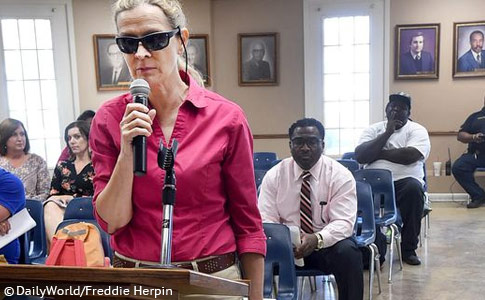 Agnes Courville, legally blind, stands before Opelousas city council on May 8, 2018.
Blind Woman Testifies
Opelousas, LA - Last week, Agnes Courville of Opelousas shared with us a powerful letter she hand delivered to the mayor on May 8, 2018, just before she gave testimony at the Opelousas City Council meeting. Courville said that council members reassured her at that time that they would work on safety issues involving loose dogs and dog attacks. Opelousas is legally blind. Loose dogs have attacked Courville and her highly trained service dog multiple times since March 4.
The attacks started one day after she returned home with her guide dog after three weeks of training at Southeastern Guide Dogs in Florida.
So far, Courville has also met with the Opelousas director of Animal Control, the Opelousas director of Public Works and the city's K9 officer. She states in her email to us that she is "hoping for a successful change" though it may take years to accomplish. "It takes a village to change the mindset regarding how you treat animals," she wrote. Courville used to volunteer for St. Landry Parish Animal Control. She has seen the neglect and abandonment some parish dogs endure.
Her primary concern is the roaming dogs she and her guide dog constantly encounter -- two pit bulls in particular. Once, she was even thrown to the ground while in front of her own home. That dog jumped on her back then jumped her highly trained guide dog. Courville points out in her letter how serious this issue is for guide dogs, "Dog attacks and interference from other dogs are a problem for any dog owner, but they are a potential career-ending event for guide dog teams."
Courville told the Daily World that the police chief and mayor have not contacted her since her May 8 testimony. As for the two problematic pit bulls, Courville has reported them to Opelousas Animal Control Warden Joey Stelly and St. Landry Animal Control, but nothing has been done. "Joey Stelly is aware of the dogs and who they belong to," she said. Courville's case presents a powerful argument against a city that knowingly allows this dangerous problem to persist.
---
To: Reggie Tatum
Opelousas City Mayor
Opelousas, LA 70570

Subject: "Uncontrolled dogs in our Community, safety concerns"

Dear Mayor,

Today, May 8, 2018, I am attending Opelousas Council meeting to inquire about a dangerous situation in our city of Opelousas.
I have been living in Opelousas since 2013, I live in the historic district next to Opelousas South City Park, I work as a teacher at Park Vista Elementary, and I am an active volunteer in my city.

A few years ago, I developed a visual impairment and lost my driving privileges as I am legally blind. I became a pedestrian on the streets of Opelousas, not an easy task to accomplish, there is a lack of sidewalks, grass not cut, holes that are barely announced or not tagged, and lately I experienced loose dogs attack.

However, my main concern is about loose dogs that are rooming in our City as I walk the route to my work every day.

I came back with my guide dog March 3, 2018, after 3 weeks of training at Southeastern Guide Dogs in Florida. The following day on Sunday March 4, I had two dogs "pit bull breed" coming at me, I had to use the pepper spray. These dogs were loose, no collars, no leash in front of their house with owners who believe that they have the right to do so, because they are on their property.

I have been attacked by loose dogs numerous times since March 4, 2018.
I called St Landry Parish Animal Control, Opelousas animal control, St Landry Parish Sheriff's office and Opelousas City Police came to my house. Several times, loose dogs came to my door steps, once I have been thrown on the ground as I was in front of my house, a loose dog came from the back and jumped on my back, he then jumped on my guide dog, I did not have enough time to use my mace. As I was falling on the ground I protected my guide dog and scared the loose dog away, I ended up with a swollen knee and some bruises. I have every incidents documented.

I am calling your attention regarding the safety of our streets, the different attacks I experienced as a hazard for the children, the elderly, the mailman, delivery workers and any citizen in our community.

Louisiana has a strict liability dog bite statute that states that the owner of a dog is liable for injuries to persons or property caused by the dog which the owner could have prevented and which did not result from the injured person's provocation of the dog. L.A. C.C. Art. 2321.

What about loose dogs? Who is liable? Who is responsible for the damage that can be caused by loose dogs and dogs' attack?

Training a guide dog requires efforts and money investment. My guide dog is not only valuable, my dog is my safety net. Altercations with other dogs put my guide dog at risk and jeopardize my safety. The results of my encounters range from emotional injury to physical injury and can end the career of my guide dog.

Dog attacks and interference from other dogs are a problem for any dog owner, but they are a potential career-ending event for guide dog teams. Recently, The Seeing Eye (this country's first, and the world's oldest, guide dog school) conducted a survey of guide dog handlers to determine the scope of the problem (see US Survey document attached).

I am addressing Opelousas City Mayor, City Council President and Council president and members to find a solution to this ongoing issue.

Thank you for your time.
Agnes Courville

Copies:
Opelousas City Council President
Opelousas City Council members
Joey, Opelousas City Animal Control
Mr. Bill Fontenot, St Landry Parish President
St Landry Parish Council President
Stacey A McKnight, St Landry Parish Animal Control
Nicole Poiencot, MSW LMSV, Louisiana Rehabilitation Services, Lafayette, LA
Scott Crawford
Related articles:
05/25/18: Opelousas Dealing with Animal Control Issues in Light of Pit Bull Attacks
01/24/18: Delta's Policy Response After a Passenger Attacked by an Emotional Support Dog
07/13/17: Delta Passenger is Severely Attacked by an Unrestrained Emotional Support Dog