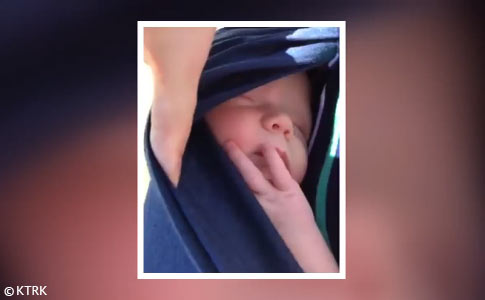 Michael Obergas, 2-months old, was mauled to death by at least one family dog.
Baby Identified
UPDATE 08/21/17: Houston Police have identified the 2-month old baby killed by one or more family dogs. Michael James Obergas was pronounced dead at Memorial Hermann Greater Heights Hospital on Saturday, according to investigators. Police said the baby was in a bassinet in a secure bedroom, but one of the dogs was able to open the door and attack the baby. Police and news reports did not made clear which of the two family dogs carried out this deadly attack.
"Investigators say one of the family's two dogs managed to open the door to the bedroom and attack the infant." - Associated Press, August 21, 2017
KTRK interviewed a veterinarian, Dr. Hallie Ray Moore. "You should never ever leave the baby alone in the presence of a dog," Moore said. "However, it doesn't sound like that was even done in this case. This is just worst-case scenario," she said. The two family dogs, a giant schnauzer and a Labrador retriever, were both male and named Jack. Neither their ages nor neuter status was released. The baby's parents were questioned and released by police. No charges are expected.
08/20/17: Family Dogs Kill Baby
Houston, TX - A 2-month old baby boy is dead after being mauled to death by two family dogs on Houston's north side. The baby was lying in a bassinet when his parents stepped away. The dogs, described as a giant schnauzer-mix and a labrador-mix, primarily mauled the baby in his torso area. KTRK captured video images of the animals. The two dogs, both named Jack, were surrendered to BARC, Houston's animal control agency. Both dogs have been euthanized.
"I just broke down when I heard about the baby, I didn't expect that. It was, I have no words for it, it was really bad." - Neighbor Maria Medina
The Houston Chronicle reports the attack occurred about 3:10 pm Saturday in the 5900 block of Nelwyn Street, just inside Loop 610 (other reports say Friday afternoon). Homicide detectives are investigating the baby's death. Authorities have not released the name of the child. Police said both dogs were transported to BARC following the attack. Officials confirmed to KTRK the dogs were put down Sunday evening. Their bodies will be sent to a city lab and tested for rabies.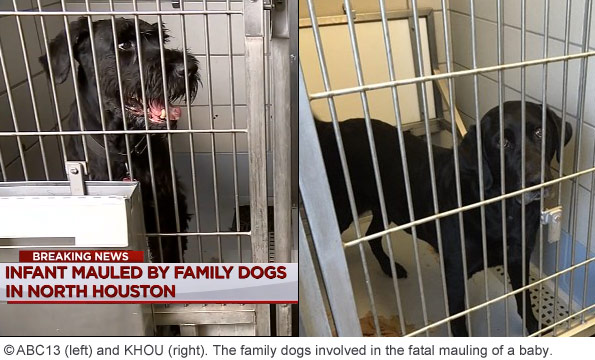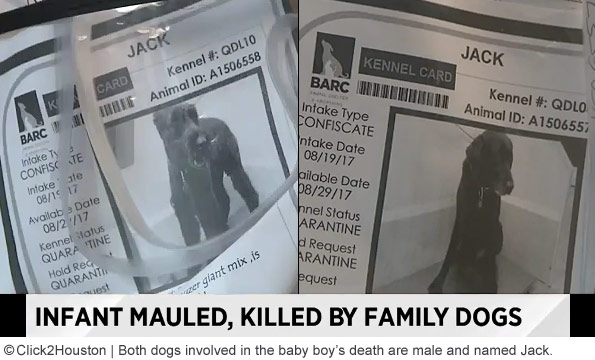 ---
Join Texas Dog Bite Victims' Advocacy - Join our Texas email list to stay informed
Related articles:
07/31/17: 2017 Dog Bite Fatality: Pack of Family Dogs Attack and Kill 4-Year Old Boy in El Paso
01/18/17: 2017 Dog Bite Fatality: Infant Killed by Family Dog in San Marcos, Texas