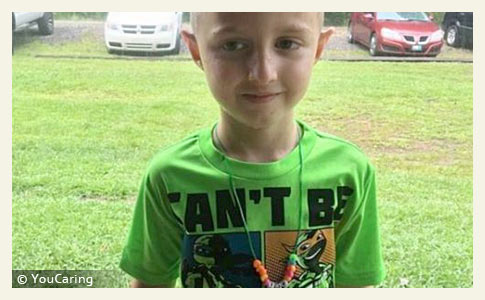 Isaiah Jacob Franklin, 6-years old, was killed by a family pit bull in Huntington.
Family Mourns
UPDATE 12/06/16: The name of a 6-year old boy killed by a family pit bull was finally released last night. Isaiah Jacob Franklin was brutally attacked by a pit bull Friday evening at his home in the 2600 block of 9th Avenue. He later died of his injuries. The family said the dog attacked without provocation or warning. The boy's aunt, Jenni Messer, spoke to WSAZ news, but only through tears. "We want answers," she said. "We don't have them. We have no idea what happened."

In the 11-year period of 2005 to 2015, half of all fatal pit bull attacks (51%) involved a family pit bull killing a family member. - DogsBite.org
Messer said there were three adults in the home at the time of the deadly attack. Isaiah was playing one last video game before he went to bed. Two adults were in the room with him and his mother was in the next. A blue nose 3-year old male pit bull, named Tiny, was also in the room with Isaiah. The dog belongs to his mother's boyfriend and had been living in the household for about a year, according to a comment written by the boy's mother on his fundraiser page.
Isaiah attended Spring Hill Elementary School in Huntington where he was in kindergarten. His classmates knew him as Isaiah, but family members called him Jacob, WSAZ reports. On Monday, the elementary school released some balloons in honor of his memory. His family is grateful for all of the support from the community. Many people, even strangers, have sent prayers and given donations for his funeral costs. Isaiah's service will be held Wednesday at Collins Funeral Home.
There were two pit bulls in Isaiah's household. The second dog, a female, was not involved in the attack, apparently. Both dogs are currently being held at the Huntington Cabell Wayne Animal Shelter. Huntington city officials have filed a motion in court to have the attacking pit bull euthanized. Prior to 2005, the city adopted an ordinance that declares pit bulls and wolf hybrids "dangerous." The provision requires both to be registered and muzzled when taken off property.
Planting Propaganda
Early this morning, the Herald-Dispatch published an article to place doubt in the public's mind that Tiny is truly a pit bull. Isaiah was "mauled by a dog believed to be of the pit bull breed," Courtney Hessler states. She then proceeds to write a pro-pit bull "public relations article" featuring rescuer Capri Billings, who fears Isaiah's death will set back advocacy for the breed for years. Hessler also quotes Billings' fraudulent claim that pit bulls are impossible to identify without DNA testing.
For 25 years appellate courts across the U.S. have ruled that a dog owner of ordinary intelligence can identify a pit bull. - DogsBite.org
Hessler does not stop there. In the wake of a family pit bull killing a child, it was important to include Billings' false and dangerous claim that pit bulls have a "natural affinity toward children" -- the debunked Nanny Dog myth. Before Isaiah is even buried, it was also important for Hessler to repeat Billings' plea of encouraging citizens to "step outside their comfort zone" and "get to know" pit bulls better -- a dog breed that kills more people each year than all other breeds combined.
For evidence that pit bulls do not pose a higher risk of attack than other breeds, Hessler cites the AVMA's 2014 lobbying pamphlet. The pamphlet is designed to obfuscate "bites" versus mauling injuries and obfuscate "breed identity." (See: Selling a lobbying pamphlet as science: Analysis of the May 15, 2014 AVMA pamphlet "Literature Review on the Welfare Implications of The Role of Breed in Dog Bite Risk and Prevention" by animal behaviorist Alexandra Semyonova).
Hessler neglects to include any peer-reviewed studies conducted by doctors of level 1 trauma centers, which treat the most severe injuries. Of the 11 studies published in medical journals since 2009, 10 show a higher prevalence of pit bull injuries and the majority show that pit bulls inflict a higher severity of injury than other dog breeds. The most recent study, a review of 1616 dog bite injuries at a pediatric level 1 trauma hospital in Georgia, even issued a warning to parents:
"Strong consideration to avoidance of any interaction between pit bull breeds and young children, particularly infants." - Characteristics of 1616 Consecutive Dog Bite Injuries at a Single Institution, Clinical Pediatrics, July 2016
What happened to Isaiah and his family is horrific. The pit bull had never shown aggression before. When it did, it cost the boy his life. The two media examples above -- one from WSAZ and the other from the Dispatch -- show a stark contrast in the wake of this boy's death. The first interviews a family member and focuses on the tragic loss of Isaiah. The second is a pit bull PR "scramble" that plants propaganda after a family pit bull brutally killed a child in its household.

---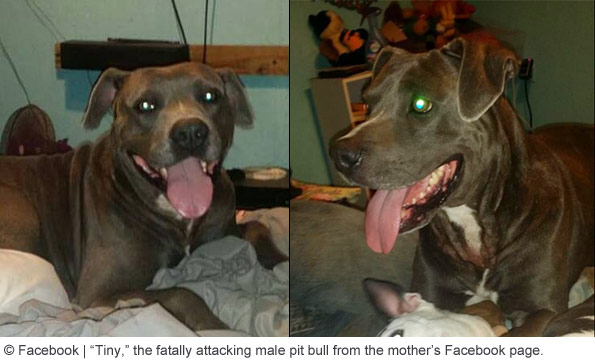 ---
12/03/16: Killed by Family Pit Bull
City of Huntington Communications Director, Bryan Chambers, has confirmed that a 6-year old boy was killed by a male pit bull that resided in the child's home late Friday evening. The deadly attack took place at a home in the 2600 block of 9th Avenue in Huntington. The boy was rushed to Cabell Huntington Hospital in Huntington, where he later died of his injuries. The pit bull was taken into custody by animal control officers. The boy's death remains under active investigation.
Huntington Police Chief Joe Ciccarelli also confirmed the dog involved in the fatal attack is a pit bull, reports the Herald-Dispatch. The attack occurred just after 9 pm Friday. Scanner traffic at the time indicated the boy suffered serious injuries to his head and neck, as family members had stated earlier in their Facebook posts. Scanner traffic also indicated the dog was aggressive when first responders arrived on scene, reports the Dispatch. The boy died of his injuries Saturday.
A family friend has started an online fundraiser to help pay for the boy's funeral costs.
12/03/16: Family Dog Kills Boy
Huntington, WV - A dog killed a 6-year old boy Friday evening, according to Huntington Police Chief Joe Ciccarelli. The deadly attack occurred on the 2600 block of 9th Avenue. WSAZ reports the child and dog were living in the same household. Detectives from the Family Crimes Unit and Child Protective Services also responded to the scene, Ciccarelli said. Investigators have been in contact with the prosecutor's office who will review the case to determine if charges will be filed.
Family Member Posts Photos
Police have not released the identity of the boy. A family member, however, shared photos of a boy on her Facebook page. Page wrote in part: "Everyone who prays please say a prayer for me and my family!!!! This morning I got the news that no big sister would ever want to hear!! My sweet 6 year old baby brother Isaiah Jacob (Franklin) got killed by a Pit Bull. I never dreamed this would happen and it is by far the worst thing that I could ever wake up to. This is truly a nightmare."
Another family member also posted publicly on Facebook about the boy's tragic death. "Last night my great nephew 6 year old Isaiah Jacob Franklin went home to be with Jesus," Sandra Workman wrote six hours ago. She also confirmed the attacking dog was a pit bull. "Jacob was bitten in the back of his head or neck by a Pittbull. Please don't ask details. Just continue to pray for all the family," [sic] she wrote. Police have not released the breed of dog or the boy's name at this stage.
View the DogsBite.org Google State Map:
West Virginia Fatal Pit Bull Attacks
.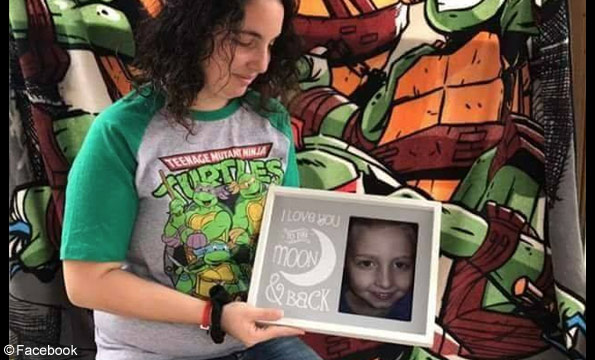 Huntington Herald-Dispatch articles archived:
Courtney Hessler, "Motion filed to euthanize dog involved in fatal attack," Huntington Herald-Dispatch, December 6, 2016 (www.heral-dispatch.com)
URL:http://www.herald-dispatch.com/news/motion-filed-to-euthanize-dog-involved-in-fatal-attack/article_3a0a0146-d2e2-5797-810e-0c6afc47d6ce.html. Accessed: 2017-03-27. (Archived by WebCite® at https://www.webcitation.org/6pGhLqmNp)
Bishop Nash, "Six-year-old dies after pit bull attack in Huntington," Huntington Herald-Dispatch, December 3, 2016 (www.heral-dispatch.com)
URL:http://www.herald-dispatch.com/_zapp/six-year-old-dies-after-pit-bull-attack-in-huntington/article_6aca0a2e-b991-11e6-8e26-6f28c7645998.html. Accessed: 2017-03-27. (Archived by WebCite® at https://www.webcitation.org/6pGhUj8PC)
Related articles:
10/10/16: Special Report: Level 1 Trauma Center Dog Bite Studies in All U.S. Geographical...
10/10/16: Table: Retrospective Level 1 Trauma Center Studies of Dog Bite Injuries Published...
11/30/15: 2015 Dog Bite Fatality: 2-Year Old Boy Fatally Attacked by Pit Bull-Mix in West Virginia
03/19/15: 2015 Dog Bite Fatality: Pit Bull Kills Man Trying to Save Heart Attack Victim in Wheeling