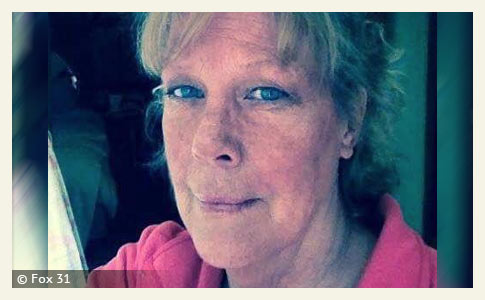 Susan Shawl, 60, was mauled to death by her family pit bulls in Conifer, Colorado.
Pit Bulls Mauled her Face
UPDATE 09/01/16: In the aftermath of the deadly pit bull attack in Conifer, several new details have come to light. On Monday, 60-year old Susan Shawl was brutally attacked and killed by her two family pit bulls. The dogs belonged to her 36-year old son, Richard Shawl, who shares her home on Black Widow Drive. Susan died on scene. Richard suffered non-life-threatening injuries trying to save his mother. Richard was treated and released from Swedish Medical Center.
On Tuesday, Jefferson County Animal Control euthanized both dogs. The Jefferson County Sheriff's Office also clarified on their Facebook page where the information about the dogs' breed stemmed. "Additionally, the information about the dogs' breed came from the dogs' owner," states the sheriff's office. This came in response to pit bull advocate Jason Schoshke accusing the sheriff's office of "speculating" on the breed in the aftermath of a horrific pit bull mauling death.
Neighbor Bonnie Bogart said the family pit bulls were a male and female. They had a reputation for excessive barking and were often penned outside. However, Facebook photos and posts show the dogs were "house" dogs too. The only citation on record is from 2008, when animal control issued a warning to Richard after his dogs got loose and were acting aggressively. Bogart also said Richard's father died very recently, in July. He has now suffered the loss of both parents.
CBS 4 reports that Susan was attacked in the doorway of her garage. The family pit bulls viciously attacked her face. Initially, Richard could not see what happened. He just heard the attack and called 911, sheriff's office spokeswoman Dionne Waugh said. When deputies arrived, they found the dogs on a deck and Susan Shawl mauled and bleeding heavily. First responders initially called a medical helicopter. Not long after, however, the helicopter was cancelled. Susan did not survive.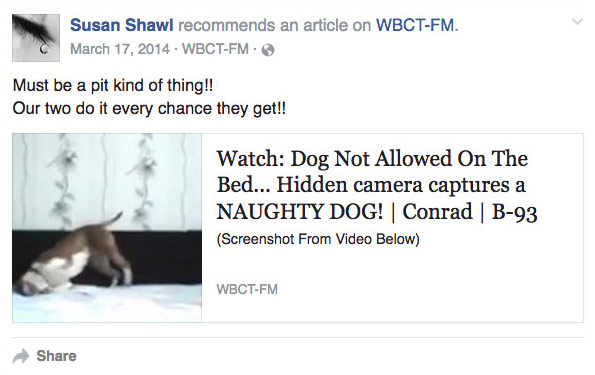 ---
08/30/16: Dog Mauling Victims Identified
The Jefferson County Sheriff's Office identified the fatal dog mauling victim as 60-year old Susan Shawl. Her son, who was also injured, is 36-year old Richard Shawl. On Susan's Facebook page, Richard John Shawl III is listed as her son. In May 2013, her son posted a photo of two family pit bulls as his cover photo: a white and brown pit bull and a nearly all black pit bull. According to comments, the black pit bull is male. Authorities plan to euthanize both family pit bulls today.
One commenter, Joe Scooby Casas, chimed in that he "delivered" the black male pit bull, indicating that Casas owns the parent pit bulls. In the same post, Susan called the black pit bull a "Little pooper butt!" Casas states on his Facebook page that he has a family of pit bulls: Diablo (similar in appearance to the black pit bull) and a female sibling. Both are offspring of a male pit bull named Dozer (dead for several years now). Both dogs are in Casas' Facebook photos.
The suspected fatally attacking pit bulls posted to the son's Facebook page. News 9 captured a photo of the official animal control notice left on the family's door: "Pit bull black and pit bull white."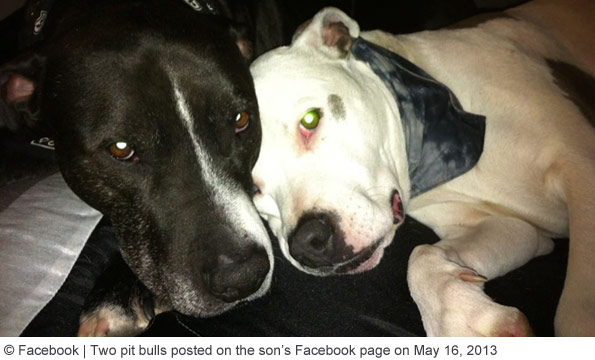 ---
08/30/16: Family Pit Bulls Kill Woman
Conifer, CO - Two family pit bulls killed a woman and injured her son Monday night. Jefferson County Sheriff's Office responded to a dog attack in the 31000 block of Black Widow Drive, a remote part of Conifer, about 7 pm. The woman died on scene, sheriff's office spokeswoman Dionne Waugh said. Her son suffered non-life threatening injuries and was taken to a hospital. The mother and son owned the dogs, Waugh said. Authorities seized two pit bulls from the home.
"When we got here, we discovered that a tragic incident had taken place. Two suspected pit bulls had turned on one of the residents, severely injuring a female resident. She succumbed to her injuries and passed away on scene." - Jefferson County Sheriff's Office
The names of the mauling victims have not yet been released. The two pit bulls -- also described as pit bull-mixes by police -- are currently in the custody of Jefferson County Animal Control. We asked the sheriff's office to release photographs of the dogs. Video footage taken by local news stations depicts a white and brown pit bull. Photos on the son's Facebook page show a similar pit bull along with a nearly all black pit bull living at the family's home. We are waiting on confirmation.
Early Follow Up Report
The Denver Post reviewed dispatch archives captured on Broadcastify.com. According to the archives, the woman was "barely conscious" when first responders arrived. They tried to keep her alive using a tourniquet as medical responders rushed in. The son -- first reported to be a teenager or in his 20s -- is now being reported as in his 30s. Sheriff's office spokeswoman Dionne Waugh confirmed the two pit bulls belonged to the son who also lived at the home on Black Widow Drive.
"There were the son's pets. They weren't neighbors' dogs who randomly attacked." - Jefferson County Sheriff's Office spokeswoman Dionne Waugh
The dispatch archives also show that first responders called a medical helicopter to the scene, but it was subsequently cancelled. "This is a dog mauling, two pit bulls," an officer called to dispatch after the chopper had been called off, reports the The Denver Post. The officer added, "It looks like the elderly victim is gonna be a code Frank" -- sheriff's office terminology for a fatal incident. The Jefferson County Sheriff's Office stated they would release more information this afternoon.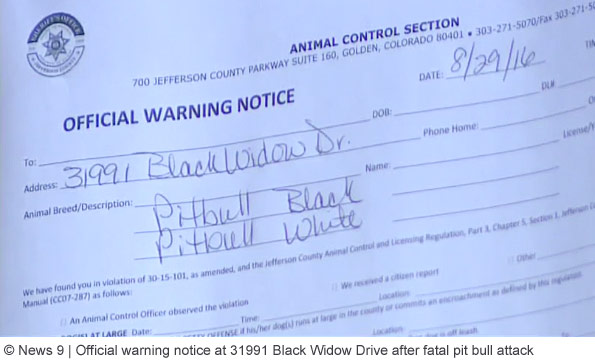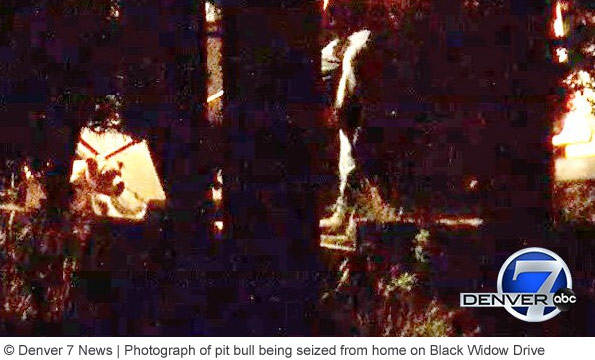 Related articles:
02/19/16: 2015 U.S. Dog Bite Fatality Statistics - DogsBite.org
01/14/16: 2015 Fatal Dog Attack Breed Identification Photographs
11/24/14: Aurora Voters Favor Keeping Pit Bull Ban by Wide Margin in General Election...