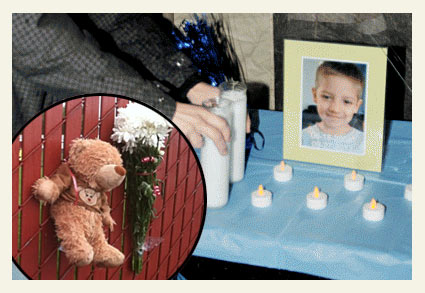 A memorial held for Jordan Ryan near his kindergarten building.
No Criminal Charges
UPDATE 10/17/13: It was reported today in the Baker City Herald that a Baker County grand jury declined to indict Mary Lane, the owner of the pit bull that brutally mauled to death 5-year old Jordan Ryan on September 27. District Attorney Matt Shirtcliff announced the grand jury's decision Thursday morning. According to a press release from Shirtcliff's office, the grand jury "reviewed the case and has determined that there is insufficient evidence to support criminal charges."
Baker City Police investigated the background of the pit bull, which Lane had owned for about a month and a half before the deadly attack. Police did not find any evidence the dog had acted aggressively "toward people."1 Lane acquired the dog from an unnamed John Day resident, previous news reports called the animal a "rescue pit." Neither the previous owner nor other John Day residents who had been around the dog, had seen it act aggressively, according to police.
"Our community has responded well and hopefully this tragedy will continue to raise awareness about the need to be vigilant about safety related to dogs with aggressive genetic tendencies." - Matt Shirtcliff
No mention was made in the article if Lane's household had one or two pit bulls (or more). Back when we posted the 10/08/13 update -- to shake the tree and see if any nuts fall out -- there was another photo of Bentley from July 29 playing tug-of-war with another large dog. This photo has since been removed from the Pitbulls of Oregon Facebook group, possibly because it is not too glamorizing. At this time, we do not know if Bentley or "Taz" is the culprit in the deadly attack.
On Friday, DogsBite.org will submit questions to the district attorney's office to clarify this issue.

10/11/13: Mother Speaks Out
On Thursday, Michelle Ryan, the mother of Jordan Ryan, spoke to KTVB. She said she brought her three children over to a friend's house that morning who volunteered to watch them while she was at work. While the two moms were chatting in the kitchen, one of her children ran in and alerted them to the attack. Ryan said someone screamed for her to call 911. While on the phone with the 911 operator, she rushed to the back door and saw her 5-year old son badly injured.
Paramedics lost Jordan Ryan's heartbeat on the way to the hospital.
Michelle Ryan said she has taken her children over to the woman's house before and never had a problem, however, she said she did not know her friend had "recently adopted a new pit bull." Ryan said the "worst case scenario did come true." She said she does not know how she will "pick up the pieces and put on a face to where people can think that I'm okay even though I'm dying inside." Ryan told KTVB the case is still under investigation and she has not heard from police.
On Friday, the Baker City Herald published an editorial piece (City action on pit bulls is necessary), as well as an update regarding possible criminal charges. District Attorney Matt Chirtcliff said he expects to decide next week whether to file criminal charges in connection to the death of Jordan Ryan. The Record-Courier published an article about the most recent Baker County Council meeting that formed a committee to research the "pit bull" and dangerous dog issue further.
10/09/13: A Second Pit Bull?
Commenter Sylvanna Martin of Baker City2 left several messages at DogsBite tonight providing information that may or may not be true, we have no way to verify. Given the disturbing "hush hush" about the violent pit bull mauling death of Jordan Ryan by police authorities and parents of children at Ryan's school, -- Where is the outrage? -- we dove into Facebook and undertook the detective work we could. Our main objective: Shake the tree and see if any nuts fall out.
Sylvanna Martin proved to be an interesting nut.
Martin claims that Bentley the pit bull (posted in photos below) is not the attacking pit bull. She wrote in part, "The pit you have pictured is one the family has had since a puppy and would easily pass a Canine Good Citizen test! He is well mannered and socialized, the exact opposite of the culprit. The pit responsible for this terrible incident and put down, was named Taz..." It gets better too; Martin apparently does not understand the concept of "moderated comments" on a blog.
In Martin's first attempt to leave a comment, she reveals more: "The pit that was put down and responsible for this accident was named Taz and was a black and white pit bull!!! She didn't even have him long enough to get pictures of him!" If this is true, Martin doesn't realize that this is exactly the nut we hoped would fall out of the tree: Information directly damning the pit bull rescue group that placed Taz out. "She didn't even have him long enough to get pictures of him!"
Martin successfully upped the ante against the still unnamed pit bull rescue group and did not do the owner or keeper of the pit bull, Mary Lane, any favors either. The following statement implies that people knew Taz was dangerous and certainly should not have ever been in the vicinity of children -- there were possibly up to 8 children3 at Lane's home that Friday morning: "He is well mannered and socialized, the exact opposite of the culprit." Thanks for the share Martin!
The father of Daxton Borchardt is following this attack on his new Tumblr blog, Father of Dax.
10/09/13: Culprit is a "Rescue" Pit
KTVB.com reported a follow up story on Tuesday and interviewed Autumn Brooks, a friend of Jordan Ryan's family and the owner of the pit bull, Mary Lane. Brooks said the pit bull involved in the attack was from a rescue program, but did not name the program. To reiterate, approximately a 10-month old pit bull placed into a home with five children killed a young boy visiting the home on September 27. Police authorities still have not released many details about the deadly attack.
A memorial service was held for Jordan Ryan on Tuesday in Baker City. Friends and family set up a GoFundMe page to help the boy's family pay for funeral costs. Penny Pankey states in the About area: "Jordan left his family and friends in a very cruel, horrifying attack on this Friday morning as he was playing in the babysitter's yard with his 2 siblings. A 'Rescue' Pit Bull mauled him to death." Pankey added that the funeral costs are $3,600 and must be paid in 30-days.
Jordan left his family and friends in a very cruel, horrifying attack on this Friday morning as he was playing in the babysitter's yard with his 2 siblings. A "Rescue" Pit Bull mauled him to death. His mother and siblings, along with the babysitter and others, hearing their screams ran to the yard, to witness Jordan near death. He died shortly after arriving at the hospital. Jordan's family had just moved from Montana to Baker City Oregon to be close to family again.... Michelle, Jordan's mother had started her old job back at the hospital. This event has caused an extreme financial hardship on this family ... Read full post
10/08/13: Suspected Killer Pit Bull
According to Mary Lane, the owner of the dog that killed a 5-year old boy last Friday, her pit bull named Bentley is under 1-year of age. In photos posted from September of this year, Bentley was only 9-months old. Lane posted the photos to the open Facebook group Pitbulls of Oregon. Her male pit bull is unleashed in what appears to be a public park or lake area playing with some of Lane's five children. "Love this boy!" and "My Bentley!" Lane exudes about her beloved pit bull.
This seemingly family-loving young pit bull brutally mauled to death an innocent boy staying at Mary Lane's home about 2-weeks later. How does Lane feel now? Why has only one media outlet even reported her name? There's more to Lane of course, her two favorite TV shows, according to her Facebook page are: Pit Bulls and Parolees and Pit Boss. Various page "Likes" include: Loyal Pit Bull Fans, Pitbull Lovers, I Love Pit Bulls, Pit Bulls and Itty Pitties -- readers get the picture.
Clearly, Lane believed the appalling disinformation about this dog breed and now a child is dead.
10/05/13: Owner of Pit Bull Named
The Record-Courier, a weekly in the county, reported on Saturday that Jordan Ryan was mauled to death by a pit bull at the home of Mary Lane of 1947 14th Street in Baker City. Grief-counseling services for teachers and students were provided by the Baker City School District in the days following the boy's death. The school district also sent a letter to parents with condolences to the Ryan family and all of those affected by his death and explained their crisis response actions.
On Friday, the Baker City Herald published two editorials by area residents, each demanding that the community ban pit bulls. Steve Culley was alarmed that, "There doesn't seem to be an overwhelming outrage over the pit bull death of a young boy." Raymond Reinks points out the inexcusable "comments in defense of the breed" after the death of a child and "no expression of remorse," both extreme breed advocacy traits explained in Essay of a Fatal Pit Bull Mauling.
09/30/13: Residents Mourn Victim
On Sunday night, about 150 residents gathered in Baker City to remember 5-year old Jordan Ryan who was struck down by a pit bull on Friday, September 27. The group released a bundle of bright balloons into the darkening sky. Children were heard echoing, "Bye Jordan," as they floated upward. After they disappeared into the night, someone began singing Amazing Grace and everyone else joined in. The gathering was held outside of the kindergarten that Jordan attended.
"We have the memories," said Hank King, Jordan's great-grandfather.
King led the group in prayer and comforted the boy's grieving father, Nathan Craig, his own grandson. Jordan's mother, Michelle Ryan, also attended the memorial. It was a cold, wet night. A small tent was set up to allow close relatives a place to grieve, sheltered from the rain, and to keep a table with the boy's photo surrounded by candles dry. Next the to tent was a red fence that served as a memory wall, where people hung flowers, stuffed animals, balloons and ribbons.
Boy "Suffered Extensive Injuries"
In a statement released today, District Attorney Matt Shirtcliff said the boy "suffered extensive injuries, which caused him to bleed to death" after being attacked by a pit bull on Friday in the 1900 block of 14th street. "As a result of the incident the dog will be euthanized," states the release. After the police investigation is complete, "I will review the case for potential criminal charges, or determine whether the case needs to be presented to the grand jury," stated Shirtcliff.
09/28/13: Mauling Victim Identified
Baker City police have released the name of a young boy mauled to death by a pit bull in Baker City on Friday. Jordan Michael Ryan, 5, of Baker City was at a friend's residence between 9 am and 10 am when the fatal pit bull attack occurred, Police Chief Wyn Lohner said Saturday. Lohner said he anticipates more information to be available about the fatal dog mauling on Monday. A memorial will be held Sunday night for Jordan in front of the kindergarten he attended.
09/28/13: Child was Being Babysat
New information has been reported about the most recent pit bull fatality in Baker City. School Superintendent Walt Wegener confirmed that a dog attack took the kindergartner's life on Friday. "He was dropped off for babysitting and ended up being taken to the hospital where he was pronounced dead in the middle of the morning," Wegener said. The school district has a four-days a week schedule for students, which is why the child was with a babysitter on Friday.
Though Baker City police haven't released many details about the fatal attack, they did say the attack occurred at a home in the city (not the child's) and a pit bull was involved. The sheriff's office also told KTVB that the dog was impounded after the attack. Wegener believes police will release more information to the media "whenever police are ready." Wegener said that school staff members have been notified and counselors will be ready at the schools on Monday.
2013 Fatal Dog Attack Scenarios
Last year was the first year that we began tracking the combined category of dog bite fatality victims that were visiting or living temporarily with the dog's owner when the fatal attack occurred.4 In 2012, 32% of all fatality victims fell within this scenario. Children 8-years and younger made up 75% of these deaths. So far in 2013, 43% of all fatality victims fall within this scenario. Children 8-years and younger make up 80% of these deaths; pit bulls inflicted 90% of these deaths.5
09/27/13: Boy, 5, Killed by a Pit Bull
Baker, OR - The Baker City Herald reported tonight that a 5-year old boy died after being attacked by a pit bull this morning, according to District Attorney Matt Shirtclift. "The dog is in custody and is no further threat at this time," said Police Chief Wyn Lohner. The attack did not occur at the child's home, according to the article. The investigation into the most recent U.S. fatal pit bull mauling is continuing. The names of the deceased child and the dog's owner have not been released.
2013 Fatal Dog Attack Statistics
September 27, 2013 marks the third U.S. pit bull fatality in the last five days. On September 22, a 2-year old boy was killed by his babysitter's pit bulls in Gilbert, Arizona. The following day, 2-year old Samuel Zamudio was killed by a group of pit bulls owned by his grandmother while being babysat at her home in Colton, California. Of the 23 fatal dog attacks so far this year, pit bulls and their mixes are responsible for 83%, a sharp increase from the combined 8-year total of 60%.
1
"Toward people" is not quoted in the Baker City Herald article, thus we do not believe it was part of the actual news release. Rather it was the writer's translation. DogsBite.org will request a copy of the district attorney's news release on Friday.
2
It appears Sylvanna Martin is a boxer breeder (LJK boxers) in Baker City and a Facebook friend of Mary Lane.
3
The owner of the dog, Mary Lane has five children. The GoFundMe memorial campaign stated that Jordan and his two siblings were "playing" at her residence at the time of the fatal attack.
4
Prior to this, two categories were tracked: 1.) attacks involving a "watcher," such as a grandparent or babysitter watching the child and 2.) attacks occurring within two months of the person or dog being new to the household.
5
We continue to track both scenarios. So far in 2013, 27% of all fatality victims involved a "watcher" scenario, primarily by babysitters, all victims were children 8-years and younger.
View the DogsBite.org Google State Map:
Oregon Fatal Pit Bull Maulings
.
Related articles:
09/25/13: 2013 Dog Bite Fatality: 2-Year Old Boy Killed by Relative's Pit Bulls in Colton
09/24/13: 2013 Dog Bite Fatality: Boy Killed by Pit Bull-Mixes at Babysitter's Home in Gilbert
Photo: kboi2.com and Baker City Herald