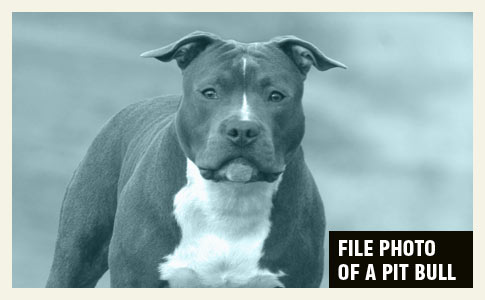 UPDATE 12/15/12: On November 25, our nonprofit filed a public records request to obtain a copy of the police report. We received a redacted copy on December 10. Kevin Latz, 50-years old, was fatally attacked by a pit bull on June 27, 2012. The male pit bull, named Apollo, had bitten two people prior to killing Latz, but officials had never declared the dog vicious or dangerous. "Apollo bit Kevin in the throat crushing his trachea, when he eventually succumbed," states the report.
The dog was euthanized on July 10, 2012 after its quarantine period. Below is our summary:
Kevin Latz, 50-years old, was discovered dead at a home on the 17300 block of Bear Lake Drive after being attacked by a male pit bull, according to the Washoe County Sheriff's Office report. The victim was with a man who resided at the home who had invited him over to barbecue. While the man was in the backyard lighting the grill, Kevin stepped onto the back porch. The dog, also on the back porch, immediately attacked, according to the report. Latz retreated into the laundry room, where the dog continued biting him up and down his legs until he dropped to the ground. The dog then bit into his neck. Kevin Latz died "due to asphyxia due to compression of the larynx and trachea by a canine with other significant conditions: multiple blunt force injuries inflicted by the canine," states the report. The manner of death was determined accidental. - DogsBite.org
07/04/12: Victim Identified
Cold Springs, NV - Last week, multiple news agencies reported that a man may have been killed by a dog. A canine of an unidentified breed was subsequently quarantined. The Washoe County Medical Examiner's Office continues to try to determine the cause of death. Today, Kolo TV identified the victim as 50-year old Kevin Latz who had gone to his neighbor's house to borrow a BBQ. Latz was attacked by the neighbor's "protective" dog and bled to death before help arrived.
COLD SPRINGS, Nev. (KRNV & MyNews4.com) -- Washoe County Sheriff's Office is investigating a suspicious death of a white male on Wednesday at approximately 5:12 p.m. in the 17300 block of Bear Lake Drive in the Cold Springs area.

As part of this investigation, a male canine has been quarantined in a safe and healthy environment in accordance with the Washoe County Sheriff's Office policies and procedures. - KRNV & MyNews4.com, June 28, 2012
View the DogsBite.org Google State Map:
Nevada Fatal Pit Bull Attacks
.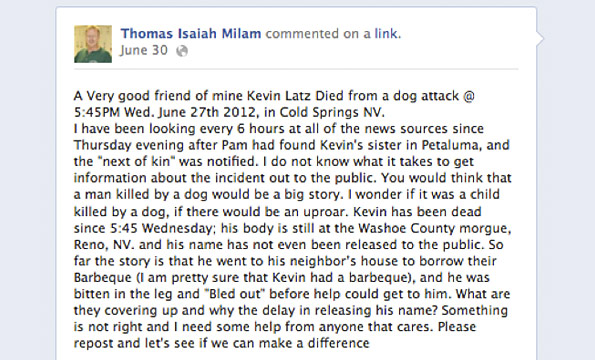 Related articles:
06/06/12: Pit Bull Seized After North Carolina Man Found Dead
07/26/11: ANIMAL PEOPLE Editor Responds to Fact Cooker Article by Mark Robison
07/20/11: Blogger Targets New Fact Cooker, Mark Robison of the Reno Gazette-Journal