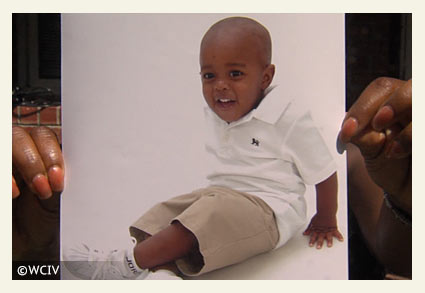 Ja'Marr Tiller, 2-years old, was killed by two dogs in Charleston County.
Killed by Dogs
UPDATE 06/05/12: The two dogs initially seized by authorities are the dogs that killed Ja'Marr. A forensic dentist examined photos and bite mark impressions, and compared them to plaster casts made of the dogs' teeth. Charleston County Coroner Rae Wooten said the impressions are consistent. Wooten said she might convene a coroner's inquest to determine who, if anyone, owns the dogs and who was supposed to be watching the boy while his mother was away.
05/28/12: Autopsy Partly Inconclusive
An autopsy of a young boy killed by at least one dog outside his Mnt. Pleasant home has proved partly inconclusive. Charleston County Coroner Rae Wooten said the boy died from blunt and sharp trauma injuries. To determine which of the two dogs or if both (or if neither) were involved, authorities will call in animal-bite specialists. The latest article also reveals that the two suspected dogs were not family dogs, but the victim's uncle had been feeding the animals for years.
Sheriff Al Cannon said it's possible that another dog may have been involved. Deputies were called to the home several years ago for another dog attack, according to Cannon, but he did not provide additional details. Investigators do not know how the child was able to leave his room and get out of the house Cannon said, and noted that there were five people inside of the home at the time of the fatal mauling. The investigation is ongoing; no charges have been filed.
View Related video
South Carolina Fatal Dog Attacks 2005 to Present
Since 2005, DogsBite.org has recorded 11 fatal dog attacks in South Carolina. The combination of pit bulls (6) and rottweilers (2) accounted for 73% (8) of these deaths. A different dog breed was attributed to each of the other three deaths with one breed(s) pending. Notably, 45% of these incidents involved charges being brought, with again, one pending. This rate of filing charges is far higher than the national level of 22% based upon the 7-year period of 2005 to 2011.
05/02/05: Asia Michelle Turner, 4-years old (Spartanburg, Spartanburg Co.)
11/03/06: John Matthew Davis, 10-years old (Dillon, Dillon Co.)
11/04/06: Allen Young, 22-months old (Bamberg, Bamberg Co.)
04/27/07: Brian Palmer, 1-year old (Charleston, Dorchester Co.)
12/13/07: Holden Jernigan, 2-years old (Summerville, Dorchester Co.)
03/04/10: Ethel Horton, 65-years old (Lucknow, Lee Co.)
11/16/10: Justin Lane, 25-years old (Latta, Dillon Co.)
01/22/11: Kristen Dutton, 9-years old (Modoc, McCormick, Co.)
02/17/11: Sirlinda Hayes, 66-years old (Dillon Co.)
04/20/12: Aiden McGrew, 2-months old (Ridgeville, Dorchester Co.)
05/27/12: Ja'Marr Tiller, 2-years old (Charleston Co.)
05/28/12: Young Boy Killed by Dogs
Mt. Pleasant, SC - A two-year old boy died Sunday night after being attacked by dogs. The victim's aunt, Octavia Johnson, said that Ja'Marr Tiller had been put to bed for the night when he wandered outside and was attacked by at least one of two dogs described as female labrador-shepherd mix dogs. The boy's mother was not home at the time of the incident but came home and discovered her son's body. Other family members were in the home at the time of the attack.
Johnson also said that the boy was afraid of the dogs and never played with them. The two dogs belonged to another family that lives next door. Johnson said the dogs had been around for over four years and had never acted violently toward people before. The Charleston County Coroner's Office is performing an autopsy Monday morning and is expected to officially identify the boy this afternoon. The Charleston County Sheriff's Office will hold a press conference at 2 p.m.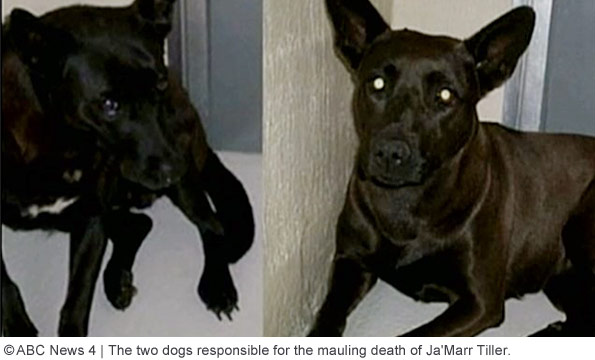 Related articles:
05/02/12: 2012 Dog Bite Fatality: 2-Month Old Child Killed by Family Dog 
03/09/12: 2012 Dog Bite Fatality: Rottweiler Kills 17-Month Old Boy in Jacksonville
Photo: abcnews4.com