"Killer" the Pit Bull
DogsBite.org - A hot tipper sent in imagery from a kid's temporary tattoo machine last night. The image depicts a muscular chained pit bull with the name "Killer" spelled out on the animal's dog house. Given how many children suffer horrific maulings1 and deaths by chained pit bulls, it is hardly appropriate imagery to be coming out of a children's tattoo "safety" machine. The related website is tattoosafety.net, copyrighted by Flatline Corp. and printed in the U.S.A.
Front: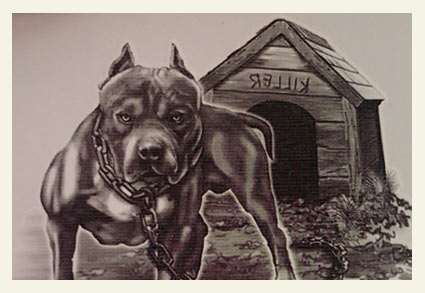 Back: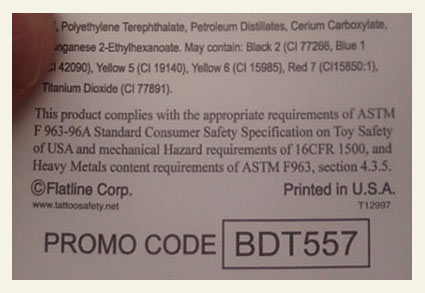 The back of the tattoo reads: "This product complies with the appropriate requirements of ASTM F 963-96A Standard Consumer Safety Specification on Toy Safety of USA and mechanical Hazard requirements of 16CFR 1500, and Heavy Metals content requirements of ASTM F963, Section 4.3.5." Despite pit bulls killing 187 U.S. citizens since the last CDC report on fatal dog attacks by breed was issued in 2000, the U.S. government has no warning requirements for pit bulls.
1
DogsBite.org recently ran across a follow up video of Lexi. Sure enough, her mother is a full-fledged Nutter.
Related articles:
03/28/12: 2012 Dog Bite Fatality: Victoria Boy, 4, Mauled to Death by Pit Bull
02/25/10: U.S. Consumer Product Safety Commission Recalls Sweatshirts...
02/09/10: Zupf: Cuba Child Left Unrecognizable After Pit Bull Attack
12/16/09: Historic Recall: 50 Million Blinds Recalled Following Child Deaths
11/11/08: 2 Deaths Spur Massive Baby Crib Recall