Justice for Vanessa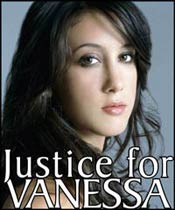 Shohola, PA - Back in May, singer-songwriter and pianist Vanessa Carlton was jogging in rural Shohola when she was attacked by a loose pit bull. Carlton's story shows how pit bull advocates and No-Kill fanatics swarm to save dangerous pit bulls and the devious tactics they employ in the process. In the instance of Carlton, and with the help of Pocono Record writer Howard Frank, they successfully portrayed the biting pit bull, named Bella, and it's owner as the "real" victims.
Incident Background
On May 2, 2010, while jogging in the Walker Lake community, a 9-month old pit bull bolted from its yard -- through an electronic fence1 -- and bit Vanessa Carlton in the calf. She suffered 5 bloody puncture wounds. Like nearly all victims, Carlton did not want the dog to attack someone else, so she pursued a Dangerous Dog designation. This is when Frank & Co. elevated the "cause of Bella"2 to heights far greater than the innocent victim's, future victims and the community as a whole.
In Frank's second article, in a series of eight, he paints the ghastly future of Bella designated as a Dangerous Dog and how her "average Joe" owner cannot afford to abide by Pennsylvania laws -- rules designed to prevent Bella from attacking another person.3 By doing so, Frank portrays Bella, the "excited puppy," and her owner, Ben Teichberg, as the real victims. Frank glaringly minimizes Carlton's injuries as well, who he writes, "was back jogging a few days after the attack."
In Frank's third article, he labels Carlton a "PETA spokesperson" to raise the ire of pit bull advocates.4 He also publishes parts of an email written by Bella's owner, which escalates the fire into a raging roar: "If we don't comply with the 'Dangerous Dog Law' she will be taken from us and put down by strangers, after suffering in a cage, waiting her turn to die. We are her family and don't want her to go that way! Vanessa Carlton in our eyes is a MURDERER5 and we pray to the good lord for justice!"
Frank's other slanted articles include: Bella lives: Dog that bit Vanessa Carlton gets new owner; Pit bull that bit Vanessa Carlton gets a reprieve -- and a new owner; Pit bull puppy that bit pop star isn't out of the woods yet; Judge: Dog that bit Vanessa Carlton can move back with original owners and Pit bull accused of biting Vanessa Carlton wins reprieve. In the last article, Frank pens many distortions, which are then picked up by national media, greatly damaging Carlton's reputation.
Blogger Craven Desires
Blogger Craven Desires, an advocate for animals and humans victimized by pit bulls, spells out the truth in a blog post titled, Justice for Vanessa Carlton. The post includes the players, such as Maria Brooks McKenna and Dr. Karin-Susan Breitlauch, as well as the actual court ruling6 that Frank mainly ignored, stating distortions instead. The post also points out that prosecutor David McKenzie left comments in the comment section of Frank's final article, but again, were ignored by Frank.
David McKenzie
"Actually Maria, the judge discounted the "expert" testimony of the Ms. Breitlauch. She, despite what was reported above, admittedly had no expertise, or even training, in the forensic comparison of teeth to bite marks. The first time she attempted such a comparison was for this hearing and at your behest. Judge Cooper did not believe her conclusions and said so in open court. Instead, the judge found that the testimony of Ms. Carlton and Ms. Villanueva, the independent witness, credible and likewise found, as fact, that it was Bella that left the property, hence the guilty finding on the confinement charge, and bit Ms. Carlton on the leg. Of course, that was all confirmed by statements made to the investigating warden by the Defendant.
The judge simply cut the defendant a break."
Craven Desires has blogged nearly 800 blog posts on behalf of animals and humans victimized by pit bulls. Craven also operates the Hokahey blog, which tracks police shootings of dangerous pit bulls, and has created over 400 blog posts. If you detect anger in the writings, please understand that activists and victims of serious dog attacks are pissed off. Blogs by different authors include: Depth Charge Thoughts, Pit Bull Owners Wake Up! and Pit Bull Attacks by State. (See: Full list of blogs).
We remind readers that although Vanessa Carlton is famous, pit bull owners and No-Kill fanatics frequently victimize (and glorify) a dangerous pit bull after it attacks. They nearly always minimize the real victim's injuries and blame the attack on the real victim as well. One does not have to be famous to be vilified by pit bull owners and the "nutty dog crowd." They will go as far as saying that the victim "made up" the attack, as they still do about the Founder of DogsBite.org.
We hope that Vanessa Cartlon and her family can move on now. The truth of Bella's biting incidents -- of which there have been at least two -- have been publicly exposed.
1
The electronic fence could not contain a 9-month old pit bull. Invisible Fence, which bills itself as the "Brand Vets Recommended Most," states on their FAQ in response to the question, "Are there any specific breeds that cannot be trained to the Invisible Fence system?

" ...just about all dogs

regardless of breed

can be safely and effectively trained to an Invisible Fence system.

Every dog is an individual

..."

(Apparently taken from the Maul Talk Manual). In contrast, a video review for PetSafe Stubborn Dog Fence, by a different company, names breeds, such as pit bulls, who are suitable for the strongest "zap" on the market.
2
There are other Justice for Bella websites, the most famous is from Cabarrus County, which also has a Facebook and petition web page. A county report concluded that Sheriff's Deputy Sean Austin acted appropriately in shooting and killing Bella, the loose pit bull, using a 22-caliber rifle.
3
Ben Teichberg, meet Matthew Havern who is now serving hard time in a Pennsylvania prison after his pit bull-mix attacked two children. Havern lied to avoid the Pennsylvania Dangerous Dog designation.
4
PETA is one of the few animal organizations that supports regulating pit bulls, specifically the regulation of their breeding.
5
Pit bull and No Kill advocates frequently label policy makers and animal regulators as "MURDERERS" when these public officials do not support their agenda. This label sometimes costs officials their jobs.
6
Commonwealth of Pennsylvania, Magisterial District 60-3-03. Commonwealth vs. Ben Teichberg. Transcript of decision at a hearing held before District Justice Alan B. Cooper, at the Pike County Courthouse, 412 Broad Street, Milford Pennsylvania, on Wednesday, July 7, 2010, beginning at 4:48 p.m.
Related articles:
06/29/10: Pit Bull Owner Lies After Dog Declared "Dangerous," Dog Attacks Again
02/07/10: Tom Skeldon, the "Biased" Blade and Recent Ruling Halting Enforcement of...
06/20/09: James Harrison's Pit Bull "Patron" is Up for Adoption Under New Breed Name
05/30/09: Sports Columnist Michael Felger Blasts Pit Bull Owners and "Nutty Dog Crowd"