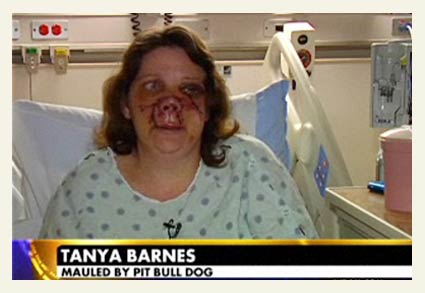 Tanya Barnes recounts violent pit bull attack from hospital bed.1
Victim Signs Release
UPDATE 04/27/10: In what can only be described as "deplorable" victim exploitation, Tanya Barnes signed a release Tuesday allowing both pit bulls to be returned to their owner. Earlier in April, Barnes was violently bitten in the face by a female pit bull after a male pit bull stepped on a puppy causing it to bark. Instead of attacking the male dog, the female clamped onto Barnes' face causing life-altering injury and the likelihood that Barnes will be forced into bankruptcy.
04/16/10: Permanent Disfiguring Injury
Columbia, MS - In a shockingly candid account,2 Tanya Barnes describes how a friend's pit bull nearly tore her face off. The powerful interview is eleven minutes and twenty seconds long. Words that you will not forget include: eyeball, jugular, massive, jaws, flesh, ripped, rattlesnake, 30-seconds, stitches, blood, flung, shook, pulled, $500,000 and clothes "cut off." Barnes adds: "[Pit bulls] are not cute fluffy little puppies forever. They grow up and their natural instincts kick in."
"This is not okay," she said referring to her injuries. "Somebody needs to be responsible for this."
Barnes has had two surgeries so far and will likely need several more. Barnes could not afford the COBRA insurance co-payments after the death of her husband. She currently has no insurance. She does not know how she and her children will get through this. "I want my kids to go to school. I want them to have a future. We don't have money socked back in an account somewhere. This is taking our light bill money to get prescriptions filled when we get out of here."
A 30-second pit bull attack equals a lifetime of injury and ruinous medical bills.
1
In September 2011, we discovered that WLOX had removed the original video. We could only find one other replacement, a video from dog bite victim advocate Zupf, who had to alter the imagery so that the pit bull community could not flag the video as "too extreme" under YouTube's "family fun" guidelines.
2
Though very conscious and courageous, we believe Barnes is still in shock. The violent attack occurred just a few days ago. The true jolt of the incident and its long-term repercussions is yet to come. While the male pit bull may have saved her life, it was the same dog that stepped on the puppy causing the attack.