From left: Bill Stewart, Pit Bull Reporter, seized marijuana and firearms.
"Rushin Bill"
Romance, AR - It is reported that the editor and publisher of dogfighting magazine, Pit Bull Reporter1, Bill Stewart (aka "Rushin Bill")2 shot himself to death. The incident began after a grass fire broke out on Stewart's property. When crews arrived to distinguish the fire, they discovered $124,000 of marijuana, more than 40 guns, pit bulls and a dogfighting ring. Just after the discovery, Stewart shot himself.
The incident involving Stewart, a "star" figure among dogfighters, demonstrates the true nature of dogfighting, which is organized crime. The criminal endeavor of dogfighting goes hand-in-hand with gambling, illegal drugs, weapons and more. These elements cannot be separated from it either, thus showing the importance of police authorities to aggressively pursue reports of dogfighting operations.
"When you walk into the residence and there are guns strategically located throughout the house, when you have guns in the bathroom, in the laundry room, in each bedroom, guns outside of each door and then you start noticing the window blinds. There were squares cut in the blinds that can be used for ether observation or to fire a rifle or pistol out of."
Sources say Stewart is considered a godfather of dog fighting and went by the name Rushin Bull in the violent dogfighting underworld. He even edited and published an underground publication called Pit Bull Reporter.
"To find out this person is also the editor and publisher of a dog fighting magazine, it just goes to show you what all it reaches into, really shocking," Grimes said. (David Goins, Fox16.com)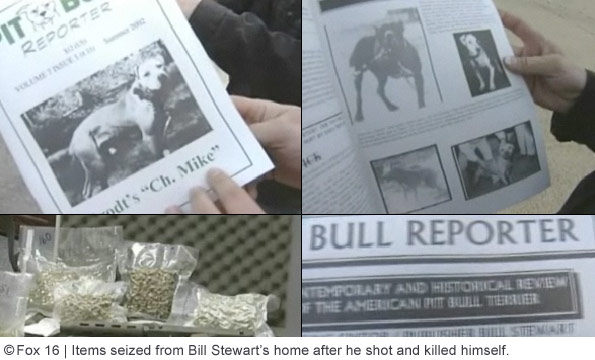 1
Pit Bull Reporter ceased publication in 2007 following the arrest of Michael Vick. The website appears to have ceased publication in 2009. The web archives of this website still remain live.
2
Bill Stewart also organized and hosted a monthly "swinger" party.
Related articles:
08/03/09: The NFL Must Sever Ties with "Pit Bulls" Once and For All
07/11/09: 8-State Simultaneous Dogfighting Sting; 450 Dogs Seized