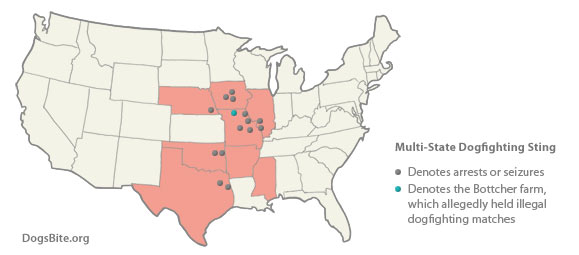 Middle Class Crime
UPDATE 07/11/09: As noted in comments, dogfighting is organized crime -- gambling and racketeering -- primarily carried out by middle class citizens. Participants are often valued members of the community as well. The recent Associated Press article names a registered nurse, Cris Bottcher, and a physical education teacher, Rick Hihath, as part of those arrested this past week. Both are charged with felony dogfighting crimes that occurred at Bottcher's farm.
"Karl Courtney, of the eastern Texas town of Beckville pleaded not guilty, said his attorney David Moore, who described his client as a "well-respected business owner." His brother, Chase Courtney, 26, of the nearby town of Carthage, also was arrested, but a phone number or attorney for him could not be found.
Cris Bottcher, a 48-year-old registered nurse at a community hospital in Bethany, Mo., also was arrested Wednesday in western Missouri and accused of shooting underperforming dogs and putting their carcasses in plastic containers outside a garage, according to a federal indictment.
Six others were also arrested in that raid including Rick Hihath, a 55-year-old physical education teacher at a state school for the severely disabled, the indictment said. He is accused of working and promoting fights at Bottcher's farm, it said."
07/09/09: Largest Dogfighting Raid in U.S. History
In what must have spiked heart rates in "gamedoggers" across the U.S. (dogfighters and breeders of fighting dogs), it was announced Wednesday that as many as 450 dogs were seized during simultaneous raids in eight states: Missouri, Mississippi, Nebraska, Illinois, Iowa, Texas, Oklahoma and Arkansas. What is important for readers to understand is that the industry of dogfighting is directly tied to the ongoing proliferation of pit bulls with explosive aggression.
States and Arrests:
Missouri Arrests: Acting U.S. Attorney for the Eastern District of Missouri Michael Reap said that four kennel operators were arrested in the sting: Robert Hackman, 55, Foley (Lincoln County) of "Shake Rattle and Roll Kennel"; Jack Ruppel, 35 Eldon (Miller County) of "Ozark Hillbillys Kennel"; Michael Morgan AKA "Missouri Mike," 38, Hannibal (Marion and Ralls Counties) of "Cannibal Kennel"; and Ronald Creach, 34, Leslie (Franklin County) of "Hard Goodbye Kennel."
Texas Arrests: John M. Bales, the U.S. Attorney for the Eastern District of Texas, announced that eight people were arrested in a multi-state dogfighting ring that reached into two Texas counties. Individuals named in the indictment include: Harold D. Stewart, 41, Karl "Shane" Courtney, 34 and Devin L. Pelzl, 29, of Beckville (Panola County); Jerry "Scotty" Chism, 34, of Longview (Gregg County); Chase M. Courtney, 26, and Chad A. Courtney, 30, of Carthage (Panola County).
Iowa Arrests: Don Ledford, a spokesman for federal prosecutors, said that four Iowans in adjacent counties were arrested yesterday that allegedly participated in a Missouri dogfighting ring: Jill D. Makstaller, 32, of Perry (Dallas County); Zachary R. Connelly, 32, of Ogden (Boone County); Kevin P. Tasler, 51, of Jefferson (Greene County); and Ryan J. Tasler, 32, of Woodward (Dallas County). Most of the 35 dogs seized in Iowa were taken from Makstaller according to Ledford.
Illinois Arrests: U.S. Attorney for the Southern District of Illinois announced Wednesday that William Berry, 34, of Lebanon (St. Clair County); Derrick Courtland, 42, of Cahokia (St. Clair County); and John Bacon, 36, Julius Jackson, 40, Joseph Addison, 40, all of East St. Louis, Ill., were taken into custody and charged with conspiracy to commit unlawful activities of dogfighting. The violation is alleged to have taken place in St. Clair and Madison Counties of Illinois.
Oklahoma Arrests: U.S. Attorney Sheldon Sperling of the Eastern District of Oklahoma said that Jerry Matlock, 57, of Stilwell (Adair County) was arrested near Welling (Cherokee County). Matlock was charged with three felony counts of dogfighting. Sterling called the seized pit bulls "canine combatant gladiators," which refers to the undeniable genetic heritage of pit bulls: The artificial selection for the purposes of dogfighting (unpredictability, tenacity, and the killing bite).


Nebraska Arrest: Julio Reyes, 28, of Tecumseh (Johnson County) turned himself into authorities Wednesday. Judge Richard Kopf granted Reyes supervised release and allowed him to keep the dogs. After a second search warrant was issued, however, along with the help of local law enforcement and the Humane Society of the United States, four pit bulls were seized from two homes in Tecumseh the next day. Reyes is the only Nebraskan indicted so far in the multi-state sting.
DogsBite.org has not listed all of the arrests. No immediate information could be found regarding arrests or seizures in Mississippi and Arkansas.
Related articles:
03/06/09: Dog Aggression Equals Human Injury, Bullets and Dead Family Dogs
02/23/09: Pit Bull Dog-Aggression Results in Serious Human Injury
02/19/09: Elkhart Pit Bull Owner May Suffer Amputation After "Redirected" Attack
01/15/09: Explanation: The Policy of Not Adopting Out Fighting Dogs
12/07/08: NYT: Dogfighting Subculture is Taking Hold in Texas