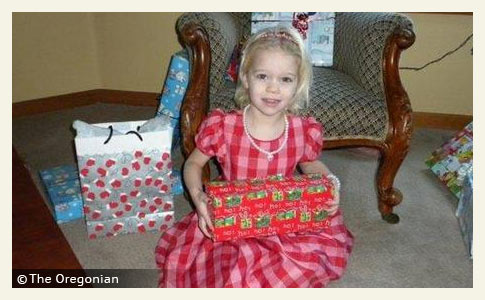 Ashlynn Anderson, 4-years old, was killed by one of her step-father's rottweilers.
Female Rottweiler archived
UPDATE 03/02/10: It has been clarified that the victim, Ashlynn Anderson, was Jesse Browning's stepdaughter. Ashlynn spent half of each week at the home of her father and the other half with her mother, D'Ette Browning, and Jesse. Apparently, the two paired up when Ashlynn was about a year old. Jay Browning, Jesse's father, said the girl's mother went out to check on the child and she was laying there bleeding and the female, spayed rottweiler, named Cornelia, was nearby.1
Ashlyn Anderson, daughter of Brian Anderson and D'ette Browning, was found dead outside her family's home on Feb. 28. Two of the family's dogs, Junior, a 17-month-old, 104-pound, neutered male Rottweiler/Newfoundland mix, and Cornelia, a 3-year-old, 80-pound, spayed female Rottweiler, were seen near the child. The investigation concluded that Cornelia was positively involved in the attack. - Lori Tobias, The Oregonian, March 18, 2010
03/01/10: Reality TV Star's Daughter Killed archived
Astoria, OR - 'Ax Men' star Jesse Browning's 4-year old daughter was killed by a family dog near Astoria. The attack occurred outside the family home in the 4200 block of Hillcrest Loop Road. Ashlynn Anderson, was airlifted to Portland's Oregon Health and Science University Hospital, where she died. "Everyone was there in minutes, but she was pretty severely mauled. By the time they got her to OHSU, she had lost too much blood," said Clatsop County Sheriff Tom Bergin.
According to Bergin, "The mom just happened to look out and saw the dog and the child laying there. Apparently, the dog just snapped." The Brownings own two rottweilers, both of which were removed and quarantined at a local animal shelter, where they will be "adopted or euthanized." Four months earlier, an Astoria deputy was forced to remove a third rottweiler from the Browning home "because it had gotten aggressive," reports The Oregonian. That dog was euthanized then.
---
In 2009, the combination of pit bulls (14) and rottweilers (4) accounted for 56% of all attacks resulting in death. Over the 5-year period from 2005 to 2009, this same combination accounted for 70% (103) of the total recorded dog bite deaths (148) in the United States.

---
View the DogsBite.org Google Map:
U.S. Fatal Rottweiler Attacks By State
1
The offending female rottweiler was reportedly two-and-a-half years old.
Related articles:
01/06/10: 2009 U.S. Dog Bite Fatality Statistics - DogsBite.org
12/15/09: 2009 Fatality: Great-Aunt's Rottweiler-Mix Kills 20-Month Old Boy
01/19/09: 2009 Fatality: Brooklynn Grace Milburn Killed by Rottweiler