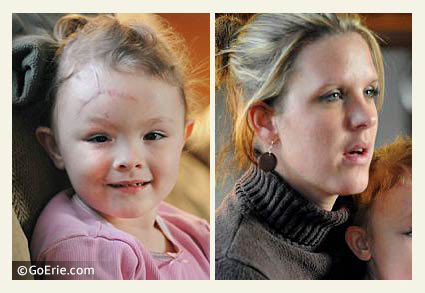 Alorah Havern and her mother Julie Havern, November 10, 2009.
1-12 Month Sentence
UPDATE 06/29/10: On May 3, Matthew J. Havern pleaded guilty to charges of dog attack causing serious injury, failing to register a dangerous dog, failure to maintain liability insurance for a dangerous dog, and failure to obtain a rabies shot and a license for his dog. In exchange for his plea, the Erie County District Attorney's Office dropped the critical and more serious charges of reckless endangerment, tampering with evidence and a misdemeanor dog attack count.
The plea agreement charges carried a maximum possible sentence of up to seven years in prison and a $50,600 fine.
On June 28, Judge Shad Connelly sentenced Havern to serve one to 12 months in prison for failing to control his dog. He was also ordered to serve two years of probation, pay court costs, $550 in fines and perform 100 hours of community service. Despite Havern's deceit and horribly reckless conduct, which resulted in two children left facially disfigured, missing permanent teeth and irreversible eye damage, the sentence was in the "standard range" of sentencing guidelines.
Erie County District Attorney Jack Daneri is up for re-election in 2011. One has to wonder how high up the chain-of-command the plea bargain was reviewed and approved? And, was the victim or victim's family consulted before the plea agreement was offered or accepted by his office?
Erie County Judge Shad Connelly is up for re-election in 2015. The article states that Daneri asked for a sentence in the "aggravated range." So why did Judge Connelly only sentence Havern in the "standard range?" Would it have taken a third child attacked by Havern's dog to qualify?
The Second Attack Mirrors First
10/04/09: Two Children Severely Injured
Millcreek, PA - On September 16, 2009, 3-year old Alorah Havern was viciously attacked by a pit bull-mix while being babysat at her grandmother's home. The grandmother, Debbie Havern1, often watched the child at Alorah's home. But on that day, she brought the child to her own home in Millcreek to do some laundry. Also living at the home was her 25-year old son Matthew Havern and his 7-year old dog. The results of this combination proved disastrous.
Alorah, who continues to be treated at the University of Pittsburgh Medical Center, will be permanently scarred by the attack doctors have told her family and may be blind in one eye as well. The nerve damage, according to doctors, is also likely permanent. Alorah's mother, Julie Havern2, said her daughter suffered a fractured skull and required more than 300 stitches to close her wounds. She also lost many teeth and had many bones in her face shattered.
In November 2006, this same dog attacked the 4-year old daughter of Matthew's girlfriend. Her injuries included: partial loss of sight in one eye, a broken jaw and the loss of many teeth.
We wish we were writing to you from the Twilight Zone, but we are not. The girlfriend3 from the first attack is apparently still in a relationship with Matthew. According to the article, she has talked to him "repeatedly" about the need to euthanize his dog, named Graham. She said Matthew has not brought the dog within sight of her or her daughter since the 2006 incident. Yet Graham has since attacked a different child in the family causing devastating injury again.
Q: Why wasn't Graham euthanized after the first attack?
A: Pennsylvania State law.
Like many states, after a dog inflicts "severe injury," Pennsylvania declared the dog "dangerous" and required its owner to abide by new rules, such as keeping the dog in a secure enclosure; attaining liability insurance; and posting warning signs. Unwilling to adhere to the requirements, Matthew lied. In a written statement, he told the dog warden he "gave" the dog to a person in New York State. Not long after, Matthew and his dog moved into his mother's Millcreek home.
Q: How easy was it for Matthew to lie to Pennsylvania officials?
A: Provide a false written statement.
We frequently run across owners of dogs declared "dangerous" that say to judges, "I'm sending my dog out of state." The judge okays the arrangement dismissing the danger the dog will pose to its new location and that the dog's bite record may be erased upon crossing state lines, whereby eliminating a future victim's claim against it. As the case of Matthew demonstrates, one now must question how many of these dog owners simply lie, keep their dog and relocate nearby.
Matthew Havern is Being Charged

Millcreek authorities have charged Matthew J. Havern with at least seven offenses including: 1.) Owning an animal that caused severe injury or death 2.) An attack by a "dangerous" dog 3.) Failure to register and restrain 4.) Failure to vaccinate 5.) Failure to license 6.) Reckless endangerment and most notably, 7.) Tampering with physical evidence because Matthew attempted to leave the scene of the attack in a vehicle with his two-time mauler, named Graham.
Q: Why should any state law trust a "Matthew" or known mauler over the rights of future victims?
A: No state law should.4
Faced with seven charges, Matthew "agreed" to have the dog put down September 17.

Havern Catastrophic Fund
Donations to the "Havern Catastrophic Fund" can be made in person or sent by mail to either Americo Federal Credit Union locations.
1
Debbie Havern is Julie Havern's mother-in-law. It is unknown if Debbie faces charges.
2
Julie Havern is married to Tom, which we presume is the brother of Matthew Havern.
3
The girlfriend, whose daughter was attacked by Matthew's dog in 2006, did not want to be identified.
4
Due to Dog Mauling Fancier groups that protect owners of dangerous dogs and humane groups who believe, "A dog shouldn't be euthanized just because it ripped the teeth out of two children and broke a few jaws," we have state laws that allow second and third chances for dogs that have already inflicted severe injury.
Kara Murphy, "Dog owner faces charges," Erie Times-News, September 19, 2009 (www.goerie.com) URL:http://www.goerie.com/apps/pbcs.dll/article?AID=/20090919/NEWS02/309189880. Accessed: 2014-04-29. (Archived by WebCite® at https://www.webcitation.org/6PCigNcGb)
Kara Murphy, "Incidents renew calls for regulation of pit bulls, other vicious dogs," Erie Times-News, November 29, 2009 (www.goerie.com) URL:http://www.goerie.com/apps/pbcs.dll/article?AID=/20091123/NEWS02/311239975. Accessed: 2014-04-29. (Archived by WebCite® at https://www.webcitation.org/6PCiWux7p)
Lisa Thompson, "Man sentenced to prison in Erie County Court in dog attack on toddler," Erie Times-News, June 29, 2010 (www.goerie.com) URL:http://www.goerie.com/apps/pbcs.dll/article?AID=2010306299950. Accessed: 2014-04-29. (Archived by WebCite® at https://www.webcitation.org/6PCiPjwOZ)
Related articles:
09/08/09: Typical "Deviant" Pit Bull Owner Captured on Video at Special Magistrate Hearing
07/30/09: Pennsylvania Towns Seek Pit Bull Laws; Must Lift State Anti-BSL Measure
06/20/09: James Harrison's Pit Bull "Patron" is Up for Adoption Under New Breed Name
05/01/09: Pit Bull Owner Hides Dogs After Attacking Senior Citizen
04/02/09: Editorial: Pit Bull Owners "Too Vacuous" to Consider Consequences
Photos: GoErie.com