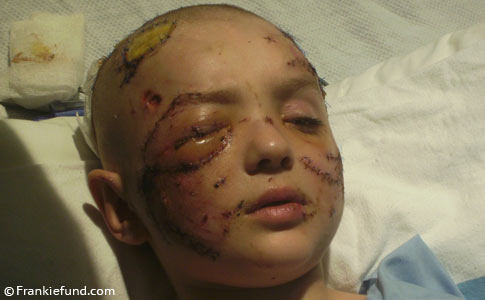 Frankie Flora was attacked by a pit bull adopted out by "Out of the Pits" rescue.
Bake Sale: May 17
UPDATE 05/15/09: The bake sale to help raise funds for Frankie's future surgeries is swiftly approaching. The bake sale, organized by Dora Celestino of Poughkeepsie, will be from 11 a.m. to 3 p.m. May 17 at the Stop & Shop on Route 9 (view map) in the Town of Poughkeepsie. If you have helped organize a separate benefit for Frankie, or know about one, please leave this information in the comment section below and DogsBite.org will post the event.
05/06/09: Community Offers Frankie Help
Help arrives after the Poughkeepsie Journal published a story about Frankie's injuries and financial situation. By mid-afternoon Tuesday, 20 people had donated to Frankie's recovery on the family's website. Frankie's uncle said almost $1,200 had been contributed. He said the entire family was eternally grateful to everyone who donated. Additionally, several fundraising events are now in the works, including a bake sale.
05/05/09: Trust Fund Set Up for Frankie
The Poughkeepsie Journal has posted an update about Frankie Flora. His uncle, Michael Patierno said, "Both of his cheeks are missing flesh, and the skin grafts aren't taking," meaning they will eventually have to be replaced. Frankie's right hand was severed between his thumb and index finger, as well, damaging the nerve. Medicaid is taking care of the immediate medical costs, Patierno said. He also pointed out a widely unknown truth:
Medicaid does not cover cosmetic surgery -- procedures needed to conceal the massive amount of scarring that will be left.
This is very important information for readers. The most common injury to children in a dog attack is facial injury and Medicaid does not cover cosmetic surgery. As Patierno states, "Our huge concern is, you can't just say, 'That's life, you are scarred forever.'" The family is asking for donations to be used specifically for Frankie's long-term reconstructive surgeries to minimize future deformities, as well as any psychological ramifications from the trauma.
A special-needs trust is being set up for Frankie. The trust will be administered by one or more trustees who know about the family and have Frankie's best interests at heart.
04/30/09: Daunting Medical Bills on the Horizon
Wappingers Falls, NY - Eyewitness News has done a follow up story on 5-year old Frankie Flora, who was attacked by his aunt's pit bull on April 16 and required over 1,000 stitches. The aunt had adopted the dog about nine months earlier from "Out of the Pits," a group dedicated to rescuing pit bulls that have been abandoned or abused. Their "About Us" web page contains the often voiced myth that pit bulls where once known as the children's nursemaid.*
Lacking from the About Us page is the number of children pit bulls have maimed and killed since the mid 1980s, in which Frankie is now included.
Michael Patierno, Fankie's uncle, appears in the segment. He told reports, "He's completely innocent, and we make sure that he hasn't seen his reflection. We're monitoring that. We're all experiencing nightmares." When speaking about Frankie's medical care, he said, "The skill of the doctors to put together the flesh...I don't know how they did it. It's completely amazing." Yet Frankie still faces years if not decades of facial reconstruction.
The medical bills to help heal Frankie will be daunting. Patierno told Eyewitness News that Frankie's mother is a widow. "She is unemployed and she raises Frankie alone." His mother remains by Frankie's bedside as he starts his recovery. Patierno admitted that the incident has caused a rift in the family. But he is committed to placing these issues aside and putting all energies into Frankie's recovery, "This is all about Frankie's recovery," he said.
FrankieFund.com
Frankie's family has set up a trust fund at
FrankieFund.com
and asks for donations to be used specifically for long-term reconstructive and cosmetic surgeries to minimize the deformities Frankie will be left with, as well as psychological ramifications from the trauma.

Related ZUPF video 1 | Related ZUPF video 2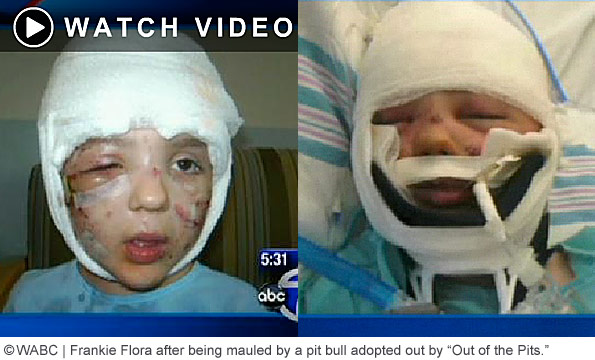 *It is possible that the "nursemaid" or "nanny dog" myth stemmed from a book published in 1922 named, "Pep: The Story of a Brave Dog," by Clarence Hawkes. In 2004, Animal People News reviewed the book (scroll to see review) and pointed out that Pep was perhaps the first effort to rehabilitate the image of pit bull terriers.
Related articles:
04/22/09: Wappingers Boy Suffers Life Altering Injures in Pit Bull Attack
04/17/09: Coverage of the Frankie Flora Pit Bull Mauling - DogsBite.org
02/06/09: Babysitter's Pit Bull Attacks Infant in Newport News; Critical Condition