Fiancée Contests Mauling
UPDATE 04/02/09: New information has been revealed about the death of Williams. On March 26th, it was reported that William's fiancée, Anna Tucker, is contesting how he died. Tucker says that authorities have it all wrong. She said it's likely that Williams was suffering from a heart condition and the dogs were only trying to help him. "I don't believe that my dogs did it," Tucker said. "I think they were trying to help him. They knew something was wrong."
She never meant to have the dogs euthanized either. Tucker said she did not understand the paperwork she signed.
Tucker said she was unaware that Williams had an enlarged heart until the autopsy was completed. Williams had scratches on his arms that "were kind of deep," and bite marks on his ankles, but "there was nothing on his chest, neck and face," Tucker said, contesting the mauling claims. "The bites on his ankles wouldn't have caused his death." Tucker said she returned home with her 8-year-old daughter and found Williams' body in the house.
A similar "contesting" occurred after Ving Rhames' mastiffs attacked his gardener. Rhames' dogs were ultimately vindicated.
Initial reports said that Williams' was the owner of the dogs. And according to Sgt. Dennis Gutierrez, a neighbor of Williams' called the police and reported that he was bleeding profusely in his backyard. Responding deputies found the body and two large dogs in the backyard. A person, referred to only as a "friend," told news reporters that he was the first person at the scene and he reported that Williams had "severe wounds on his forearms."
Tucker also said that her dogs were Italian mastiffs, not bullmastiffs (the Neapolitan and Cane Corso are both Italian mastiffs). We've been speculating on the dog breeds involved as well. Given that the breed was stated as "some kind of bullmastiff mix," we wondered, mixed with what? Our research pointed to the black dog being a "bandog" (also called a bandogge or Swinford). The bandog is an unofficial breed that is comprised of 50% pit bull and 50% mastiff.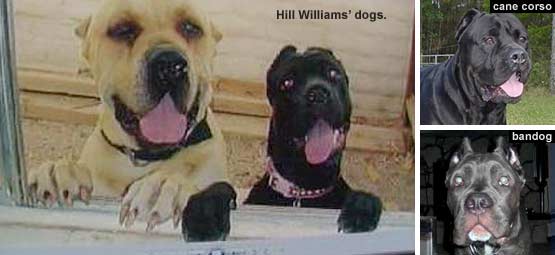 The Italian mastiff (Cane Corso) makes a lot more sense than a bullmastiff. Additionally, the investigation into Rhames' dogs took 5 months to complete.
03/17/09: Victim: Hill Andrew Williams
An autopsy confirmed that two large dogs were responsible for killing their 38-year-old owner in Rancho Mirage Monday night. Riverside County Sheriff's officials said Hill Andrew Williams died of "significant physical trauma" he suffered in the attack. Williams was found near death in his backyard Monday afternoon at the rear of his home. Animal Services Behaviorist Jackie Schart said each dog was "some sort of bullmastiff-mix."
03/17/09: Dogs Surrendered and Euthanized
Riverside County Animal Services reports that the bullmastiffs involved in the attack were signed over by the victim's girlfriend and euthanized today. The dogs were being held at the Coachella Valley Animal Campus in Thousand Palms. Officers were told the victim may have been trying to breed the dogs. The male, named Butter, was 3-years old and weighed about 115 pounds. The female, Ebony, was about 2-years old and weighed about 90 pounds.
An autopsy is scheduled today. The victim's name was not released.
03/16/09: Details Slim; Emerging Story
Rancho Mirage, CA- In a developing story, Riverside County may be faced with another fatal dog attack in less than 3 months. Back in December, 60-year old Gerald Adelman was savagely attacked by his family's two pit bulls while he took a "smoke break" in his back yard. Riverside County Sheriff's Department spokesman Dennis Gutierrez said that investigators arrived at the Rancho Mirage scene at 5:15pm today and found a dead man and "two large bullmastiffs."
Related articles:
12/20/08: A Recent Review of California Fatal Dog Attacks (2006-2008)
12/20/08: 2008 Fatality: 2 Pit Bulls Attack, Kill 60-Year-Old Rubidoux Man