Newspaper Runs Cartoon
Omaha, NE - The recent chimp attack "shocked" the nation after the animal inflicted injuries described by medical workers as, "ripped off a substantial portion of her scalp, face, jaw and eyes." What do you think Amaya Hess's face looked like after 5-8 minutes of a pit bull clamped on to it? It took the claw end of a hammer to pry open the pit bull's jaws. What do you think Brenda Hill's foot looked like prior to its amputation? Remember Justin Kowalczyk? A pit bull ripped off his mouth.
The last high profile chimp attack occurred in 2005 -- four years ago. Can anyone count the number of pit bull attacks that caused massive injury in the past four years? Likely not given that most cities do not track "severe" dog bite injury by breed; they only track bites by breed. A "bite" is recorded if it "breaks the skin." A poodle bite that leaves two puncture wounds is recorded the same way as a pit bull attack, which can constitute hundreds of wounds. Each scenario is still tracked as "1 bite."
Due to the recent chimp attack in Connecticut, elected officials are now increasing exotic animal laws and animal groups are calling for state and federal "exotic pet bans." Wild animals are just too unpredictable and dangerous to be considered as pets. But domesticated pit bulls -- with a national severe injury mauling rate of hundreds if not thousands of times greater than the rate of chimps -- are perfectly fine as pets. At least one political commenter has noticed this horrific paradox and parallel.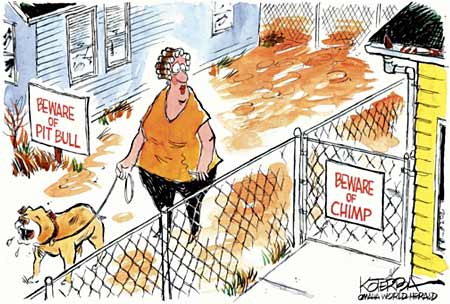 In the last 10 years, chimps have attacked 29 children. In the last 3 years, pit bulls have killed 24 children (52 including adults).
Related articles:
09/09/08: Top Dog Experts Fooled and Surprised by Pit Bulls