Pit Bull on Attack Rampage
Kanahooka, AU - Two aging horses are lucky to be alive after a brutal dog attack. The horses' owner, Susan Myers, who witnessed the attack, is concerned the pit bull-mix might still be loose. On Sunday, Myers was at home, periodically checking on 25-year-old Shetland pony Rosie, when she saw the female pit bull attack the mare. "I yelled out to my mum to ring the vet immediately. I just raced over screaming like a mad person with a whip in my hand."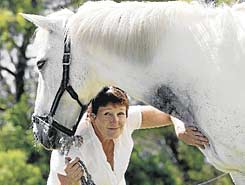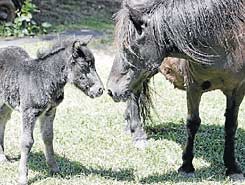 Myers said no amount of yelling would make the dog unclasp its jaws from the terrified pony's neck, but even when the dog did let go the rampage was not over. "A man came into the paddock and hit the dog with a lump of wood, then it took off and went for my other horse in the next paddock and just launched straight at her throat," she said. "I've seen dogs attack animals before but they usually go for the legs or the belly."
"This dog knew exactly where to go to make a kill."
After the dog attacked the horses, it chased a man who was walking his dog. The man reached his door and stepped inside just in the nick of time. Still not finished attacking, the pit bull next savaged the man's door. Police and a Wollongong City Council ranger attended the scene where a second dog was caught, although they were unable to locate the female culprit. Despite their traumatic ordeal, both Rosie and Zida the quarter horse survived.
Rosie's foal arrived two days later!
In other news:
Pit Bull Type Dog Attacks Two Horses and Pony in UK
UK, Thames Valley - A tan colored pit bull type dog was seen chasing a Shetland pony and two horses at Fair Acres farm near Windsor on October 27th. A man called the dog and was seen leaving the field with it, police said. The owner discovered one of the horses, a thoroughbred, had suffered severe lacerations to its legs and it had to be put down five days later. Thames Valley Police said the pony was also severely injured.
The attack was witnessed by a passer-by who tried to stop it before contacting the owner of the animals. Pc Marie Herbert, investigating officer, said: "The owner of the horses is naturally distraught by what has happened. I am appealing to anyone who has seen a dog matching this description with its owner in or around the Broom Farm estate, or knows who this may be, to contact police as soon as possible."
Related articles:
11/02/08: School's Pet Pony Attacked and Killed by Vicious Dogs
10/13/08: Apple Valley Attack: Pony Attack Victim Shares Photos
See all: Horse Attacks by Pit Bulls