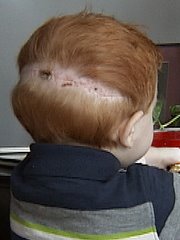 Thanksgiving Day Attack 2007
Witchita, KS - Last Thanksgiving, a friend's pit bull-mix attacked Jaydin Embry as his mom got ready to make the holiday meal. The dog ripped off part of his scalp and bit two of her fingers, causing nerve damage. His mom, Cassie Denhaese, said, "He jumped on him and within the time it took me to grab him, the dog had already bitten him three times and pulled off his scalp." Cassie punched and kicked the dog, even sprayed him with mace. The dog finally let go.
Last December we reported that Jaydin's medical bills may stretch into the one million dollar range. At the time, several businesses and the Wichita Patrol East bureau adopted Jaydin and his family for Christmas. Over the course of the past year, Jaydin has undergone four surgeries, including a few skin grafts to mend the bite on his scalp. The doctors are waiting to see if the hair around Jaydin's scar starts to grow in. If it doesn't, he will have to undergo another surgery.
Cassie said, "He doesn't remember it. Only person who does is me." After the attack, Cassie's friend had the pit bull boxer-mix put down.

Related ZUPF video
Related articles:
11/09/09: Collection of Pit Bull Scalp Attack Victims - DogsBite.org
11/15/08: Pit Bull Rips Off Scalp of Jackson County Girl
09/25/08: Flashback: Emily Stinnett, 4-Years Old, Scalp Ripped Off by Pit Bull