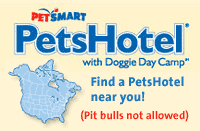 Banned from Doggie Day Camp
In a move certain to make pit bull owners broil, PetSmart says pits aren't welcome at their doggie day camp hotel. In fact, they gang the bully breeds with wolf-hybrids -- typically considered "exotic" animals (straight from the wild).
Requirements of attending the PetSmart PetsHotel:
Dogs who have been socialized with
other dogs but are not of the "bully breed" classification* or wolves/wolf 
hybrids
No intact (unneutered) male dogs, pregnant females or females in heat
Dogs who have the following vaccinations: Bordetella, Rabies, Distemper, Parainfluenza and Parvovirus
The move makes a lot of good sense. Pit bull type dogs are indeed "animal-aggressive." They were selectively bred to fight other dogs; and before this, for several thousand years, they were bred to attack bulls, also called "bull-baiting." So when you read about bully breeds attacking large animals like horses, now you know why.
*Dogs in the "bully breed" classification (e.g. American Pit Bull Terriers, Miniature Bull Terriers, American Staffordshire Terriers, Staffordshire Bull Terriers, American Bull Dogs, Bull Terriers or mixed breeds that have the appearance or characteristics of one of these breeds).
Related articles:
Pit Bull FAQ
Pit Bull Myths