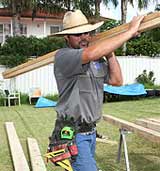 Nail-Gun Tradie Loved by Everyone
Australia - The humble tradie who shot an attacking pit bull eight times to stop it from attacking a woman is back in the news. Despite his refusal to be called a hero, his actions received overwhelming support in an online poll: over 11,000 people, 95%, agreed with his actions.
The "Dirty Harry" style builder, who was working next door to where the attack happened, said he hadn't set out to kill the dog -- just to save Yasmine's life. His partner reflects on the incident:
"We were just working here when we heard the screams. I picked up a piece of wood and he had the nail gun. We're lucky he had it because that dog didn't even feel the wood."
The owner of the dog -- Yasmine's sister, the 17-year old girl attacked by the dog -- still stands by the dog. She claims her 11-month-old dig Diesel was "loved by everyone." Her sister Yasmine is still recovering in hospital after having reconstructive surgery on her leg.
The owner, who refused to be named, said that the attack didn't change the way she felt about Diesel. She dismisses those who "only see the attack." She adds that for the past 12 months, Diesle's been the best and most exciting thing in her life. She can't understand why the tradie did what he did. She thinks the attack "could have been a lot worse."
Neighbor Maxine Upton believes the dog was crazed. She recalls that, "In the 40 seconds it took me to get over there, he'd [the dog] dragged her out to the front door." She also said Diesel had attacked and killed a kitten at his family home three weeks prior. She thinks he killed her own cat before Christmas.