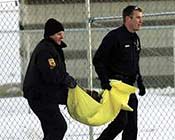 Border Collie Suffers Severe Injury
Weld County, Co - Jan Cronkhite used to enjoy long walks with her dogs down a local trail. Now she's not sure if she'll ever walk there again. This past Sunday, her dogs were attacked by three others believed to be pit bull mixes as she treaded there.
Cronkhite's black lab and German shepherd mix, Rex, escaped to her truck with a bite to the neck, which will only need a few staples, but Harley, a border collie will be in the emergency vet clinic for several days with severe bites to his neck and thigh.
"The thigh bite is down to his bone," Cronkhite said. "They don't know if he will be able to walk."
The owner of the pit mixes, David McCann, was cited for three counts of owning a vicious animal. His dogs were impounded as well. An upcoming hearing will determine if he can keep his dogs.
Cronkhite said McCann's dogs were leashed as well as hers and that McCann did try to fight off his dogs. "He was hitting them," she said. He kept saying "Get out, get out," but I wasn't going to leave my dogs. The border collie, depicted in the photo, did not escape the attack. He was rescued by officers. Harley's vet bills are expected to reach $1,400 or more,