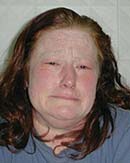 Neighbors Claim Woman's Pit Bulls Have Them Living in Fear
UPDATE 1/23/07: In a case that continues to defy logic, but also represents the state of public policy failure around dangerous dogs and owner responsibility, we learn more disturbing information about Tamara Hernandez.
Neighbors say that for months they've lived in a fear of a woman whose pit bulls terrorized their street. Tamara Hernandez is behind bars now, but her arrest is just the latest problem in an ongoing saga. Neighbors said they called the sheriffs department multiple times to complain about the woman and her pit bulls.
"It was just a matter of time before someone got hurt," said neighbor Bobby Anderson.
Anderson has lived on North Osage Trail for six years. And, for six years he's had problems with his neighbor's pit bulls. He says that his neighbor even mowed his yard carrying a 38 hand gun.
Problems hit their peak recently when her pit bulls killed a dog. When deputies went to speak with her, she attempted to flee the scene and by doing so assaulted one of the officers. No one in the neighborhood is surprised. Hernandez has been cited six times before for animal cruelty, animal nuisance and just general nuisance violations.
UPDATE 1/21/07: Dog Owner Charged with Second Degree Assault
Tamara Hernandez has been charged with second-degree assault. Ms. Hernandez is not being charged because her two pit bulls entered the fenced property of a neighbor's home and killed his dog. She is being charged because in her attempt to escape authorities, she ended up assaulting one.
After deputies spoke to the owner of the dog that was killed, they went to the home where the pit bulls lived. Here, deputies saw Hernandez and a boy, identified as her teenage son, put a pit bull into a suburban, get in, and prepare to back out of the driveway. One officer approached the driver's side and told Hernandez to get out. She refused, saying she needed to get her dog to the veterinarian because it had been shot.
The deputy reported that he put his had on the partly opened window to steady himself on the icy pavement. The driver then grabbed his hand and took her foot off the brake, briefly dragging him. An animal control officer standing behind the vehicle jumped out of the way, and the passenger (Hernandez's son) exited the vehicle and attempted to assault the animal control officer.
The son has since been referred to juvenile court. Hernandez faces a Class C felony, carrying a $100,000 bond.
1/20/08: Sheriff's Deputy Assaulted After Dog Mauling
Jackson County, KS - A Jackson County sheriff's deputy was assaulted Saturday afternoon by a mother and son trying to flee authorities after their dogs fatally mauled another dog.
Sheriff's deputies and an animal control officer responded to a call about 3 p.m. The caller said two pit bulls were attacking her dog. When the officers arrived, a fight ensued when a deputy tried to stop a 41-year-old woman who was attempting to drive off with her 16-year-old son and one of the dogs. The woman drove her car in reverse, briefly dragging the deputy. After the car stopped, the son exited the car and assaulted the deputy.
Unbelievably, the deputy and animal control officer were not injured. Both suspects are in custody.