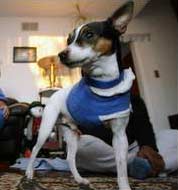 Rat Terrier Recovering After Mauling
A pit bull named Chaos bit off a rat terrier's leg when he stuck it through a fence gap. The owner of Chaos, Juan Soto who breeds show dogs, says that his dog is not a threat and that the rat terrier may have antagonized his pit bull to attack.
"Little dogs always antagonize big dogs," he said.
Kyhira Lewis, the owner of the rat terrier, witnessed the fight but being 9 months pregnant she could not stop it. Since undergoing surgery, her dog appears to be recovering. His leg though is lost for good.