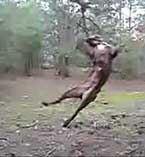 Tree Hanging is on the Rise in Parks
The owner, who may be fined $3,100 for the destruction of trees, claims his pit bull has an "infatuation" with trees and likes to hang on their limbs by her teeth. John Iorio, the city's dog law officer, is seeking money to cover the cost of replacing three honey locust trees, which a consultant said may die. He also cited the owner for failure to keep the dog under control.
Swing flying is a common training activity used by pit bull breeders and owners alike. The primary reason is to increase the "bite, hold and shake" behavior. To "swing fly" or to "spring pole," the pit bull leaps into the air, locks down on a hanging rope or tree branch and holds for as long as possible. When suspended in the air, the pit bull attempts to shake, which creates the swinging motion.
There appears to be little legitimate purpose in teaching this activity. Owners of these dogs like to mislead others into believing that the activity is "fun," or in the instance of this owner, "The kids loved it, so I allowed it." The real reason behind this training is to increase the strength of the dog's jaws. So that more trees can be destroyed. So that more pets and people can be injured and killed.
What happened to fetch and Frisbee tossing?