Thursday, May 17, 2018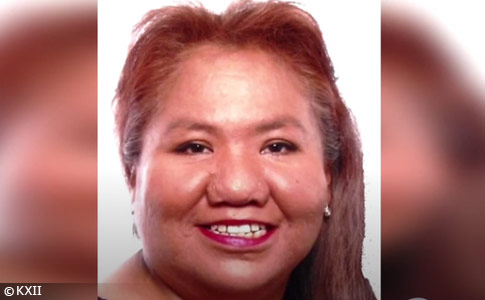 Tracy Garcia died late Thursday after being attacked by a pack of dogs near Ardmore.
Vet Removes Post
UPDATE 05/17/18:
Yesterday, inaccurate headlines about this fatal dog mauling went viral. Here are the themes:
sausage dogs maul
and
weiner dogs attack
. The media went viral around the world, not restricted to the United States. This is despite a statement by a veterinarian disputing it, who had examined these dogs while alive, the best way to determine breed identification. Dr. Douglas Aldridge stated,
"The dogs appear to me to be a pit bull and 4 pit-bull mix puppies."
Two employees at the Ardmore Animal Shelter -- who received the dogs dead, never examined them alive -- are responsible for deliberately mislabeling six of the dogs as predominantly "dachshund." Vet technician Amanda Dinwiddie, whose husband has bred and sold pit bulls in the past, and shelter co-director Tena Layton,
an owner of multiple pit bulls
, are 100% responsible for misleading the sheriff, media and public about the breeds involved in this deadly attack.
What is a mystery to us is why Layton ever
supplied photographs of the dogs to the public?
Because one of those images "clearly" identifies the largest dog as a pit bull. It's younger offspring cannot even reliably be called dachshund-mixes. (
The ears, among other things.
) Bull terrier-mixes is a much better assessment. "Mixed-breed" will always technically be accurate as well. Some
media stories are updating now
after the explosion of inaccurate news stories yesterday.
Dinwiddie and Layton also claimed that all of the dogs were under 40 pounds. Dr. Aldridge refutes that as well, stating yesterday on Facebook, "There was one that was larger, approximately 55-60 pounds, that the owners described as the sire to these shorter dogs." Dr. Aldridge is referring to the pit bull,
visible in the photographs as the largest dog
in the pack. Furthermore, Aldridge spoke to the owner of the dogs and confirmed the male pit bull was the sire of the smaller offspring.
Earlier today, on May 17, Dr. Aldridge removed his post from the Westwood Veterinary Hospital Facebook page. All that we have now are screenshots. Instead of writing about this victim and her death, we are being forced to refute bullshit. As Alberto Brandolini's
Bullshit Asymmetry Principle
shows: "The amount of energy necessary to refute bullshit is an
order of magnitude bigger
than to produce it." You can thank Dinwiddie and Layton for this bullshit. Both should be fired ASAP.
---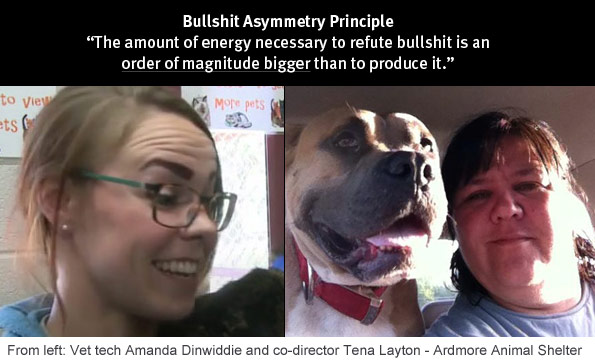 ---
05/15/18: Dog Mauling Victim Identified
Yesterday, the victim was identified as 52-year old
Tracy Garcia
. Several news stories were published stating that
pit bulls were not involved
. Mind you, this is after the Ardmore Animal Shelter
released photographs of the dogs
with at least one depicting a pit bull. Amanda Dinwiddie, a vet technician at the Ardmore Animal Shelter
claimed that "dachshund" was the primary breed
, mixed with terrier. Dinwiddie also claimed the pit bull was a "border collie mix."
Since 2005, border collies have been involved one fatal dog attack, which also involved two American bulldogs and a Neapolitan mastiff.

1
Dinwiddie's assessment was incorrect. Further, her husband used to
breed and sell pit bulls
. Prior to the dogs reaching the Ardmore Animal Shelter, they were taken to the Westwood Veterinary Hospital, where they were euthanized. Due to the upheaval caused by Dinwiddie's "border collie mix" claim, Dr. Douglas Aldridge has spoken out on the Westwood Veterinary Hospital Facebook page. "The dogs appear to me to be a pit bull and 4 pit-bull mix puppies," Dr. Aldridge wrote.
There is no more "breed mislabeling" -- the good doctor has spoken. But readers can see that Dinwiddie of the Ardmore Animal Shelter was trying to alter U.S. fatal dog attack statistics to "protect the pit bull breed." She may have had the help of the shelter as well. The death of Tracy Garcia is tragic. She endured a horrible pack attack involving pit bulls. Then for Dinwiddie to deliberately mislead the sheriff, media and public about the breeds involved? That is a disgrace.
2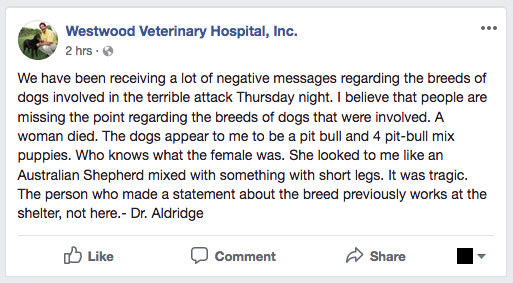 ---
"We have been receiving a lot of negative messages regarding the breeds of dogs involved in the terrible attack Thursday night. I believe that people are missing the point regarding the breeds of dogs that were involved. A woman died. The dogs appear to me to be a pit bull and 4 pit-bull mix puppies. Who knows what the female was. She looked to me like an Australian Shepherd mixed with something with short legs. It was tragic. The person who made a statement about the breed previously works at the shelter, not here.- Dr. Aldridge"
Westwood Veterinary Hospital, May 15, 2018
---
05/11/18: Pit Bull Involved
Carter County Sheriff Chris Bryant confirmed that one of the dogs involved in the mauling death of a woman Thursday was a pit bull. The six other dogs were medium-sized dogs of mixed-breeds. All seven animals belong to the same owner. The attack happened at a residence just before 10 pm on Banyon Road near Ardmore. "Once we were notified that this female had succumbed to her injuries," the owner of the dogs decided to put the remaining dogs down, Sheriff Bryant said.
KXII reports that arriving officers
shot and killed one of the dogs that charged them
. The animals belonged to one of the victim's neighbors. "Anytime you go to a dog bite call or a dog is attacking people in general, it is disturbing," Bryant said. "Our prayers are with the family of the victim, and the rest of the community because this is a very unfortunate situation." Authorities are still investigating the fatal pack attack. There is no leash law in unincorporated parts of Carter County.
Photos of the seven deceased dogs released from the Ardmore Animal Shelter show one pit bull, five dachshund-(pit bull) terrier mixes and a longhaired mixed breed, which Shelter Co-director Tena Layton previously said could be the mother of the younger dogs. Authorities have not identified the dogs' owner or the victim. Sheriff Chris Bryant said that autopsy results will be forwarded to the district attorney's office to determine if the dogs' owner will face any charges.
---
05/11/18: Pack of Dogs Kill Woman
Ardmore, OK - A woman is dead after being attacked by a pack of dogs. The attack occurred Thursday night east of Ardmore. About 9:45 pm, Carter County Sheriff's office, Ardmore Police Department Animal Control, Southern Oklahoma Ambulance Service and Air-Evac were dispatched to Banyon Road and Mary Niblack Road for a call about a woman being mauled by seven dogs. The woman, in her 50s, died at the scene. Authorities have not released her name.
Animal control officers seized all seven dogs. They were taken to Westwood Veterinary Hospital where they were euthanized, according to police records. Their bodies were then taken to the Ardmore Animal Shelter. Shelter Co-director Tena Layton said six of the dogs were about a year old and the other was possibly their mother. The dogs, smaller in nature, appeared to be part dachshund and part terrier. They were heavily infested with fleas and ticks, Layton said.
Conflicting information was released about the ownership of the dogs. Authorities did not release information about the circumstances of the attack, the degree or location of the victim's bite injuries or the health of the victim prior to the attack. Though extremely rare, there have been fatal dog maulings in the past involving
two small dogs
or a pack of small dogs killing an incapacitated or elderly person (
See: case 3
). The Carter County Sheriff's office continues to investigate.
Oklahoma Dog Bite Fatalities
From January 1, 2005 to December 31, 2017, canines killed 11 people in Oklahoma. When considering the death rate per population of 10 million, Alaska has long maintained the highest rate. In 2012,
Oklahoma had the sixth highest death rate
. During the full 13-year period (2005 to 2017), Oklahoma had the seventh highest death rate. Arkansas, not even seen in the top ten states in our 2012 post, has since shot up to the third highest death rate in dog bite fatalities.
---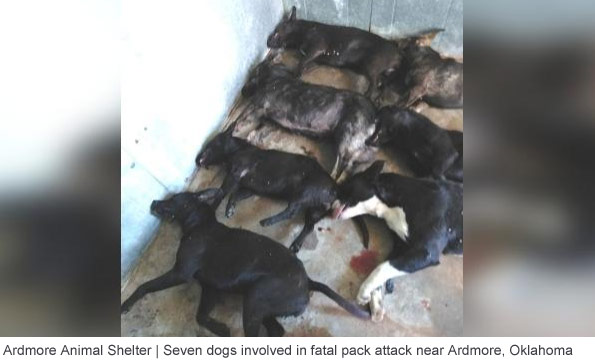 ---
1
The 2005 pack attack death of 83-year old Boyd Fiscus in Indiana was most certainly mainly carried out by the heavy lifters -- two American bulldogs and a Neapolitan mastiff. One of these American bulldogs had attacked a child previoulsy too, which is why criminal charges were pursued.
2
On May 17, Dr. Douglas Aldridge removed his Facebook post. We have replaced it with a screenshot.
Related articles:
05/09/13:
8-Year U.S. Dog Bite Fatality State Map (2005 to 2012) and Discussion Notes
09/28/11:
2011 Dog Bite Fatality: Ardmore Man Mauled to Death by Chained Pit Bull
---
Baseline reporting requirements:
Law enforcement departments across the United States should release consistent "baseline" information to the media and the public after each fatal dog mauling,
including these items
.
Labels: 2018 Dog Bite Fatality, Breed Mislabeling, Fatal Pack Attack, Mixed-Breed, Oklahoma

Please donate to support our work
DogsBite.org is a 501(c)(3) tax-exempt public charity organization. Learn more »
posted by
|
permalink
|
16 comments
|

email
|

blog rss
|

comment rss

16 comments:

Ka D | 5/11/2018 7:00 PM | Flag
They're trying to call these collie and dachshund mixes but " Carter County Sheriff Chris Bryant said the victim -- whose name has not yet been released -- was attacked by seven dogs and later died from her injuries.

Bryant said the incident happened before 10 p.m. at a residence just east of Ardmore on Banyon Road. He said one of the dogs was a pit bull"... If ONE was pit wouldn't the others be pit mixes? They sure look like it to me.

Colleen Lynn | 5/11/2018 8:05 PM | Flag
We have published an update to this with images of the dogs.

stephobrian | 5/11/2018 10:51 PM | Flag
Unfortunate are you kidding? I can't believe the officer used the term unfortunate event. I'm disgusted that they don't have a leash law I'm disgusted that they're not going to bring charges against the owner having 7 dogs is not having pets that's a horder who doesn't care what their animals do. It's never going to change. Unless people who own the dogs are held responsible, maybe then less people will own this kind of dog and they will stop adopting them. Something has to be done.

Unknown | 5/13/2018 3:00 PM | Flag
Aren't those bull terriers????

Colleen Lynn | 5/13/2018 4:12 PM | Flag
Some of them certainly look like it!

N*sd*jj | 5/13/2018 10:33 PM | Flag
Yeah, these are definitely NOT "weiner dogs" as reported elsewhere in local media. They look short but predominantly terrier/pit to me. Check out the facial structure & ears.

Oklahoma just had another pitbull attack in which a woman lost her arm & was badly injured...I think she's still in the hospital in critical condition as I speak. Meanwhile Kansas has banned pitbulls in the entire state. As long as this kind of carelessness is allowed, these dogs will continue mauling & KILLING innocent people. This needs to be treated as negligent homicide or manslaughter & maybe these jerks will do a better job of containing their "pets".

Colleen Lynn | 5/13/2018 11:21 PM | Flag
Kansas does not have a state-level breed-specific law. But many jurisdictions in Kansas ban these dogs! https://www.dogsbite.org/legislating-dangerous-dogs-kansas.php

juliewall | 5/15/2018 7:25 AM | Flag
Dear Carter County Sheriff Chris Bryan and Amanda Dinwiddie,

Please google 'Bull Terrier'. I forwarded a photo of a bull terrier and dachshund. Those 7 dogs are not mixed with dachshunds. I forwarded that photo too.

Christy D | 5/15/2018 6:46 PM | Flag
I don't understand why my comment using anatomic terms was censored.

Colleen Lynn | 5/15/2018 7:42 PM | Flag
We are not sure what you are referring to?

K-Hart | 5/16/2018 10:39 AM | Flag
It's amazing how nutters ALWAYS claim "there's no such thing as a pit bull", "people call dogs pit bulls because they have a blocky head", "there's no way to confirm its breed (or "bread" if you're the ridiculously cliche nutter) without a DNA test"....
BUUUUUT, they can readily identify the prominent breed in some sideshow freak dog that looks like something from a cryptid legend. Maybe they're chupacabras! That would actually make more sense than there NOT being pit bull blood in those nasty things.

Hallie Logan | 5/16/2018 11:52 AM | Flag
Those are not dachshunds. Those are clearly bull terrier mixes.

Your Quiet Neighbor | 5/17/2018 12:18 PM | Flag
The dachshund lie is being perpetuated. Link from a Tucson TV station: http://www.tucsonnewsnow.com/story/38214584/woman-mauled-to-death-by-7-mixed-breed-dachshunds

Ka D | 5/17/2018 6:11 PM | Flag
I'm glad people are calling out the bullshitters on this kind of nonsense.


Packhorse | 5/18/2018 7:47 AM | Flag
I just learned about another children's picture book promoting pit bulls, that was published less than a year ago. I'm not going to link it here or give too many details, for all of the obvious reasons.

Anyway, the premise of this book is that there's a pit bull in a shelter who was injured by a person who was "prejudiced" against pits. Alack and alas, no one wants to adopt him either, because the public is also so "prejudiced." As a result, the dog lacks self-esteem because of all of this bullying! Finally, at the conclusion, an enlightened family comes along who doesn't believe the "awful stereotypes" and takes the pit bull home.

Once again, I'd like to remind folks that this is a picture book for very young children. Sigh...

Catherine Hobbs | 5/19/2018 10:04 PM | Flag
Anytime the attacking pit mix has white front legs and chest on black body, they call it a border collie mix🙄. Like that dog that killed the Atlanta boy waiting for the bus.