Tuesday, May 9, 2017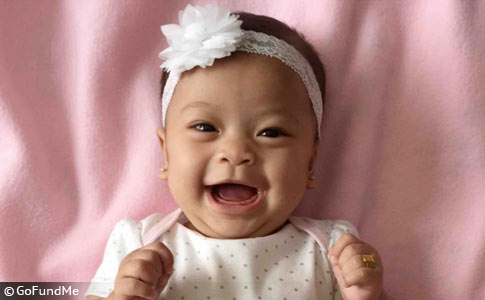 Kamiko Dao Tsuda-Saelee, 6-months old, was killed by her family pit bull in Las Vegas.
Mauling Victim Identified
UPDATE 05/09/17:
The Clark County Coroner's Office identified the 6-month old baby as Kamiko Dao Tsuda-Saelee. On Monday, Kamiko had been playing in a baby walker near the family pit bull when it suddenly attacked her. The mother was able to stop the attack, but the baby was already seriously injured. Kamiko's mother rode with her in the ambulance to Centennial Hills Hospital Medical Center, where she was later pronounced dead. No criminal charges are anticipated.
On Tuesday afternoon, the 9-year old male pit bull was euthanized, according to Clark County spokesman Dan Kulin. The owner surrendered the dog and it will not be rehomed. "A dog that has attacked and killed a person would not be allowed to be adopted," Kulin said in a statement.
1
The county also
released two photographs
of the dog. The infant's grandfather, Ryan Tsuda, told the
Las Vegas Review-Journal
, "We are all heartbroken." Tsuda declined to comment further.
Kamiko is the
513th American killed by a pit bull
since we began collecting this data on the Fatal Pit Bull Attacks Archival Record website. Her death also marks the
210th child mauled to death by a pit bull
since 1980, when the insidious pit bull problem began to emerge. Like many shelters in the U.S., The Animal Foundation in Las Vegas, which quarantined the dog for Clark County Animal Control, is
brimming with unwanted pit bulls
. Any takers for Jagger,
posted earlier today
?
Believing the false myth, "It's all how you raise 'em," kills a dozen children every year and maims over a thousand more.

- DogsBite.org
The mother of the baby, Layla Tsuda, is originally from Kaneohe.
She spoke to KHON2
, which covers Hawaii. The baby's family clarified that the dog, named Mana, is a "purebred pit bull" and had lived with the family for nine years. The family was shocked at the dog's violence -- the dog was considered a good family pet. "I have no words to explain my pain," Layla said. Layla joins 210 other families who have lost a precious child due to
unpredictable violent pit bull aggression.
---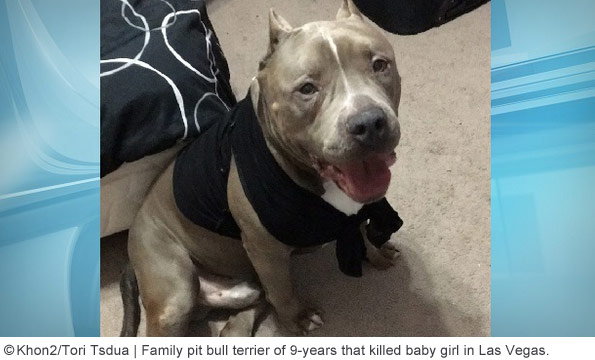 ---
05/08/17: Family Pit Bull Kills Baby
Las Vegas, NV - A family pit bull-mix mauled a baby to death in the northwest Las Vegas Valley, police said. The Metropolitan Police Department was dispatched to a home in the 9100 block of Brilliant Prairie Court, near West Centennial Parkway just after 1 pm, police spokeswoman Laura Meltzer said. The baby was transported in an ambulance to Centennial Hills Hospital, where it was pronounced dead. At the time of the fatal attack, the baby's mother was the only adult home.
"I think it's kind of ridiculous. I mean, how does it happen? How do you leave a dog with a baby? How does it happen?"

- Neighbor Ron Tripodi
"
It's an absolute, true tragedy
," Las Vegas police spokesman Larry Hadfield said. "You have a family that's going to be grieving for today and the rest of their lives." The family dog that killed the baby is a "pit bull terrier-type mix," Hadfield said. Animal control took the dog into custody. As is standard with any young child's death, Metro's abuse and neglect division will investigate potential criminality, he said. The county coroner's office will release the identity of the baby in the future.
An evening update by the
Las Vegas Review-Journal
included more details. The baby had been playing in a baby walker near the dog when the animal suddenly attacked the child. The baby's mother was able to stop the attack, but not before significant injuries had been inflicted. The newspaper also noted that as of late Monday, The Animal Foundation, which provides
sheltering services
for Clark County Animal Control, would not allow the pit bull-mix to be photographed.
Clark County Dog Bite Fatalities
This baby's death marks the fifth deadly dog attack in Clark County, Nevada since 2008. All five dog bite fatality victims were children ages 9-years old or younger. Pit bulls and their mixes were responsible for 80% (4) of these child deaths. The victims include:
Derion Stevenson
, 9-years old (Las Vegas, 2016),
Jeremiah Eskew-Shahan
, 1-year old (Henderson, 2012),
Alexander Adams
, 2-years old (Las Vegas, 2008) and
Cenedi Kia Carey
, 4-months old (North Las Vegas, 2008).
Top Counties in Dog Bite Deaths
The below chart shows the U.S. counties with the highest number of fatal dog attacks recorded by DogsBite.org from January 1, 2005 to May 8, 2017. Our chart does not measure the incidence rate per 100,000 population, but we provided the estimated populations if you would like to do those calculations. There is no doubt that of this grouping of 16 jurisdictions, Dorchester County, South Carolina has the highest incidence rate.
American Indian Reservations
are excluded from the list.
Leading U.S. Counties in Dog Bite Fatalities (2005 to Present)
Deaths
Jurisdiction
Estimated Population
7
Harris County, TX (Houston)
4.44 million
7
Riverside County, CA
2.32 million
7
Wayne County, MI (Detroit)
1.76 million
6
Maricopa County, AZ (Phoenix)
4.08 million
6
Miami-Dade County, FL
2.66 million
6
San Bernardino County, CA
2.11 million
6
San Diego County, CA
3.26 million
5
Bexar County, TX (San Antonio)
1.85 million
5
Clark County, NV (Las Vegas)
2.07 million
5
Cook County, IL (Chicago)
5.24 million
5
Dallas County, TX
2.51 million
5
Los Angeles County, CA
10.12 million
5
New York City, NY
8.49 million
4
Dorchester County, SC
148,469
4
Fresno County, CA
965,974
4
Montgomery County, OH
533,116
---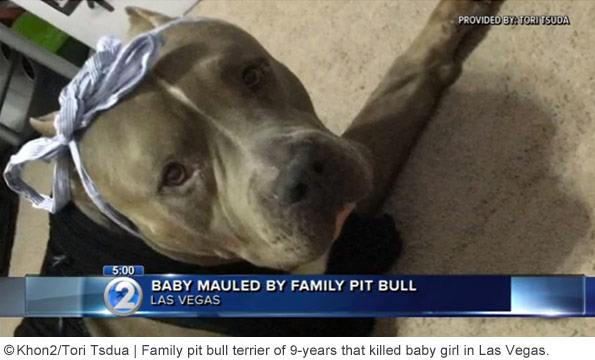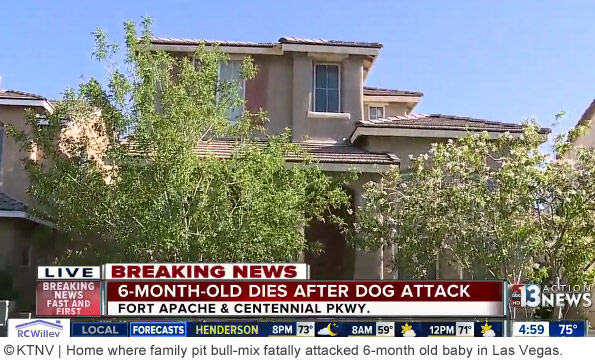 1
Quite an interesting statement given the fiasco of "Onion" the mastiff-mix, a dog that killed a 1-year old on his Birthday in Clark County in 2012 then after two years of legal wrangling, was shipped to an out-of-state rescue.
Related articles:
03/24/17:
2017 Dog Bite Fatality: 8-Month Old Baby Boy Killed by Family Pit Bull...
08/19/16:
2016 Dog Bite Fatality: Family Pit Bull Kills 'Visiting' Child in Las Vegas
04/29/16:
2016 Dog Bite Fatality: Pit Bull Rehomed by Humane Society Kills Newborn Baby
Labels: 2017 Dog Bite Fatality, Clark County, Nevada, Pit Bull Kills Family Member

Please donate to support our work
DogsBite.org is a 501(c)(3) tax-exempt public charity organization. Learn more »
posted by
|
permalink
|
19 comments
|

email
|

blog rss
|

comment rss

19 comments:

EyesOpened | 5/08/2017 11:29 PM | Flag
"Tripodi says he is conflicted when it comes to pit bull attacks.
'They just got a bad rap. I don't know if they are good dogs or not,' he said. 'Maybe they should do something about these dogs.'" http://news3lv.com/news/local/6-month-old-child-dies-after-attack-from-dog-near-centennial-and-fort-apache

Indeed. So very sad! Pit bulls have really been distinguishing themselves and contributing to that "bad rap" lately.

This mother was probably one of those posting pictures of her baby lying on her pit bull and cooing about the cute nanny dog and how vicious it wasn't. And she probably didn't leave the dog alone with the baby, as so many will be quick to accuse her of. We all know that pit bulls attack babies right in front of adults or even pull them out of people's arms, so that oft-repeated phrase about never leaving children alone with a dog is bunk. That won't protect children around a pit bull!

Thank you for the list of deaths by county. Unfortunately, it only makes clear the reality that I'm completely surrounded by pit bulls.

Colleen Lynn | 5/09/2017 2:02 AM | Flag
EyesOpened, we are working very late tonight. We readjusted the chart to exclude Oklahoma County (3 deaths only since 2005) and to include Montgomery County, Ohio (4 deaths since 2005). Montgomery County, Texas has 3 deaths -- also excluded. We only included counties with 4 or more deaths. Dorchester County, South Carolina is simply an abomination.

Lucu Lencia | 5/09/2017 5:48 AM | Flag
Is there a major dog fighting ring in Dorchester County or something? Seems suspicious that there are so many pit bull related deaths there... perhaps someone should be investigating this.

Your Quiet Neighbor | 5/09/2017 8:16 AM | Flag
And, like clockwork, there's s post on my Nextdoor feed. Heartbroken family that has to get rid of their, ahem, boxer mix. They include a photo of the dog, and it looks very much like a pit bull.

They also note that this, ahem, mix will fate best in a household​ with no other dogs.

responsible dog guy | 5/09/2017 10:04 AM | Flag
Tragedy, accident, etc. Pit bulls don't belong in any home. Kids, adults, pets, and livestock all end up victims. Sadly what happened was predictable.

Colleen Lynn | 5/09/2017 10:09 AM | Flag
Lucu Lencia, the chart includes all fatal dog attacks (all breeds). 3 of the 4 deaths involved pit bulls in Dorchester County. Notably 2 involved stray pit bulls taken in or in part way taken in... The Carolinas are certainly a place for dogfighting, but North Carolina much, much more so. It's unclear what is going on in that county.

Unknown | 5/09/2017 10:10 AM | Flag
Dear Lord, how many innocent babies, children and adults will have to die this horrible death before people realize the obvious.

Bailey | 5/09/2017 6:45 PM | Flag
I getting really sick and damn tired of all of these babies losing their lives to pit bulls. Everyone who advocates for those monsters is responsible for Kamiko's death. These dogs were never meant to be pets and anyone with half a brain can see that. It sucks that so many children have to pay with their lives for adult stupidity.

Munimula | 5/09/2017 8:13 PM | Flag
Why do Pit advocates use the argument, "it must have been raised wrong"? Because, if you "raise it wrong", then you will end up with a killer dog? If you raise your Labrador, Golden, Beagle or Poodle "wrong", you end up with a dog that pees in the house, chews shoes or barks too much, NOT dog that will maul or kill you. If a certain breed is known to need to be "raised right" so that it doesn't kill you, maybe this is one breed we don't need in society.

Ka D | 5/09/2017 9:48 PM | Flag
This was no accident. The definition of an accident is that it is a freak occurrence, it is NOT foreseeable. Pit bull attacks on children occur regularly, they are foreseeable and predictable.

K-Hart | 5/09/2017 11:06 PM | Flag
What exactly is the pit "mixed" with? That looks like your standard heinous canine abberation known as a "pit bull type dog."
I'm so sorry that innocent little baby had to be forced to be near that thing. Another beautiful soul lost. Sad beyond words.

EyesOpened | 5/10/2017 2:39 AM | Flag
Colleen, thank you for your hard work tracking and sharing this important information. My user name is what it is because thankfully my eyes have been opened to the risk of bully breeds, and I want people to learn the truth and avoid more tragedies. Consumers of all sorts should be able to make informed decisions based on accurate information.

Munimula, so true! It's interesting that I've yet to see these "it's all in how they're raised" folks following that to its logical conclusion: rescue dogs are a gamble because you don't know how they were raised. They also never explain how to raise a pit bull "right." I've seen a few macho types in online comment sections talking about being the alpha and discipline and such but nothing concrete. Then there are those naive people who insist that if you treat a dog with love, you'll receive nothing but love in return. If only that were true. Thankfully for many dog breeds it pretty much is. If someone ever does come up with the magic formula to prevent these long-time family pit bulls from suddenly killing, I'm all ears. Until then, I'll keep my distance.



BeKind StopbreedingBullyDogs | 5/10/2017 7:33 AM | Flag
This pit was 9 years of age at the time of this fatal attack. Dog fighters call this a "late starter".

Most pits mature "start", "turn on" and begin attacking at 18-36 months of age.

Look at Tom Garner videos of his elaborate pit puppy mill. On one video of April 15, 2017 he shows puppies who look to be 9-10 weeks old. he casually boasts ,,,"have to work to keep them from killing each other".

He's selling and shipping these game insane dogs all over NA and the world.

Garnet | 5/10/2017 2:17 PM | Flag
I just know pit bull advocates are going to accuse the family here of leaving the dog alone with the baby, but it sounds like the mom was right there when the dog attacked. Sadly, even if kids and pit bulls are supervised at all times, tragedies can occur because even a grown adult cannot generally stop an attacking pit bull unless s/he has a gun and is skilled at using it.



SWORD | 5/11/2017 9:06 AM | Flag
People!!! the instinct is built into this breed doesn't matter how you train them and most humans couldn't stop that attack even if they were right there...they should be outlawed period!!!

Nevertrustapit | 5/11/2017 5:35 PM | Flag
the parent (s) are idiots. what a wasted life. pit bulls should be illegal to own.

worm | 5/17/2017 6:59 PM | Flag
Would you trust your child with a breed known to be vicious? Would be like leaving your kid with a child molester

kelly koechel | 5/25/2017 8:35 PM | Flag
a pitbull mauled my 13 week old labradoodle on monday, miraculously and with some quick action and vet care (and over 5k in medical bills) she is alive. If we kept track of other people's pets these dogs kill the numbers would be obscene.

Robin Revesby | 7/22/2017 7:35 AM | Flag
Breed them out America! I read raised from pup & killed as 6 or 9 yo. Can't be trusted. Eventually they follow their unique uncons ionable heartless instinct.And kill. Taking the most innocent who rely on adults to do the sensible thing & they let them down, trusting these criminal intent dogs.No pitbull or X are allowed be rehomed in my country. Govts. with more sense see the need to take control over 'ditzy' humans. I'm appalled that animal shelter people see pitbulls & X, just as any other dog, when they kill children on a regular basis.
Eo