Tuesday, July 15, 2014
Help For Harmony Fundraiser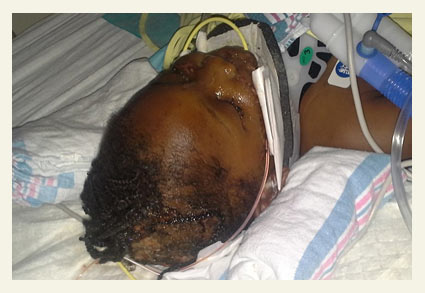 Violent Pit Bull Mauling
New Brunswick, NJ - On July 3, a young girl was viciously attacked by two pit bulls while under the care of her babysitter at a home on Lufberry Avenue. Her younger brother was also at the home. Police officers responded to the scene and fired an "undisclosed number" of shots inside the home killing both dogs. Harmony Halyer, 4-years old, was transported to Robert Wood Johnson University Hospital in critical condition where doctors placed her into a medically induced coma.
Last week we learned
more about this attack on a Chasing New Jersey segment
. Quadirah Banks, Harmony's mother, said the two pit bulls were owned by her daughter's aunt who lives at the home where the attacked occurred. There had never been a problem with the dogs before, but on July 3, the babysitter ignored the aunt's "specific instructions" to keep the dogs outside and away from the children (according to the video, the babysitter let the dogs inside because it had started raining).
As soon as she let the dogs in, they brutally attacked Harmony. Banks now wants to share with others how dangerous these dogs are. Even in the best of circumstances pit bulls can attack without provocation, Banks said. She does not want any more children or parents to experience what her family is enduring. "It doesn't matter how long you know them or whether you are comfortable with them, or if they're family dogs," Banks said. "They can just snap at any time."
Banks questions in the video, "Does it matter if it is the fault of the owner of the dog? Does it matter if it is the fault of the dog, when pit bulls themselves are disproportionately responsible for serious and fatal attacks?" The news team discusses these questions in the video; one strongly blames the babysitter. His poor logic presumes that the imperfect act by the babysitter, of letting the two family dogs inside the home, would "knowingly" result in a life-threatening attack.
Requiring three police officers to enter the home and fire an "undisclosed number" of shots in front of all persons present in order to end the attack.
Zero Margin of Error Rule
Last year, we wrote about the "zero margin of error" rule for pit bull owners in
Beyond the Interview - Essay of a Fatal Pit Bull Mauling
. If only the babysitter had "exactly" followed the rules set forth by Daxton's parents, he would still be alive. On that day, the babysitter broke the zero margin of error rule by carrying Daxton outside while letting her dogs into the run. Without provocation her two pit bulls attacked her and then Daxton in a prolonged vicious assault that ended his life.
In the instance of Harmony, we don't know the relationship the babysitter had to the dogs (long term or short term or otherwise). We just know that the aunt's two pit bulls had been around children before and that the babysitter had "specific instructions" to keep the dogs outside, away from the children. How would the babysitter have known that letting the family pit bulls in from the rain would result in a life or death situation requiring police intervention and multiple gunshots?
Babysitting and Pit Bulls
Harmony's attack falls into two tracking categories at DogsBite.org, both of which are elevated risks. She was visiting the dog owner's home at the time of the attack. In 2013,
38% (12) of all dog bite fatalities involved this scenario
, which also includes temporarily living at the dog owner's home. Within this subset, 58% (7) involved a babysitter, including a relative or friend under the directive to watch a child 7-years or younger. All 7 of these child deaths were inflicted by pit bulls.
Help For Harmony Fundraiser
We learned today that friends have helped Harmony's mother create a
YouCaring page for her daughter
. The page provides more details about her medical condition. She has received multiple blood transfusions and surgical procedures since the attack and continues to require a breathing machine and feeding tube, according to the page. Doctors are "taking it one day at a time because of the extensive damage." Doctors have no estimation about when Harmony might be released.
Donations can also be sent to Rutgers Federal Credit Union and made out to account #27155007.
Related articles:
09/24/13:
2013 Dog Bite Fatality: Boy Killed by Pit Bull-Mixes at Babysitter's Home in Gilbert
07/26/13:
Beyond the Interview - Essay of a Fatal Pit Bull Mauling
04/24/13:
2013 Dog Bite Fatality: 4-Year Old Mauled by Pit Bull Dies; Babysitter Arrested
01/21/13:
2013 Dog Bite Fatality: Dog Mauls Woman to Death While Babysitting Toddler
Labels: Babysitting, Disproportionate Response, New Jersey, Pit Bull Attack Survivor, Police Shoot Aggressive Pit Bull, Zero Margin of Error

Please donate to support our work
DogsBite.org is a 501(c)(3) tax-exempt public charity organization. Learn more »
posted by
|
permalink
|
2 comments
|

email
|

blog rss
|

comment rss

2 comments:

snack sized dog | 7/17/2014 4:16 PM | Flag
If a parent leaves a child with a babysitter requesting that the dogs are not to be with the child, they aren't thinking that its a life or death situation. They're thinking they don't want their child to get stepped on, scratched, knocked down, or bitten. That is to say, no one would leave their child with a tiger owner merely saying, keep the tiger away from the kids.

Annie B | 8/09/2014 8:54 AM | Flag
True. It goes to show how people don't understand this breed.