Tuesday, May 21, 2013
Carlton Freeman, 80-years old, was killed by four dogs in Harleyville.
No Criminal Charges
UPDATE 05/21/13:
The Dorchester County Sheriff's announced today that no charges would be filed in the death of Carlton Freeman, a double amputee who died after being mauled by four dogs described as pit bulls. The decision comes after an investigation was carried out by multiple county agencies. Though the dogs were initially thought to belong to a neighbor, authorities later determined the animals did not belong to any one person; the dogs were allegedly feral.
05/14/13: Pit Bulls Identified as Culprits
ABC News 4 reports (within the video only) that family members of Carlton Freeman saw the four dogs pull him from his wheelchair and attempted to drag him into the woods. Family members identified the four dogs as pit bulls. They also said that the terrible attack upon Freeman was especially hard because the owner of the dogs is also family.
1
The victim's wife of 35-years, Rita, told reporters, "All he wanted was that they catch those dogs before they hurt somebody else."
Freeman also told authorities before he died that he
did not want to press any charges
.
05/14/13: Man Dies After Dog Mauling
Harleyville, SC - The Dorchester County Coroner's Office released information today about a dog attack that ended the life of a paralyzed man. According to
Coroner Chris Nesbit
, Carlton Freeman, 80-years old, was minding his own business while going down the side of the road in his motorized wheelchair when he was attacked by four dogs (breed identification was not provided). The incident happened on May 8 at Spring Branch and Dunnings Road in Harleyville.
Nesbit said the victim was a double amputee at the knees who was "pulled from his wheelchair by his legs as he tried to fight off the dogs." Medical responders transported Freeman to Trident Hospital where he died on Sunday, May 12. In Nesbit's press release, he stated, "He had bites and lacerations from his legs to the top of his head. This is a very sad story, but even worse that Mr. Freeman was basically helpless to the attack, due to being a bi-lateral amputee."
A criminal investigation by the Dorchester County Sheriff's Office is underway. Authorities were able to locate three of the dogs and are still attempting to locate the fourth. According to a report from the sheriff's office, neighbors said the dogs have been "roaming around the neighborhood for months" and told deputies who they suspected the dogs' owner was. Deputies contacted Barbara Goodwin, 61-years old, who said she owns three of the dogs -- a mother and two puppies.

View the DogsBite.org Google Map:
South Carolina Fatal Pit Bull Maulings
.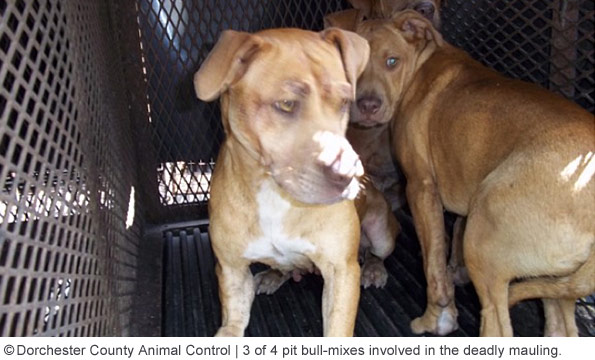 1
This later turned out to mean a close friend within the community, not an actual relative.
Related articles:
01/21/13:
2013 Dog Bite Fatality: Dog Mauls Woman to Death While Babysitting Toddler
05/02/12:
2012 Dog Bite Fatality: 2-Month Old Child Killed by Family Dog
Photo:
Live5News.com
Labels: 2013 Dog Bite Fatality, Dorchester County, Fatal Pit Bull Attack, South Carolina, Wheelchair Bound

Please donate to support our work
DogsBite.org is a 501(c)(3) tax-exempt public charity organization. Learn more »
posted by
|
permalink
|
12 comments
|

email
|

blog rss
|

comment rss

12 comments:

70dd0968-b7d2-11e1-92d9-000bcdcb5194 | 5/14/2013 5:21 PM | Flag
If these dogs were reported to AC before this, the county should be sued into a hole. If they weren't reported, everyone who saw them loose should be shamed and praying to their god for mercy.

orangedog | 5/14/2013 6:41 PM | Flag
I guess we need to ban people from owning Pit Bulls since they insist that it's always bad owners that are the reason for these attacks.

PutMeInCharge4OneDay | 5/14/2013 8:24 PM | Flag
This poor man to have been through what he has, and to have his life taken by this pack of monsters.

This incident is something out of a horror movie, except these monsters really do walk amongst us.

vintage | 5/14/2013 11:36 PM | Flag
220th American killed by a Pit Bull since the CDC Report and the 30th since May 1 2012

Additionally, this was another DBRF by a pit-breeder's cash cows. This is not seen with the other breeds....Clearly, they are breeding mankillers!

Dave Burris | 5/15/2013 12:39 AM | Flag
Stinkin', Filthy, Cowardly press. I searched through 8 articles and none of them mentioned what breed of dog killed this man. Makes me puke.

snarky | 5/15/2013 9:38 AM | Flag

many people in the press are " into pit rescue"

Decatur AL livin nt to 4 pits | 5/15/2013 7:31 PM | Flag
One look at the pictures of Carlton Freeman and his wife and I know they were good people - people that I would like to have known - with so many problems in life like Mr. Freeman's diabetes - he did not deserve to be shredded by pit bulls. Neither did Emako Mendoza of San Diego, or Roy McSweeney of Putnam County Florida. To say I don't understand why America is letting dogs eat people alive is understating it. Why are dogs/dog owners being given the power and freedom to kill these wonderful people that are harming no one ???

PutMeInCharge4OneDay | 5/16/2013 1:01 PM | Flag
Well it looks like this city is doing something proactive.

"Royal Oak Ordinance Requires $1 Million 'Dangerous Dog' Insurance Policy"

http://detroit.cbslocal.com/2013/05/15/royal-oak-ordinance-requires-dangerous-dog-insurance/

PutMeInCharge4OneDay | 5/22/2013 2:22 PM | Flag
And???

Did they catch the dogs?

Had the dogs belonged to the neighbor/family member can you choose not to press murder charges?

truthbird | 5/22/2013 2:41 PM | Flag
These were not feral dogs! Just an excuse not to file charges.

Lambchops | 4/21/2017 7:41 PM | Flag
I hope these very dangerous dogs will be euthanized before they can ever destroy another human being again; or even hurt other animals. Please inform as to whether these vicious dogs have been put down.

Lambchops | 4/21/2017 7:48 PM | Flag
Dogs that attack people should be euthanized when they cause the death of a person family pet and pit bulls are very dangerous. My friend had three little Maltese dogs and one of them was killed by a neighbor's pit-bull and I read some time ago about a 9 year old child being mauled to death by a pit-bull but for some odd reason these dogs are always being adopted by people from shelters and that's not fair to an unsuspecting family with children. But a person of any age is at risk with this breed if dog. And some insurance companies won't give house insurance to people with pit-bulls. There is obviously a reason for that!
My heart goes out to the family of the man who was pulled out of his wheelchair because a thoughtless neighbor let those dogs run around freely. Our society is crazy to let that happen and it's because shelters are getting away with selling these dangerous animals.