Friday, August 17, 2012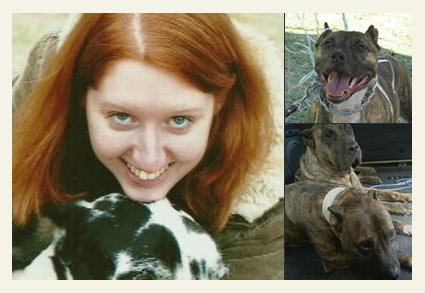 Rebecca Carey, 23-years old and a dog rescuer, was killed by one or more dogs.
Adoption Information
UPDATE 08/17/12:
A hot tipper sent in a cached web page of two of Rebecca Carey's dogs, a pit bull named Napoleon and a presa canario named Louis. Both dogs were adopted over five years ago from the Gwinnett Animal Welfare and Enforcement Center. This is how
Napoleon looks now
at the age of 6. We continue to search for answers as to why Jackie (Jacqulynn) Cira, who
works at The Village Vets
as a receptionist, was having Carey dog-sit her presa canario, named Danai.
Carey would have been 5-years younger at the time she acquired Napoleon and Louis
1
-- an age and dog breed combination that ought to rattle the nerves of any sensible animal adoption agency, despite the dogs becoming "inseparable." Thus far, we have little information about the two other dogs Carey eventually acquired, other than that one was 15 pounds. The
earlier AJC.com article
noted that Carey had been dog-sitting Danai for only a week prior to the fatal dog mauling.
08/17/12: Killed Last Weekend
New information about the death of Rebecca Carey reveals that one of the two presa canarios was owned by Carey's friend, Jackie Cira.
2
For unknown reasons, Carey was dog-sitting Cira's presa canario, named Danai. Cira discovered her friend's bloody body Sunday afternoon after she failed to show up for work at Alpharetta's
Loving Hands Animal Clinic
. Police initially thought they were dealing with a homicide, but it soon became clear that the fatal attackers were dogs.
08/17/12: Young Woman Killed
DeKalb County, GA - In a developing story, a young woman who rescues dangerous dog breeds to spare them death, was found horrifically killed by one or more of the five dogs in her Decatur home. At the time of her death, Rebecca Carey was caring for two
presa canarios
(See:
Diane Whipple
), two pit bulls and a boxer-mix. DeKalb animal control took custody of all five dogs and subsequently put them down. Animal control's interim director Tim Medlin told WSBTV.com:
3
"We didn't know which dog did which. I can't be wrong. Not just myself, no one can be wrong in putting out a dog that possibly had to do with these type of injuries. I will not put another person at that kind of risk."
Carey's family issued the following statement after her death was publicized:
"Rebecca Carey of Decatur was 23 years old and an avid animal lover. Since the second grade when she read the book Throw Away Pets she vowed to be a voice for all animals. She attended Georgia Perimeter College and worked at a veterinary clinic. Upon placing her first abandoned animal in a permanent loving home in 2003, she volunteered countless hours with rescue networks and animal shelters. There she did what she loved the most: rescuing animals from untenable situations to find them safe, loving homes."
In a separate article, Medlin said Carey's death was the county's "
first fatal dog bite
." According to the
Fatal Pit Bull Attacks
website, this statement is untrue. As recently as 2007, 2-year old
Robynn Banks
was killed by a pit bull and mastiff-mix. Other DeKalb County victims killed by pit bulls include
Chett Heyder
, 2-years old (1988) and Billy Gordon Jr., 4-years old (1986), the latter being an
historic fatal pit bull attack
involving the landmark criminal trial of
Hayward Turnipseed
.

View the DogsBite.org Google Map:
Georgia Fatal Pit Bull Maulings
.
1
Cira told media sources that Carey adopted Napoleon when the animal was 6-weeks old.
2
Cira goes on to say that Carey would have been devastated to learn that all of the dogs had been put down, particularly her pet pit bull of 6-years, Napoleon. Cira also claimed her own presa canario -- that Cira temporarily pawned off onto Carey -- was the "love of my life."
3
Notably in May, DeKalb County lifted a zoning code that made it difficult for animal shelters to adopt out pit bulls. The so-called "DeKalb County pit bull ban" was so confusing that it was never even documented by DogsBite.org.
Related articles:
04/06/12:
Week of Escalating Violent Attacks by Rescued and Adopted Pit Bulls
08/15/11:
2011 Dog Bite Fatality: Pregnant Pacifica Woman Killed by Family Pit Bull
06/16/10:
2010 Dog Bite Fatality: Lorain County Man Killed by 'Rescued' Dangerous Breeds
Photo:
WSBTV.com
Labels: 2012 Dog Bite Fatality, Dog Sitting, Fatal Pit Bull Attack, Georgia, Georgia Pit Bull Fatality, Pit Bull Kills Owner, Pit Bull Rescue, Presa Canario, Rescue or Rehomed Dog Kills, Rescuing Dangerous Dogs

Please donate to support our work
DogsBite.org is a 501(c)(3) tax-exempt public charity organization. Learn more »
posted by
|
permalink
|
10 comments
|

email
|

blog rss
|

comment rss

10 comments:

Friends Administrator | 8/17/2012 10:26 AM | Flag
Another victim of the pit bull propaganda machine.

Illinois Pitbull Attacks | 8/17/2012 11:18 AM | Flag
Very bizarre that she was killed so close to the anniversary of Darla Napora's killing and so soon after Dekalb county decided to just drop the pit bull ban rather than fix it.

As long as these people keep defining "not dangerous" as "hasn't tried to kill me yet" they're going to keep getting themselves and us killed.

Your Quiet Neighbor | 8/17/2012 1:16 PM | Flag
I'm sorry, but I'm not interested in rescuing any animal that may try to kill me. Does that make me a non-rescuing meanie rather than an angel?

Besides, I think the word "rescue" is not called for in this case. It implies an act of heroism.

Like carrying a child out of a burning building. Saving a downed pilot behind enemy lines. Or pulling people off their rooftops in flooded New Orleans like the Coast Guard did after Katrina.

Taking in a potentially lethal dog does not rise to this level of heroism.

snack sized dog | 8/18/2012 12:56 AM | Flag
OMG - total lie that this was the county's first fatal dog bite by like a thousand miles


Watcher | 8/19/2012 11:06 AM | Flag
These attacks are so horrendous that guy has already been told by others he's dead wrong. This woman who was killed had very little sense and although tragic I'm glad it wasn't an innocent person, like a child, who happened upon the scene. You've got to figure these people involved weren't very smart.
The story made the Drudge Report so many people will have seen this story. Woof

truthbird | 8/19/2012 11:35 PM | Flag
Jackie Cira isn't even photographed with her beloved presa canario that she claimed was a "therapy dog," perhaps Danai wasn't working out too well in Cira's own home "filled with animals"? Talk about a mess with these young women and their misguided rescuing efforts of dangerous dogs. Attorney Ken Phillips said it well recently:

People like Rebecca Carey -- I call them "humaniacs" -- do not recognize the dangers inherent in such dogs. For that reason, I am urging the enactment of laws that regulate adoption organizations, to the extent necessary to make all of them accountable and to prevent the humaniacs from recycling known dangerous dogs into communities.

Your Quiet Neighbor | 8/20/2012 5:42 AM | Flag
@truthbird, thanks for mentioning dog bite lawyer Kenneth Phillips.

He makes another excellent point in the same article that you referenced. Here it is:

"Remember, a rescue dog is an abandoned dog. One must wonder why the dog was abandoned. Was there a reason why it was sent to the animal shelter? It is folly to assume that only bad people abandon their dogs. When a dog is violent toward people, good parents, good animal control officers, and good cops send the dog to the shelter. Not all abandoned dogs are good dogs."

Matt hayden | 8/20/2012 5:33 PM | Flag
I guess this is how people discover that their beloved canines are in fact insane, uncontrollable killing machines.

I'm all for putting down any dog, anywhere, which is aggressive towards humans.

vintage | 8/22/2012 4:51 AM | Flag
172.November 2001, DeKalb County, GA
David Raeford, 40
Fatal heart attack after altercation with a pit bull

You know it's pretty bad state of affairs in the Animal Control profession when an A/C rep is unaware that this is their County's 5th DBRF involving Pit Bulls....

The only other possible explanation is they are engaging in Pit Bull Advocacy on the Taxpayer's dime.

Lucu Lencia | 5/22/2016 6:49 PM | Flag
"When a dog is violent toward people, good parents, good animal control officers, and good cops send the dog to the shelter. Not all abandoned dogs are good dogs."

No, only BAD people send the dog to the shelter in this case. GOOD people have the dog humanely euthanized while they hug and hold it in it's last minutes so it passes peacefully.. they don't send it to a (stressful, scary) shelter where it's violent tendencies will be eventually discovered (unfortunately sometimes only after they've killed or maimed someone), only to have it put to sleep by impersonal shelter staff while it's feeling anxious, alone and scared and wondering where it's family are.

GOOD people take responsibility and don't pawn off their (potentially deadly) responsibility onto someone else.